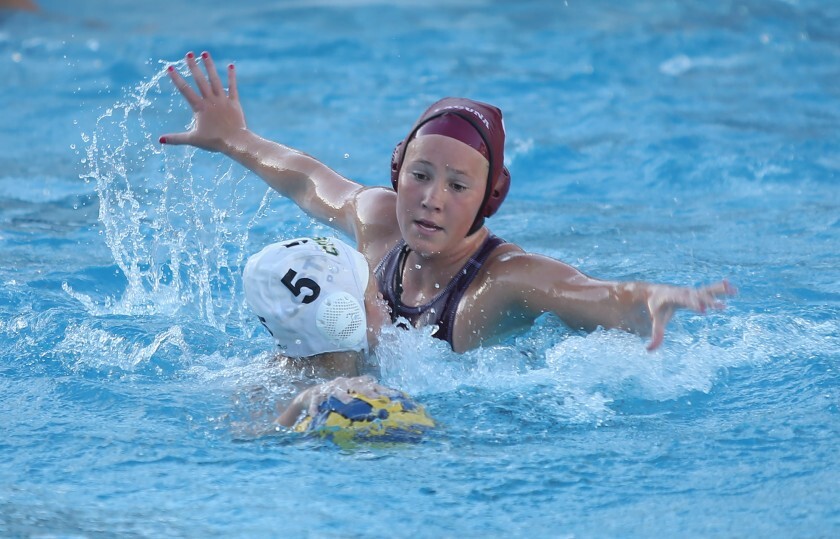 Laguna Beach High junior center Nicole Struss was named the CIF Southern Section Division 1 Player of the Year in girls' water polo, while Marina senior goalkeeper Emma Marsh earned the Division 6 Player of the Year award.
Struss helped the Breakers to their second straight Division 1 championship, and Marsh led the Vikings to their first CIF title since 1998.
Laguna Beach's Ethan Damato received the Division 1 Coach of the Year honor. Marina's Tamara Towgood was the Division 6 Coach of the Year.
Struss, the Surf League MVP, was second on Laguna Beach (33-1, 6-0 in league) with 74 goals, adding 28 assists and 25 steals. She helped the Breakers rally past Foothill 7-6 for the Division 1 title, and beat the Bishop's School of La Jolla 17-8 for the CIF Southern California Regional Division I crown.
Emma Marsh makes 13 saves for the Vikings, who beat the Rebels 6-4 in the CIF Southern Section Division 6 girls' water polo final. It is the first section title for the Marina program since 1998.
Marsh made a CIF Southern Section single-season record 452 saves for the Vikings (22-12, 2-4 in Wave League), who beat La Cañada Flintridge Prep 6-4 for the Division 6 title. The Vikings, the third-place team from the Wave League, made the CIF Southern California Regional Division III semifinals before losing 3-2 in sudden death to Imperial Beach Mar Vista.
Laguna Beach junior attackers Emma Lineback and Molly Renner also earned All-CIF Division 1 honors, as did Newport Harbor junior center Olivia Giolas and sophomore attackers Taylor Smith and Morgan Netherton.
Lineback, a left-hander, led the Breakers with 80 goals, was second on the team with 59 assists and added 32 steals. Renner finished with 63 goals, 43 assists and 34 steals.
Junior left-hander Emma Lineback comes up big late as the top-seeded Breakers edge the No. 2 Knights 7-6 in the CIF Southern Section Division 1 title match.
Giolas, Smith and Netherton helped the Surf League runner-up Sailors (23-9, 4-2) advance to the Division 1 semifinals for the first time since 2015 before losing 9-7 to Laguna Beach.
Corona del Mar High senior goalkeeper Maya Avital, bound for Stanford, was an All-CIF selection in Division 2. The Sea Kings (12-16, 2-4) failed to earn an at-large berth into the Division 2 playoffs.
Edison junior center Sam Worley was an All-CIF selection in Division 4. Worley, who led Edison with 73 goals, guided the Wave League runner-up Chargers (18-14, 4-2) to the CIF semifinals for the first time in program history before falling 8-7 to No. 2-seeded Glendora.
Costa Mesa freshman attacker Kira Anderson and senior center Taiuta Uiagalelei each earned All-CIF honors in Division 5. Anderson, the Orange Coast League MVP, finished with a program single-season record 126 goals for the Mustangs, adding team-best totals of 74 assists and 89 steals. Uiagalelei, bound for Concordia University, had 63 goals, 21 assists and 23 steals.
The top-seeded Mustangs (24-7, 4-0) advanced to their first CIF final in program history before losing 10-6 to No. 2-seeded Whittier California.
The top-seeded Mustangs, making their first CIF Southern Section championship appearance, lose 10-6 to the No. 2 Condors in the Division 5 final.
Marina freshman attackers Lily Ensley and Taylor Lambert, and sophomore attacker Lana Kardos, also earned All-Division 6 accolades.
::
Support our sports coverage by becoming a digital subscriber.
For more sports stories, visit latimes.com/socal/daily-pilot/sports or follow us on Twitter @DailyPilotSport.
---