Laguna Beach baseball had high hopes, but will cherish memories
It wasn't too early to say that the Laguna Beach High baseball team was building toward one of the best seasons in the 82-year history of the program.
The Breakers won their first eight games, including the Newport Elks Tournament Costa Mesa Division title, before suffering a 16-4 Sunset Conference crossover game loss to CIF Southern Section Division 1 powerhouse Huntington Beach.
Laguna Beach, which won its lone CIF title in program history when it captured the 2016 Division 4 crown, was the top-ranked team in Division 3.
What did come far too early for the Breakers was the sudden ending of the season. They didn't know at the time that the March 9 defeat at the hands of the Oilers would be the final game of their 2020 campaign.
Later that week, the Laguna Beach Unified School District joined other local districts in canceling athletic events until further notice. On April 3, the CIF officially canceled spring sports championships.
"The very first announcement, the guys were kind of worried about it, but they wanted to keep working," Breakers coach Jeff Sears said. "That's this group. They didn't want to stop working. They took home their Driveline stuff, they took home their jump ropes, stuff that they could get their workout in.
"But when [the final announcement] finally came down, it was really hard for them because this group really loved each other. They played for each other, they cared about each other. This was probably one of the best teams that bought into our team concept that I've coached in the eight years that I've coached at Laguna Beach High School. They accepted roles and they wanted the best for everybody."
Laguna Beach had 11 seniors that will graduate. Three of them — four-year catcher Aidan Booth (Claremont-McKenna), left-handed pitcher/first baseman Aidan Kidd (New Jersey Institute of Technology) and right-handed pitcher Jackson Yelland (Kenyon College) have secured futures in college baseball.
Junior right-handed pitcher/shortstop Eric Silva, a UCLA commit, was slated to be the Breakers' ace. But the week before the season began, Silva tweaked the same right shoulder he injured last year. Silva closed out the team's 4-3 season-opening win over Beckman as part of a doubleheader sweep, but Kidd moved into the No. 1 starter role with Yelland as the No. 2 starter.
Pitching coach Jairo Ochoa helped Kidd finish the season 3-0 with a 1.53 earned-run average, and 24 strikeouts in just 18 1/3 innings pitched. Yelland was 3-1 with a 2.62 ERA.
"The kids really bought into coach Ochoa and his style of pitching, and they became pitchers this year," Sears said. "That was different than in the past. I've had unbelievable throwers; these guys pitched."
Sears, who is 143-80 in eight years in charge of the Breakers from 2008-11 and since 2017, saw success stories everywhere he turned. Senior center fielder Nolan Smith, who hit just .246 as a junior, was batting an even .500 to lead the team.
"He didn't hit very well last year, but he bought into what we do and how we do it," Sears said. "He figured out that he was fast, and he bought into small ball. That kind of helped."
Senior second baseman Charlie Pillsbury was hitting .452 with team-best totals of 13 runs scored and 12 runs batted in, while Booth had a cool .440 average.
Right fielder Christian Holm, first baseman Jeremy Hayes, left fielder Will Potratz, James Loughlin, Enzo Sanchez and Brooks Hogenauer were the other seniors for the Breakers. Laguna Beach hoped for a Wave League title after finishing tied for third in the four-team league during an injury-riddled 2019, which ended with the Breakers failing to make the postseason.
"We enjoyed doing everything together on the baseball team, at school, in our free time," Yelland said. "We knew we had a lot of talent going into the year, but I think the close connection is what really made our team special. It really felt like this team could have made a run at something, because of that close chemistry. It really felt like this was our year."
Kidd agreed that he would miss the camaraderie that the team had on and off the field.
"There were 11 seniors, and I feel like we all grew as people," Kidd said. "Coach Sears did a really good job of making us better men, preparing us for our future. I feel like what we gained in that aspect was the best thing about our time together."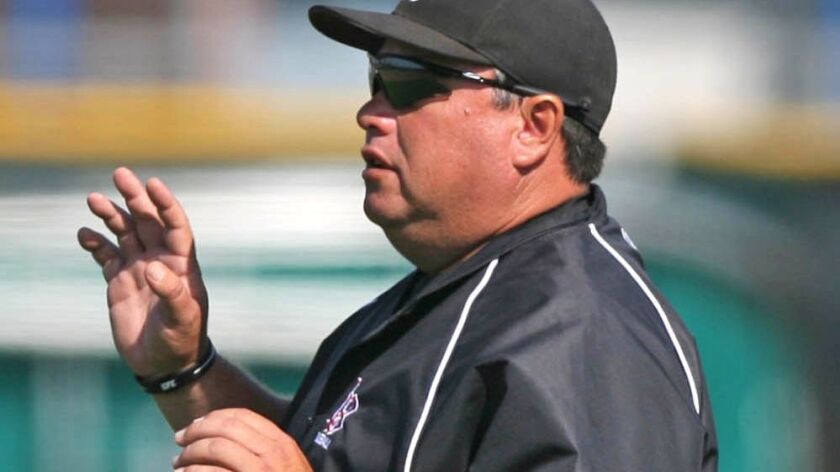 Support our sports coverage by becoming a digital subscriber.
For more sports stories, visit latimes.com/socal/daily-pilot/sports or follow us on Twitter @DailyPilotSport.
---
All the latest on Orange County from Orange County.
Get our free TimesOC newsletter.
You may occasionally receive promotional content from the Daily Pilot.