Newport Beach's Leigh Steinberg holding virtual sports agent academy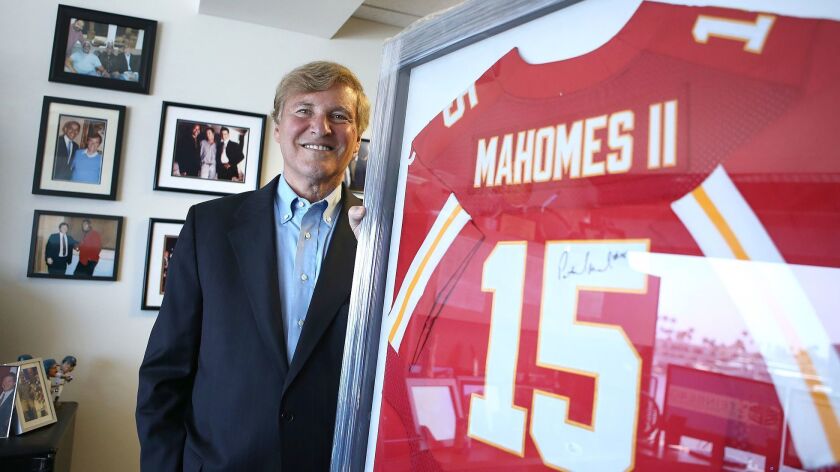 Even at age 71, Newport Beach sports agent Leigh Steinberg is managing to stay busy — and relevant.
Steinberg represents the MVP of Super Bowl LIV, quarterback Patrick Mahomes of the Kansas City Chiefs, among more than 20 clients who currently play in the NFL. He also represents two former University of Alabama stars, quarterback Tua Tagovailoa and receiver Jerry Jeudy, expected to go in the first round when the NFL Draft begins in a "virtual" format on April 23.
"It's been a fun year," said Steinberg, who has represented 11 Pro Football Hall of Fame players in a long and distinguished career, most recently former star running back Edgerrin James. James was selected to be enshrined in Canton, Ohio, this year.
The novel coronavirus pandemic has still affected Steinberg, but he's learning to adapt. Steinberg, in his fifth year of presenting a sports agent academy with his company Steinberg Sports and Entertainment, is holding the academy totally online this year for the first time.
The two-day agent academy will be streamed online beginning Monday. Registration is still available for students and professionals.
"It will take a technological feat to have this all work, but we've got people who have signed up from across the country that are going to engage in this," Steinberg said. "Look, we're in a novel, unprecedented situation, but the question is how can people make the most productive use of their time. Instead of focusing on what they can't do, how about offering opportunities that they can do safely and still improve their job prospects and their scope and understanding? The point is that we have now trained hundreds of people across the country, and some of them have gone on and been successful."
Steinberg credited his company's vice president of media, Julia Faron, for making the switch to the online format. Faron said the academy will be conducted via Zoom, which allows participants to broken up into virtual groups for exercises.
The sessions run between 8:30 a.m. and 12:30 p.m. Pacific Standard Time.
"Normally, when they're in-person, we do them all in one day," Faron said. "Since it's a virtual experience, we thought it'd be better to split it up into two, especially so that it won't present any scheduling issues with people that are tuning in from the East Coast."
Participants will hear lectures from Steinberg and Chris Cabott, the chief operating officer of Steinberg Sports. They will also take place in realistic exercises involving four categories: recruiting, negotiation, damage control and starting a charitable foundation.
"Fundamentally, the concept is to try to train a new generation of agents and sports professionals that have specific skills," Steinberg said. "People go to law school, business school or sports management school and they learn the principles of each of those areas, but no one really concentrates on the actual practical skills that someone would need to be successful.
"We teach them how to negotiate, how to recruit, how to build an agency. We're honest about the fact that there's 1,000 certified football agents, and the economics should be challenging. They get a realistic picture of it."
Steinberg wants to also continue his sports career conferences he has scheduled across the country this year, though one in San Francisco earlier this month was canceled. One scheduled for Atlanta on May 30 will be conducted virtually, Faron said. Steinberg, who inspired the lead character in the "Jerry Maguire" movie in the 1990s, hopes to be in Dallas on June 20 and Washington, D.C., on July 18 as the tour continues. He is also planning agent academies at each location.
He has enjoyed conducting his agent academies over the years, noting that he's had attendees ranging from ages 13 to 71.
Though he won't be able to greet them in person this year, Steinberg is hoping for another diverse group of students as the stay-at-home order continues.
"It's always been in-person, but the current crisis is a stimulus of innovation," he said.
::
Support our sports coverage by becoming a digital subscriber.
For more sports stories, visit latimes.com/socal/daily-pilot/sports or follow us on Twitter @DailyPilotSport.
---
All the latest on Orange County from Orange County.
Get our free TimesOC newsletter.
You may occasionally receive promotional content from the Daily Pilot.