Former CdM soccer star Ally Brahs enters medical field in midst of COVID-19 pandemic
Ally Brahs was known as a big-time goal scorer during her soccer career at Corona del Mar High.
She scored 17 goals as a junior in 2011, which stood as a single-season program record until Megan Chelf netted 22 goals last year.
Brahs, however, is getting ready for a big assist in the fight against the coronavirus pandemic beginning this summer.
After spending four years as a center defender/midfielder for the University of Washington and graduating magna cum laude with a biology degree in 2016, Brahs is about to graduate from medical school at the Western University of Health Sciences' College of Osteopathic Medicine of the Pacific.
Brahs will begin her residency once she's done at the Pomona school. She found out on Match Day last month that she will be in a dermatology program in Largo, Fla.
Brahs, 26, leaves in June and is excited to help fight against the coronavirus during her first year of residency, which is an intern year where her help will be more generalized.
"I'll be joining the front line in a little bit here," she said. "I'm trying to plan this move to Florida during the midst of this pandemic. I'm excited to just get there and contribute. Right now, there's not really much I can do from home. What I've been spending my time doing is just trying to read about COVID and internal medicine, just so I'm best prepared to help treat those patients when I get there. I'm eager to join this fight against COVID-19."
For now, Brahs is enjoying the relative downtime. She said she racked up 55,000 miles of travel this past year, as she went to away rotations at potential residency sites across the country.
"That's like traveling around the world two-and-a-half times," she said. "It was really cool seeing how medicine is practiced all around the country, specifically dermatology. All of my rotations were dermatology rotations."
She had not been to Florida prior to her rotation there. She said she's looking forward to moving there, even if that means a long-distance relationship with her boyfriend of more than 10 years, Alexander "Xan" Yelich. The two began dating when they were sophomores at CdM.
"I was pleasantly surprised. Florida reminded me a lot of California, actually," Brahs said. "This was after a rotation in Michigan. Driving home from the clinic and seeing the sunset on the ocean, it just reminded me a lot of home."
Brahs hasn't totally given up on soccer, either. She said she thought she would have to trade in her cleats for a stethoscope during medical school, but that wasn't totally the case.
She said she would play in different pickup games, and she's competed in adult leagues in Newport Beach and Costa Mesa. She was the oldest participant in the Sea Kings' alumni game in January.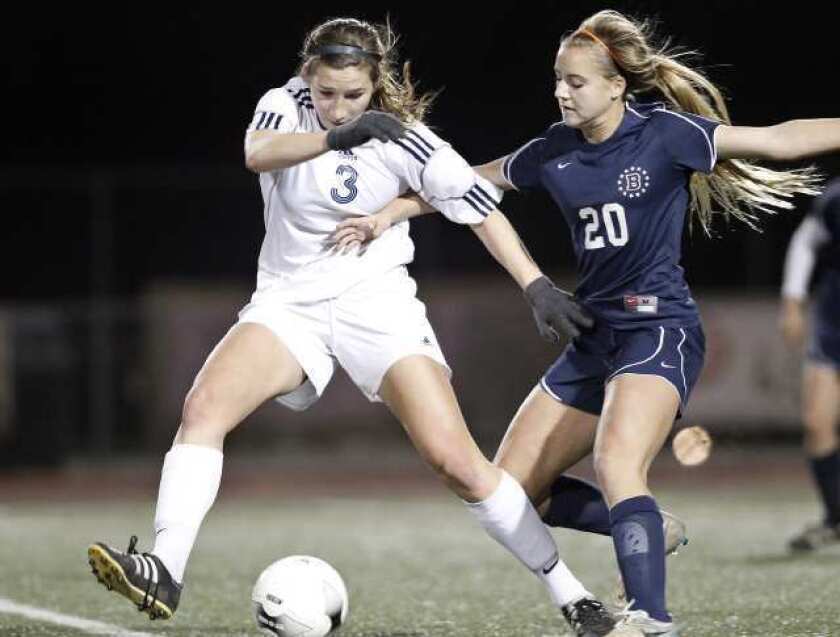 "She was able to play a half," CdM girls' soccer coach Bryan Middleton said. "Probably by at least a good four or five years, she was the oldest one there, but she could still play at a high level."
Brahs said she has four years of residency in Florida. Starting in the second year, she will be able to focus more on dermatology.
Due to the coronavirus, there will likely be no get-together for her graduation from the Western University of Health Sciences on May 15, but she will receive her diploma in the mail.
She is excited for her new chapter to begin, and that's evident to her friends and family, like her mother, Cindy."
"First-year residency by nature is extremely intense and demanding, but this gives it an entirely new perspective," Cindy Brahs said. "It's just kind of crazy right now. In her heart, she doesn't regret anything. She's so anxious, and she's so fortunate that she's going to be going into a field of medicine that she wanted to. By nature, she's super-courageous and compassionate and extremely selfless.
"We thought it was very interesting that she goes from defense on the soccer field her whole life, to defense in the hospital now."
::
Support our sports coverage by becoming a digital subscriber.
For more sports stories, visit latimes.com/socal/daily-pilot/sports or follow us on Twitter @DailyPilotSport.
---
All the latest on Orange County from Orange County.
Get our free TimesOC newsletter.
You may occasionally receive promotional content from the Daily Pilot.