Column: Surfer Casey Wheat, 'an amazing son of Huntington Beach,' dies at 49
The north side of the Huntington Beach Pier was home to Casey Wheat. It was his sanctuary, it was the place where all was right in the world.
If he could have, Wheat probably would have set up a tent in the north side parking lot and lived there, so as not to be too far away from his favorite place to be.
But that north side wave — call it "Casey's Cove" — will be missing one very distinct, respected and much-loved surfer from this point forward.
Wheat, 49, died Thursday after becoming ill a couple weeks earlier. Friends and family say they are not sure of the cause of death, and that a coronavirus test was negative.
Wheat was upfront about his battle with drugs and alcohol but in recent years seemed to be on the road to recovery. When I interviewed him in 2017, he said he was four years sober. Friends and family said they believe he was still sober and there were no signs that Wheat was using drugs.
Wheat's impact on the surfing community and the Huntington Beach community at large was and will continue to be immeasurable according to friends and family, saying his personality, his unique style and his ability to bond with people was unmatched.
"He was the most-loved guy," said Chris Moreno, Wheat's longtime friend, fellow surfer and business partner. "That saying, 'women loved him and men wanted to be him' — that's so true. Everybody who came in contact with him loved him and respected him so much.
"He was an alpha male, but the most gentle alpha male you've ever met. [He] definitely was the center of attention without trying. He had a style all his own."
Wheat's roots in Huntington Beach run deep. His great grandfather was an original of the Golden Bear nightclub and his grandfather worked there. Wheat's grandparents owned and operated the beachside snack-shack/rental shops Zack's and Zack's Too for many years.
Wheat's father, Steve, is a lifelong surfer with whom Casey was living and many say was Casey's best friend.
Wheat stood out in a crowd, whether it was in the water or on dry land. He was tall, 6 foot 3, and rail thin, and was stylish in and out of the water. He was also a good all-around athlete, an avid golfer and basketball player, and even tried wrestling in high school.
He was a natural leader, going back to his days as a surfer at Huntington Beach High School, from which he graduated in 1988. The Oilers won the National Championship that year under first-year coach Andy Verdone, who took notice of Wheat immediately.
"I took over for [coach] Chuck Allen, and Casey was one of the most outspoken leaders of that team," Verdone said. "Casey was a very strong-willed individual, he was a good guy, and he was very, very competitive."
That was during the heyday of Huntington Beach High surfing. Along with Wheat, there were the Williams brothers, Ziggy and Ben, the Moreno brothers, Chris and Mark, Albert Taylor, and a couple years later the Deffenbaugh brothers, Barry and Jeff, among others.
"He was an alpha male, but the most gentle alpha male you've ever met. [He] definitely was the center of attention without trying. He had a style all his own."
Chris Moreno, Casey Wheat's longtime friend, fellow surfer and business partner
Jeff Deffenbaugh went on to surf on the World Championship Tour and gives a lot of credit to Wheat, who was three years older and a mentor of sorts.
"Guys like Casey and the group ahead, they were very, very competitive and very good as well," Deffenbaugh said. "Obviously, Huntington Beach High had won many championships and would win more, and with them being in front of us it was very tough in some ways. Casey was part of the group that pushed you. But Casey was also very friendly with everybody, an open-arms kind of guy, so well-liked. … He was driven in ways but also calm and collected with everyone. Super stylish in and out of the water, very nice to everyone but very competitive at the same time. It was great to have that.
"If it wasn't for Casey and the group in front of me, I probably would've never got to where I did in my career of surfing."
Wheat, along with lifelong friends Ziggy Williams and Chris Moreno, was founder and owner of the apparel brand SOFKY (Sport of Kings, Forever Young). Their mission was to "create a brand that not only reflects the respect of past generations but inspires the youth of the future" and focused on quality over quantity.
Some wondered if the economic shutdown may have hurt SOKFY's business and consequently weighed heavily on Wheat, but Moreno said the opposite was true.
"A lot of people were worried, was COVID a part of it," Moreno said. "But no, we were crushing it. On top of that, the girl of his dreams, the love of his life, Olivia Kao, they had been boyfriend-girlfriend when they were kids. Then she moved back here from New York a couple years ago, they rekindled. So he literally had the girl of his dreams, he never stopped loving her since they were kids, he had the business of his dreams, and honestly, he was surfing better than he had ever surfed in his entire life."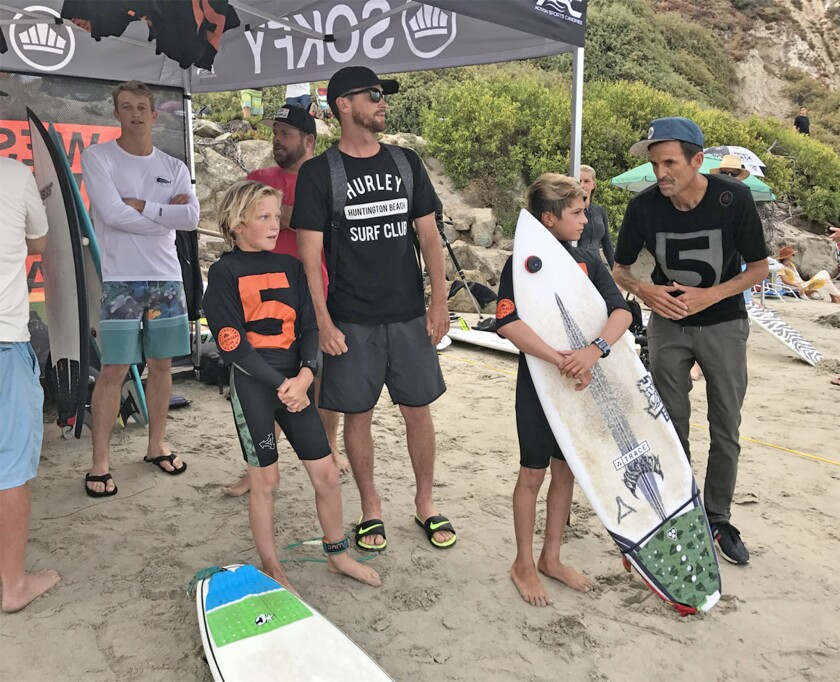 Indeed, Wheat was a bridge between the city's surfing pioneers and the young groms who had never heard of them. He took it upon himself to mentor many of the area's up-and-coming surfers, all while reaching out to the surfers who came before him. It was that love of both the past and the future that inspired him along with Moreno and Williams to create the West Coast Board Riders Club.
Wheat, Williams and Moreno had already started SOKFY, and one of their brand T-shirts had the words "West Coast Board Riders." So the fellas figured, they had the shirt, why not start the club?
"When we were groms, and we were like 10 and in our teenage years, there was the West Side Board Riders club, and the Lake Street Board Riders club, but it fizzled out probably in our teenage years," Wheat told me in 2017. "These were all guys we looked up to, but we never really got to experience it even though we knew about it.
"Our generation and the generation below, guys in their 20s and the younger groms, and we're like, dude, we should get a board riders club together because then we can get all these dudes together all the time. We can start doing some cool stuff and have some fun."
Wheat's vision has turned into reality. Board riders clubs up and down the coast from San Diego to Santa Cruz have formed, and they gather for contests to decide bragging rights and include surfers in age groups as young as 14-and-under and as old as 50-and-over.
East Coast Board Riders clubs also are in the process of forming, while others in Florida and Texas are possible, setting up the potential to grow the brand nationally — the U.S. Board Riders — and upend the way surf competitions are run.
"Casey's legacy is going to live on, not only though Sport of Kings but through how we've changed the sport of surfing in the United States forever," Moreno said. "Those aren't my words, I've heard that from multiple people, the guys at Quiksilver, the guys at Billabong, Vissla, Hurley, all those who have participated in the West Coast Board Riders, those are their words. Casey's legacy is going to live on forever in the U.S. Board Riders movement."
A paddle out is tentatively scheduled to take place at the Huntington Beach Pier on June 27. Huntington Surf & Sport owner Aaron Pai reached out to Moreno to ask if HSS could coordinate the paddle out.
"Aaron told me the only motivation he has to make sure Casey has the best paddle out anybody's ever seen because he deserves it," Moreno said. "He was an amazing son of Huntington Beach."
---