Newport Harbor High's Eli Liechty commits to UCLA men's water polo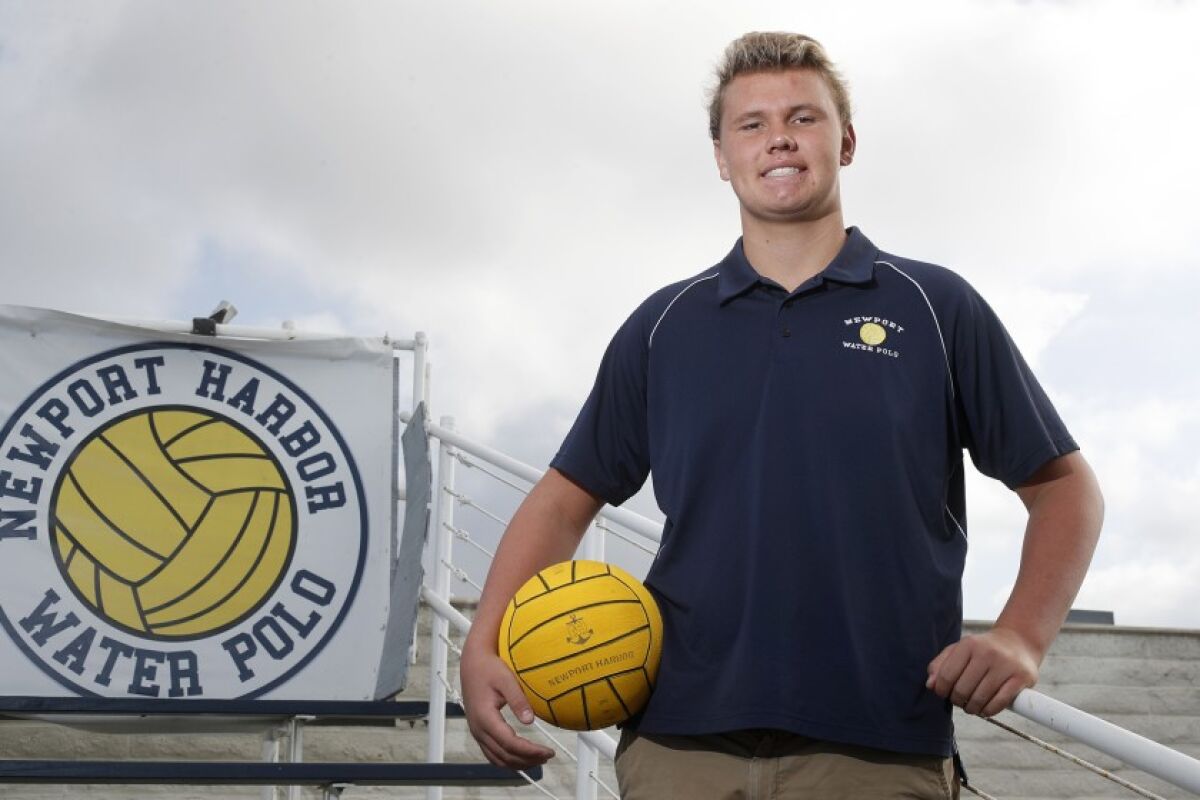 Eli Liechty has wanted to play for UCLA men's water polo since he was 11 or 12 years old.
"That was my dream school for water polo," said Liechty, who now plans to make that dream a reality.
The incoming Newport Harbor High School senior said he has verbally committed to play at UCLA.
"It's close, and I felt very comfortable there," he said. "I felt like it was the best choice for me."
Liechty is a key returner for the Sailors, who have had back-to-back CIF Southern Section Division 1 finalist teams. Liechty teamed with Stanford-bound graduate Ike Love, the two-time Daily Pilot Dream Team Player of the Year, to form a sometimes dominant center duo.
Liechty emerged plenty in his own right as a junior, as a first-team All-Surf League and first-team Dream Team selection.
He said UCLA was one of just two official visits he went on, the other being to Princeton. He was in the airport headed to an official visit at UC Berkeley in mid-March when the visit was canceled due to the coronavirus pandemic, and he also participated in a Zoom call for Harvard's junior day.
Liechty will eventually join his older brother, Jake, an incoming sophomore at UC Irvine, as a college water polo player. The youngest Liechty brother, Ben, is an incoming sophomore left-hander at Newport Harbor who also has a bright future.
The coronavirus has pushed back boys' water polo from fall to winter this year, with matches scheduled to begin Dec. 21. That's actually OK with Eli Liechty, who is still recovering from left hip surgery he had in May. If the season had started on time, he said he would have missed at least the beginning,
Coach Ross Sinclair's Sailors graduated a lot of key pieces from last year like Love, Makoto Kenney (now at UCLA), Reed Stemler and goalkeeper Blake Jackson (both USC) and left-hander Tommy Kennedy (Cal). But Liechty is ready for his senior season.
"I think a lot of people are writing us off since we lost five or six starters, but one of the things we have going for us is that we have a lot of young talent," he said. "I think the five seniors that we have this year are going to be able to lead the team and be able to hopefully bring us back to where we were before."
::
Support our sports coverage by becoming a digital subscriber.
For more sports stories, visit latimes.com/socal/daily-pilot/sports or follow us on Twitter @DailyPilotSport.
---
All the latest on Orange County from Orange County.
Get our free TimesOC newsletter.
You may occasionally receive promotional content from the Daily Pilot.