Four more from Laguna Beach High girls' water polo commit to colleges
The Laguna Beach High girls' water polo team has won back-to-back CIF Southern Section Division 1 titles, and five in the last seven years.
Credit the Breakers' system and coach Ethan Damato, but of course credit also has to go to the players.
Even the ones who often come off the bench are vital to the program, which is deeper than it has ever been. Four more Breakers recently committed to play in college, bringing the total number of commits from the Laguna Beach class of 2021 to a staggering 10 players.
Attacker Skylar Kidd committed to Indiana, utility player Kenedy Corlett to UC Santa Barbara, center defender Mikayla Lopez to Loyola Marymount and center Ella Baumgarten to Marist College in New York.
They join teammates Nicole Struss, Emma Lineback and Molly Renner (UCLA), Emma Singer and Jessie Rose (Cal) and Imani Clemons (UC Santa Barbara) as the team's college commits. Ten of the program's 11 seniors have now committed.
Talented attacker Rachael Carver plans to commit later this year, Damato said.
"I think everyone in our group is super-supportive of one another," Kidd said. "When somebody's making a decision, the entire team is behind them and encouraging them to do their best. It just makes us work really well together, which is something that really helps our program."
Kidd, who had 11 goals, 11 assists and 26 steals last season, said that Indiana resembled the family atmosphere that she found at Laguna Beach. The Hoosiers' head coach Taylor Dodson is a Laguna Beach alumna, and assistant coach Mackie Beck also previously coached in the Breakers' program.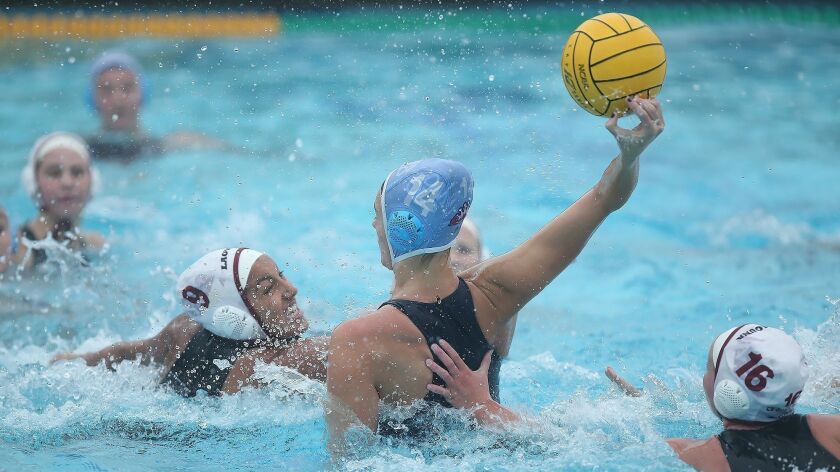 Corlett had 13 goals, 10 assists and 18 steals for the Breakers as a junior. She said she wanted to stay close to the beach. The Gauchos also have a strong Laguna Beach presence with Clemons committing, plus alumni Claire Kelly and Evie Laptin on the roster.
"Once Imani committed, that just made me want to go there even more," Corlett said.
Lopez, who tallied three goals and three assists from her defender spot last year, mentioned that she liked the small atmosphere provided at LMU.
Baumgarten, who transferred from Newport Harbor as a junior, had 10 goals and five assists as part of the Breakers' strong group of centers last year. She said she has enjoyed growing up by the beach, but is excited to venture to the East Coast.
"I thought going to the East Coast was such a nice change, to get all of the different seasons and snow and stuff," Baumgarten said. "I have family who lives up there too, so it's not like I'm completely alone."
::
Support our sports coverage by becoming a digital subscriber.
For more sports stories, visit latimes.com/socal/daily-pilot/sports or follow us on Twitter @DailyPilotSport.
---
All the latest on Orange County from Orange County.
Get our free TimesOC newsletter.
You may occasionally receive promotional content from the Daily Pilot.