Orange County Soccer Club launches virtual soccer curriculum to keep kids active during pandemic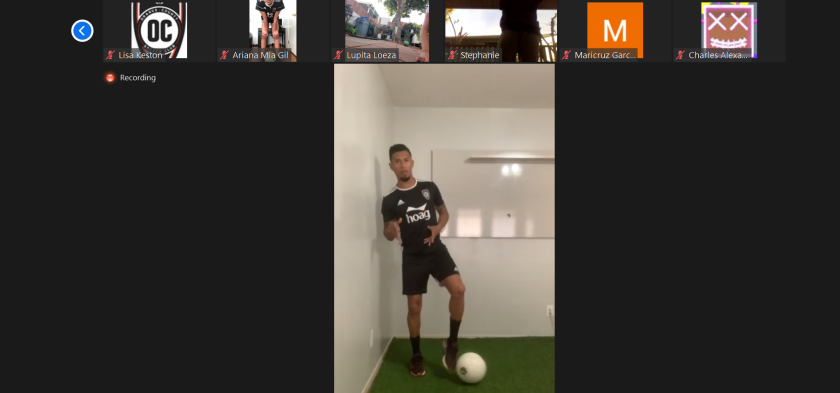 Children are at home more than ever as the coronavirus pandemic rages on and a regional stay-at-home order was issued this week for Orange County.
The Orange County Soccer Club wants to let kids know they can still be active.
The Irvine-based club rolled out a virtual soccer curriculum this week, where Orange County children can progress for an opportunity to level up and win prizes.
There are four age groups: kindergarten through second grade, third through fifth grade, sixth through eighth grade and high school age. Each age group has five levels of competition.
"We have five videos of our soccer players performing a skill," said Lisa Keston, Orange County Soccer Club Community Foundation CFO and vice president of community relations.
"The kids will receive a video on a Monday, for example, and they'll practice the skill on their own. They'll record themselves doing that skill and then they'll send the video back to us. We'll review it, and we'll say either, 'You did an amazing job and you get to go to the next level,' or, 'Practice a little more and then send us another video, you're almost there.'
"We want the kids to have fun and stay motivated. Our hope is that every Monday, we'll be able to release the next level. We're giving kids a week to complete each level."
Kids from the Costa Mesa-based nonprofit have been learning from professional soccer players during the Tuesday afternoon clinics.
After completing all five skill levels, students will receive a prize from Orange County Soccer Club and be entered to win large prizes like computers and tablets. Participating teachers will receive a $10 classroom materials donation for each student that completes the five-level soccer curriculum for their age group.
The club is not charging for the virtual curriculum; any expenses are covered by the OCSC Community Foundation.
Orange County Soccer Club is launching the virtual curriculum in association with the Power of One Foundation, an Orange County nonprofit with a focus on fighting hunger and poverty. The first school to latch on has been Magnolia Science Academy Santa Ana, a K-12 school that has been distance learning this school year due to COVID-19.
In order to help launch the program with Magnolia, the club is hosting virtual soccer clinics with its students this week. OCSC players Michael Orozco and Rob Kiernan held a virtual clinic with a handful of the school's middle school and high school students on Wednesday.
Kiernan, a defender, is from England. Orozco, also a defender, is from a little bit closer to home, as he is an Orange native.
"It's a great way that the kids can see each other again, connect with each other, continue that community that we really strive to have," Rowell said. "It's also a great way to get active. With face-to-face learning, they would have recess two times a day, or at the secondary level with their nutrition or P.E. classes. This is a great way to fill that void."
Power of One Foundation president/executive director Andre Roberson said that his organization already has teamed up with Magnolia to have food distributions there during the pandemic. The virtual soccer curriculum is also helpful, in a different way.
"The thing about it is, it's going to be fun," Roberson said. "They get to level up, win prizes. And at the end of the day, they're learning. Down the line, we're hoping to provide them with soccer balls, different tools that will help them be able to advance and excel in this curriculum. That would give us the opportunity to advance it, and then also share it with other schools as we move it forward."
Elizabeth Eddy, a professional soccer player, recorded an Instagram stories video to raise awareness for youth homelessness in Orange County.
Keston confirmed that OCSC hopes to expand the curriculum to other schools in Orange County. The club has been keeping its players busy and engaged with the community during the pandemic, as they have been conducting in-person soccer clinics on Tuesdays at Save Our Youth in Costa Mesa.
Keston said the online Zoom clinics are purposely done from the player's house or apartment and not the pitch, just to show the kids that they can still practice or train in a small space.
"I'm a mother of two, and my kids have not been back to school since March," Keston said. "We recognize that this is a challenging time for everyone, but especially kids. We just really want to help kids in the best way we can, which is through soccer."
Those who want more information on the Orange County Soccer Club virtual soccer curriculum and how to implement it in their school are asked to email Keston at lisa@orangecountysoccer.com.
::
Support our sports coverage by becoming a digital subscriber.
Follow us on Twitter @DailyPilotSport.
---
All the latest on Orange County from Orange County.
Get our free TimesOC newsletter.
You may occasionally receive promotional content from the Daily Pilot.