Daily Pilot Baseball Dream Team: Ben Jacobs put it all out there for Huntington Beach
Ben Jacobs arrived in San Juan Capistrano on a sunny morning in early June with a bloody mouth and few hopes of playing baseball.
His Huntington Beach High baseball team was headed into its last game of the season, traveling to play JSerra for the CIF Southern California Regional Division I title. But Jacobs, a senior left-handed pitcher, had just gotten his four wisdom teeth pulled the day before at the dentist's office.
He showed up to the game in a sweatshirt and slide sandals. He didn't even bring his uniform.
"I had zero percent [chance] of pitching," he said. "I didn't think I was at all, but I showed up and I was like, 'Maybe I'll just try to play catch.' It felt fine. I wasn't bleeding — a lot, at least."
Jacobs made a makeshift uniform from teammates: the jersey of Jack Smith, the cleats of Tyler Prystajko and the glove of Nico Hagadorn. He stayed ready.
Fellow senior Matthew Lopez pitched a gem, hurling seven scoreless innings. But the Oilers hadn't pushed across any runs, either.
After Ralphy Velazquez launched a two-run home run in the top of the eighth, Huntington Beach pitching coach Adam Springston called on Jacobs for the save.
Four batters later, the Oilers were raising the championship plaque as winners by the score of 2-0.
"That story is incredible," Oilers coach Benji Medure said. "That still gives me the chills even thinking about it. His teeth are all swollen, he's got blood in his mouth and he's frigging closing the game out."
Jacobs, Huntington Beach's workhorse all season, is the 2022 Daily Pilot Baseball Dream Team Player of the Year.
The UCLA-bound Jacobs finished the season 8-2 with a 0.93 earned-run average. His 68 innings pitched and 99 strikeouts were both Huntington Beach single-season records.
Later in June, after turning 18, Jacobs got a large tattoo of an oak tree on his right arm. Inside is an "angel number," 11:11, which signifies a fresh beginning.
The oak tree makes sense to Medure, who said Jacobs gained a lot of toughness as a senior.
"Oak trees are known as the strongest trees, and last through lightning and stay there," Jacobs said. "I went into the year with not too much confidence, because the year before wasn't the greatest year. But at the beginning of the season, after my first two starts, something just clicked. I had a conversation with coach Medure and I regained a lot of confidence, which I think translated to the toughness on the mound and the perseverance."
Jacobs, who entered high school at 5-foot-5 and 130 pounds, exited as a 6-1, 190-pound man. His fastball sat in the lower 90s, and he also had a changeup, curveball and slider. He said he developed the last pitch at the recommendation of UCLA coach John Savage, following his commitment to the Bruins.
The Surf League MVP and All-CIF selection helped Huntington Beach (25-9) win its sixth straight league championship and advance to the semifinals of the CIF Southern Section Division 1 playoffs. But it was that last moment, celebrating with his teammates after winning the regional title, that was perhaps the most special.
"There was a chance that I wasn't even going to show up to the game," Jacobs said. "But I just could not let myself not be there … It was awesome. I wouldn't have wanted it any other way."
Below is a look at the Coach of the Year, first-team Dream Team and second-team Dream Team selections.
COACH OF THE YEAR
Nate Goellrich
Estancia
Goellrich led the Eagles for six years before resigning in 2017. He returned this year, and guided Estancia to likely its best year in program history. Estancia went 31-5, setting a program single-season wins record, and won its first CIF championship. The Eagles then capped off the season with a CIF Southern California Regional Division V title. Credit Goellrich for turning things around after Estancia went 8-16 in 2021 and missed the postseason.
FIRST TEAM
Trevor Scott
P / Estancia / Sr.
The right-handed pitcher did not figure as a top option for Estancia headed into his senior year, but he put in the work and made it a season to remember. Scott, who also played third base, finished the season 11-1 with a 1.29 ERA and five complete games. The second-team All-Orange Coast League and first-team All-CIF selection also batted .345 with 23 runs batted in, and even threw out the first pitch at an Angel game.
Spencer Johnsen
P / Ocean View / Jr.
Johnsen earned Golden West League MVP honors, and he delivered his best game at perhaps the most crucial moment. The left-handed pitcher's no-hitter in a 2-0 victory over Segerstrom helped Ocean View (19-9) clinch a share of its third straight league title. Johnsen finished 7-2 with a 1.46 ERA, and also batted .353 with two home runs and 15 RBIs.
Nick Bonn
P / Laguna Beach / Sr.
The Breakers had tragedy strike before the season with the death of coach Jeff Sears. Though Laguna Beach (13-13) ultimately came up short in a battle for the playoffs, Bonn, a Pepperdine-bound right-handed pitcher and shortstop, kept the Breakers in the race until the end. He finished 5-4 with a 0.93 ERA, and 80 strikeouts in 60 innings pitched. Bonn, the Wave League co-Pitcher of the Year, also hit a team-best .362.
Trent Liolios
P / Newport Harbor / Sr.
Liolios was the clear ace pitcher on a Sailors team that turned it up late in the season, advancing to the CIF semifinals for the first time and winning at Oaks Christian for the CIF Southern California Regional Division III title. Liolios, bound for Northwestern University, finished the season 8-2 with a 1.31 ERA, striking out 77 in 69 2/3 innings. He also hit .270 with two home runs and 21 RBIs.
Andrew Mits
P / Estancia / So.
Mits was the Eagles' second ace, along with Scott, and also played second base. A first-team All-Orange Coast League player, he was also named the CIF Southern Section Division 6 Player of the Year. Mits finished the season 11-4 with a 0.65 ERA, and eight complete games. No slouch at the plate, he hit .392 with 25 RBIs.
Jordan Stucki
C / Costa Mesa / Sr.
Stucki was a senior leader for the Mustangs behind the dish, as well as the only first-team All-Orange Coast League selection for Costa Mesa (13-12). The team's most consistent hitter, Stucki led Mesa with a .371 batting average. Bound for Maryville University of St. Louis, he had 15 RBIs and roped five doubles.
Ralphy Velazquez
IF / Huntington Beach / Jr.
Known as one of the best hitters in high school baseball, Velazquez provided the single biggest hit of the Oilers' season. His two-run home run to left in the eighth inning helped Huntington Beach secure a 2-0 win at JSerra in the CIF Southern California Regional Division I title game. Velazquez, a first baseman and Arizona State commit, hit .319 with team-best totals of nine home runs and 25 RBIs for Huntington Beach. He was a first-team All-Surf League pick.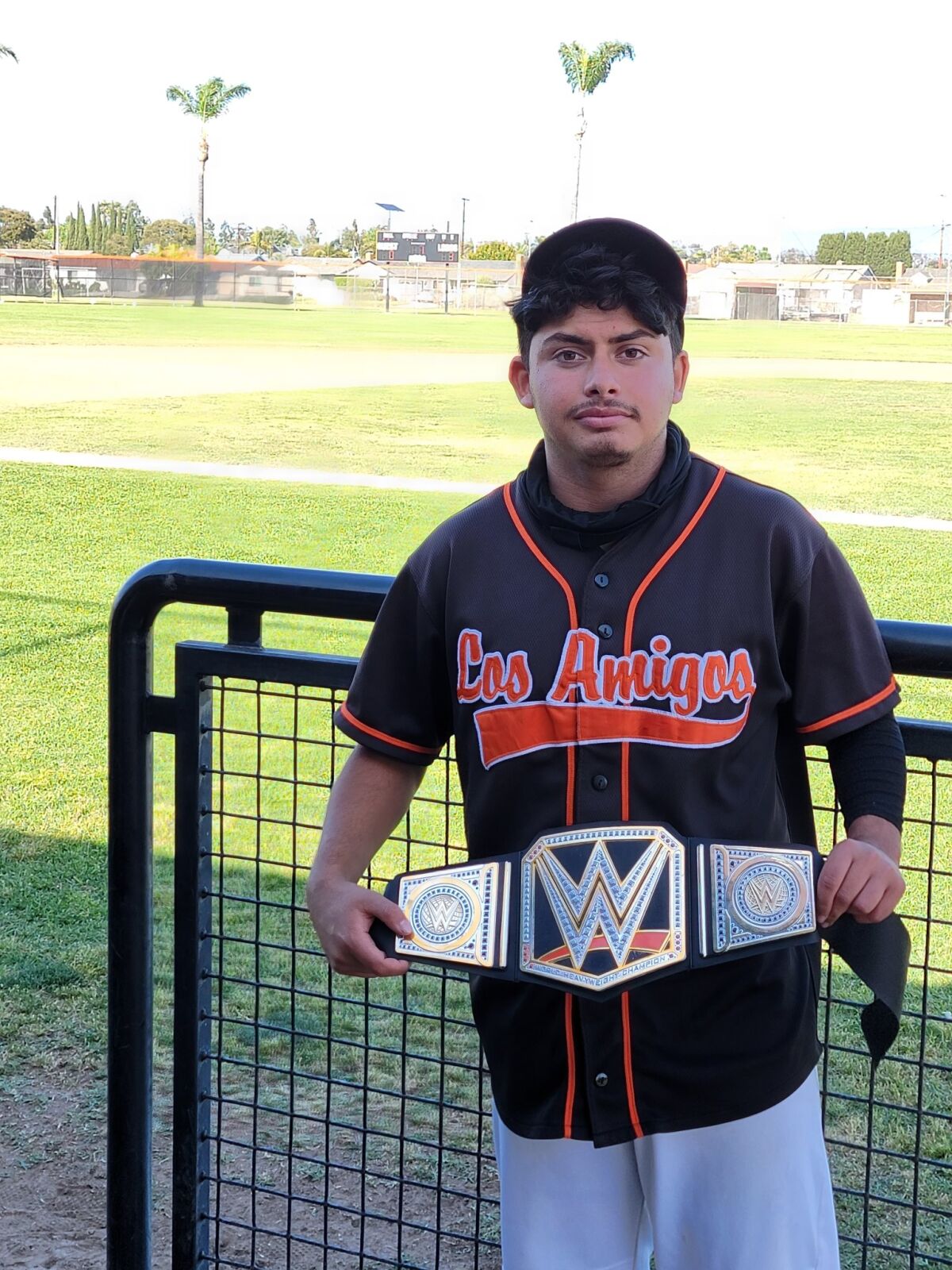 Juan Gutierrez
IF / Los Amigos / So.
The Lobos' leadoff hitter was a catalyst all season long, and coach Aaron Pines called him the most competitive kid he's ever coached. Gutierrez stood out at the plate (hitting .379 with 31 RBIs and 32 runs scored) and on the mound (12-2 with a 1.30 ERA and 86 strikeouts in 96 innings). The Garden Grove League MVP helped Los Amigos (23-5) earn its first winning season in 38 years and first league title in program history, advancing to the second round of the CIF Southern Section Division 7 playoffs.
Tim Grack
IF / Fountain Valley / Sr.
Grack was versatile for the Barons (12-15), as he was a right-handed pitcher in addition to playing shortstop and third base. Coach Deric Yanagisawa, who resigned after the season in May, called him not only his best player but one of the best players in the entire Surf League. A University of San Diego commit, Grack will be a building block for new coach Gerardo Gonzalez. He was a first-team All-Surf League honoree.
Joey Wright
INF / Newport Harbor / Sr.
Wright hit leadoff all season for the Sailors, and shined defensively at shortstop. Offensively, he was also one of the team's top weapons, hitting .349 with 14 RBIs and eight doubles, while his 29 stolen bases created many opportunities for Newport Harbor as well. Wright, a first-team All-Wave League selection, is bound for UC Davis.
Charlie Mannon
OF / Corona del Mar / Sr.
A three-year starter headed to UC Santa Barbara, Mannon liked to light people up as an outside linebacker for the football team. But he also did plenty of damage for CdM's baseball team, as the Wave League MVP who coach Kevin McCaffrey called the heart of the program. He played right field for the league champion Sea Kings (18-11) and hit .286 with four home runs and a team-best 25 RBIs.
Aidan Espinoza
OF / Huntington Beach / Jr.
Espinoza was the leadoff hitter for the Oilers, the table-setter for a very potent lineup in addition to having significant defensive responsibilities as the center fielder. He proved up to the challenge, hitting a sizzling .388 and covering a bunch of ground in the outfield. The first-team All-Surf League selection, a UCLA commit, also launched his only home run of the season in a win over Villa Park in the SoCal Regional Division I semifinals.
James De La O
OF / Estancia / Jr.
De La O may have come out to the baseball team late after the basketball season. But once he did, he never stopped hitting. De La O, the Eagles' right fielder, ended up hitting .406 with team-best totals of two home runs, 12 doubles and an Estancia single-season record 41 runs batted in. He had the eventual game-winning RBI in the CIF Division 6 title game against Anaheim, as his double down the left-field line scored Trevor Scott in the 11th inning.
Van Sidebotham
DH / Corona del Mar / Jr.
Sidebotham played first base for the Sea Kings, but was clearly one of the top hitters in the area, even as a junior. He hit .482 for CdM, and his four home runs tied for the team lead. He also had seven doubles and 24 RBIs. A first-team All-Wave League selection, he is uncommitted, but don't expect that to be the case for too much longer.
Landon Runyan
U / Ocean View / Jr.
Seahawks coach Tanner VanMaanen called Runyan the team's most consistent hitter all year, and the stats bore that out. He earned Golden West League Rookie of the Year accolades after hitting .360 with two home runs and 21 RBIs. Runyan, who played right field for Ocean View, is a UC San Diego commit.
SECOND TEAM
Position, Name, School, Year
P Matthew Lopez, Huntington Beach, Sr.
P Tucker Fountain, Edison, Sr.
P Jack Bolt, Corona del Mar, Sr.
P A.J. Guitron-Moore, Newport Harbor, Sr.
P Tyler Wilson, Marina, Jr.
C Josiah Alvarez, Los Amigos, Sr.
IF Brian Trujillo, Huntington Beach, Jr.
IF Brandon Winokur, Edison, Jr.
IF Jack Moyer, Estancia, Sr.
IF Blake Wentz, Fountain Valley, Sr.
OF Chris Hall, Costa Mesa, Sr.
OF Bryce Blaser, Newport Harbor, Sr.
OF Griffin Naess, Laguna Beach, Jr.
DH Trent Grindlinger, Huntington Beach, Fr.
U Aaron Ramirez, Los Amigos, Sr.
::
Support our sports coverage by becoming a digital subscriber.
For more sports stories, visit latimes.com/socal/daily-pilot/sports or follow us on Twitter @DailyPilotSport.

---
All the latest on Orange County from Orange County.
Get our free TimesOC newsletter.
You may occasionally receive promotional content from the Daily Pilot.