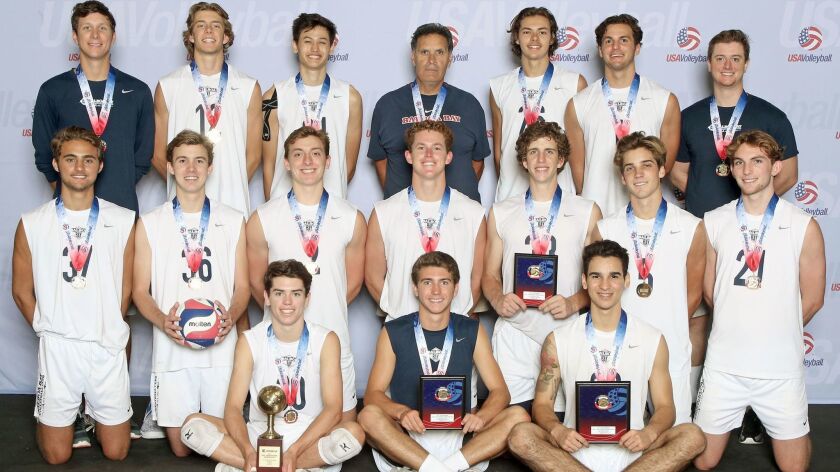 The Balboa Bay 18 Blue volleyball club out of Costa Mesa won the 18-and-under title in the open division for the second straight year on Tuesday at the USA Volleyball Boys' Junior National Championships at the Columbus Convention Center in Columbus, Ohio.
Balboa Bay beat 949 18 Black B-KC from San Juan Capistrano, 25-23, 22-25, 15-10 in the final. Both teams are in USAV's Southern California Region.
Balboa Bay's Carlos Rivera, who last played for Newport Harbor High, was named tournament MVP. Cole Paxson, a Laguna Beach graduate bound for USC, Cole Pender, a Newport Harbor incoming senior and a UCLA commit, and Garrett Halsey also won all-tournament honors.
"All my teammates, for me, are MVPs," Rivera said in a release. "They supported me and gave their all for me to have this award. I don't think this should be only mine. This should be everyone's.
"We wanted to do it for Rocky also," he said, referring to Balboa Bay head coach Rocky Ciarelli, who is also the Newport Harbor coach. "Rocky is a great coach and he always gives it his all. He always sacrifices so much."
Balboa went 10-1 in the tournament, losing only one match to Yorktown out of Pennsylvania.
"We played very well. It's a very good team," Ciarelli said. "They have good ball control, good blocking, good hitting, good setting. It was hard for me to screw it up."
A record 510 teams and more than 5,000 top boys' junior players, ages 12-18, from the United States, Canada, Puerto Rico and Guam participated in the Boys' Junior National Championships this year.
The Balboa Bay 18 Blue team also featured: Will Axton (Newport Harbor), Clay Dickinson (Corona del Mar, USC), Mitch Haly (CdM, USC), Spencer Lawrence (Newport Harbor, Ohio State), Jack Matthews, Jake Meyer (CdM), Landon Monroe (Newport Harbor, UC Santa Barbara), Pete Obradovich (Laguna Beach, USC), Spencer Olivier and Grant Shaw (CdM).
— From staff reports
---