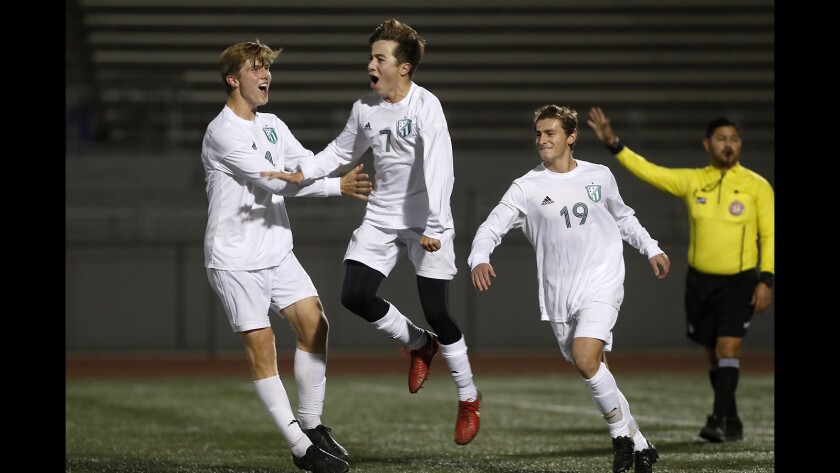 While the Sunset League is now the Sunset Conference, the goal for the Edison High boys' soccer team remains the same.
The Chargers plan to contend for a league title.
The Sunset Conference has been divided into two leagues, the Surf League, which is the top league, and the Wave League, which is the lower league. Edison coach Charlie Breneman and his Chargers now must go through CIF Southern Section playoff returnees in Los Alamitos and Corona del Mar, as well as Newport Harbor, to claim the Surf League championship.
Breneman is in his 13th season in charge of the Chargers, who are 9-4-4 overall. Last season, Edison went 16-5-2 overall and won its second straight league crown by going 9-1-0 in league play, before suffering a 1-0 loss to Palos Verdes in the first round of the Division 1 playoffs.
Breneman stresses that the program's philosophy is the same, despite all the alignment upheaval. The Chargers are outside of the CIF Southern Section Division 1 top-10 poll.
Breneman has junior Kai Peterson and senior Wyatt Burris back after both earned first-team All-Sunset League honors last season. Peterson is in the midfield, while Burris anchors the defense.
"He's a big-time facilitator," Breneman said of Peterson, adding that his offensive production would likely get distributed among several contributors, including juniors Armand Pigeon and Marcus Henze.
Corona del Mar comes from the Pacific Coast League, where it finished second. The Sea Kings, under a new coach, began this season with six victories.
Damien O'Brien took over for coach George Larsen, who stepped down after nine seasons. Senior defender Matt Katz, a first-team All-Pacific Coast League selection last season, is manning the last line of defense.
The Sea Kings, who are 10-2 overall, open Surf League play against defending league champion Edison. They host the Chargers Friday at 3 p.m.
Newport Harbor has a new coach in Ignacio Cid, who replaced Ali Khosroshahin.
Rising sophomore Kevin Soltero is the lone returning first-team All-Sunset League pick from a team placing second in the league at 6-3-1, but Cid acknowledged the potential of Tyler Beteag at center back, Zach Weber on the left and Emilio Carbajal at goalkeeper.
Fountain Valley enters as the favorite to win the Wave League. The Barons are 10-4 overall and ranked No. 10 in Division 2.
Last season, coach Jason Smith led Fountain Valley to a third-place finish in the Sunset League and the first round of the Division 1 playoffs. He still possesses several scorers, including first-teamer All-Sunset League players Tyler Le, a junior, and Callan Mann, a senior.
Sophomore center forward Sebastian Rus got off to a hot start this season, scoring 10 goals and assisting on five others in his first 11 matches.
"He had around 15-16 assists last year, which is probably a freshman record for us," Smith said of Rus, who also recorded 13 goals in 2017-18.
Huntington Beach, which went 8-15-1 overall and 4-6-0 in the league last campaign, is struggling again. The Oilers are 4-13-3 overall this season.
Oilers coach Sean Dick lost first-team All-Sunset League right back Rigo Cuevas to Golden West College, but he brings back fellow first-teamer Lex Wilson on the back line.
Laguna Beach and Marina round out the Wave League teams. The Breakers, from the Orange Coast League, moved up to Division 3 this offseason after a 9-6-4 campaign last season.
Coach Daniel Richards is in his ninth season at the helm. He has a young team, as many of his seniors cut their teeth on junior varsity last season.
Junior forward Jet Rocha, entering his third varsity season, is the captain. Richards praised the play of sophomores Griffin Kristensen and Booker Frith.
The Vikings will attempt to climb out of last place, as they finished 0-9-1 in the Sunset League last season. Senior midfielder Marcus Padilla, who earned first-team all-league recognition in 2017-18, is back.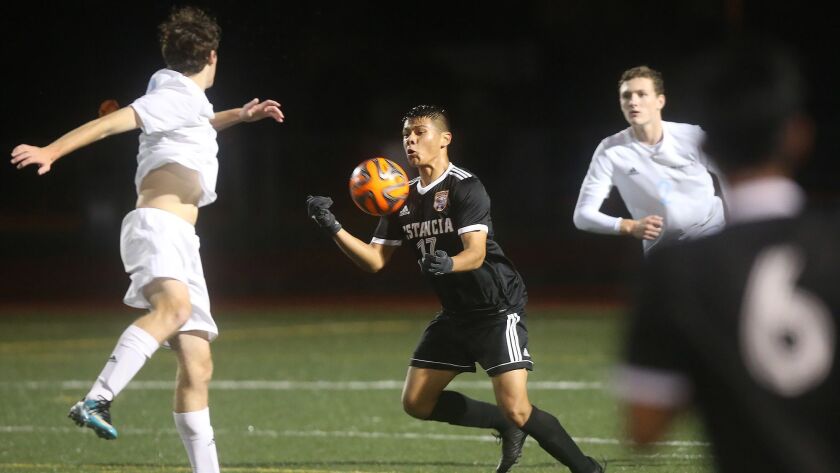 Estancia went the furthest in the postseason out of all the local programs. Coach Robert Castellano guided the Eagles to the second round of the Division 3 playoffs, where they lost 2-1 in overtime at La Quinta.
While youth suggests a potential rebuilding year for the reigning Orange Coast League champions, Castellano ensures experience is waiting in the wings.
Castellano rotated many of his standout juniors into significant playing time as sophomores. One of those players is Marcos Arreola, who forms a formidable center with senior forward Eric Avonce and back Gerardo Leon.
The returns are encouraging. The Eagles (9-5-2, 1-1-1 in league) tied league favorite Santa Ana 2-2 on Jan. 4. The Dons, who came over from the Golden West League, are ranked No. 9 in Division 1.
Los Amigos looks like it boasts a team that can win the Garden Grove League championship. The Lobos, under coach Chris Sandro, began the season 8-0-1 before suffering their first loss on Wednesday, a 2-1 setback to Loara. The Lobos, who are 2-1 in the league, are ranked No. 7 in Division 5.
Junior Francisco Lopez leads Los Amigos with 12 goals to go with five assists, and senior Alfonso Montano has seven goals and three assists. Los Amigos last won the league title in 2012-13.
Costa Mesa experienced some staff shuffling. Former boys' coach Jason Boyce now heads the girls' program.
Boyce's former assistant, Gus Gomez, is now in charge of the boys. He inherits a 10-4-4 squad that reached the first round of the Division 4 playoffs.
His main asset is returning Orange Coast League Defensive MVP Tristan Trepas.
Sage Hill brought back Joe Franco, a former Chivas USA draft pick, as its coach. The Lightning are in the San Joaquin League this season.
Franco's biggest challenge is replacing leading goal scorer Trevor Grant, who has entered the Development Academy pipeline.
Pacifica Christian Orange County enters its second season as a varsity program. Coach Joey O'Keefe, the San Joaquin League Coach of the Year last season, guides the Tritons in the Academy League this season.
Brethren Christian starts its time in the Express League after a 1-11 stint last season in the Academy League.
SAM DODGE is a contributor to Times Community News. Follow him on Twitter: @samgododge
---