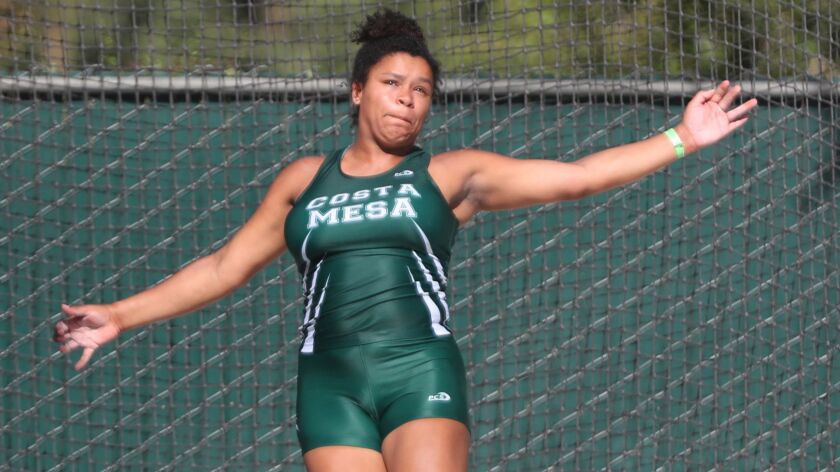 Reporting from Clovis —
It did seem odd that near-perfect conditions greeted California's top track and field athletes on Friday.
No state meet feels complete without the blistering heat of late spring.
Sure enough, temperatures rose into the mid-90s just in time for the finals of the CIF State track and field championships at Clovis Buchanan High.
Inhospitable temperatures rank among the many challenges athletes faced to get to this point. Five elimination rounds, beginning with league finals, preceded the state finals.
Costa Mesa High senior and UC Irvine signee Tayla Crenshaw ended her high school career by placing 10th in the girls' discus throw with a mark of 138 feet, 5 inches.
Over the course of the last four years, the Crenshaw twins had dominated the discussion when it came to Orange Coast League track and field. The Costa Mesa duo rose together, with Felicia building a slightly stronger résumé.
Felicia, a two-time state finalist and former state medalist in the discus, did not compete in CIF this year due to an emergency appendectomy.
Even before she found out that she would be going through the CIF postseason alone, senior year represented a time that Tayla Crenshaw was growing in confidence and identity.
Mustangs throws coach Hasan Asrar had commented after Tayla achieved a personal best of 142-11 in the Mt. SAC Relays that she was finally making a name for herself separate from the association to her sister.
"I feel like I've always known that we were separate and we were our own individuals," Tayla said. "I think for me, coming out mentally and not getting in my head, I think Mt. SAC was a huge turnaround.
"I think throughout this season, I just learned about mental toughness, to believe in myself, and if you tried your hardest, then that is the best you can do."
This weekend marked a rare occurrence when the twins were not by each other's side, as Felicia had planned to attend Costa Mesa High's prom at Soka University. The prom, however, was postponed on Saturday due to ongoing wildfires in the Aliso Viejo area.
Marina's Skyler Magula delivered a podium performance, jumping a lifetime best of 15-10 to take fifth in the boys' pole vault.
Magula came into the meet with the fourth highest bar cleared in school history at 15-9. Jett Gordon set the standard at 17-2. Magula's uncle, Logan Odden, is second (16-7), and his brother, Michael, ranks third (16-0) on the Vikings' all-time list.
Burbank Burroughs' Jagdeep Chahal (fourth, 4 minutes 12.16 seconds) and Village Christian freshman standout Mia Barnett (sixth, 4:48.64) medaled in their respective 1,600 finals.
Chahal ran with the lead pack for most of the race, but he had to tough it out as he gasped for breath during a fast-paced final lap.
"That last lap, I wasn't expecting it to be that hard," Chahal said. "Usually, I start feeling it the last 250 [meters], the last 200, and I started feeling it before the start of the last lap.
"It was a heck of a pain, but I just knew that if I could push through and hold my spot, that's all that matters."
Chahal became a state medalist after not getting out of the Southern Section Division 1 preliminaries the year before.
CIF State track and field championships
At Clovis Buchanan High
Boys' finals results
100 – 1. Allen (Tulare Union) 10.44; 2. Hampton (Yucaipa) 10.45; 3. Shakir-Ricks (Murrieta Mesa) 10.54; 4. Steward (Orng Gln) 10.66; 5. Archie (El Cerrito) 10.67; 6. Christon (Madison) 10.67; 7. Ajose (San Leandro) 10.76; 8. Phillips (Dixon) 10.85; 9. Ellis (Mt. Carmel) 10.86
200 – 1. Shakir-Ricks (Murrieta Mesa) 20.98; 2. Hampton (Yucaipa) 21.13; 3. Franco (Whitney) 21.28; 4. Ellis (Mt. Carmel) 21.31; 5. Reynolds (Clayton V.) 21.50; 6. Christon (Madison) 21.51; 7. Mulholland (Del Oro) 21.75; 8. Ajose (San Leandro) 21.85; 9. Smith (Westview) 21.91
400 – 1. Glasser (Marin Catholic) 46.97; 2. Reynolds (Clayton V.) 47.27; 3. Samaniego (Vista Murrieta) 47.40; 4. Okonkwo (Murrieta Mesa) 47.52; 5. Johnson (Valencia) 47.62; 6. Bland (Las Lomas) 47.71; 7. Larkin (Oakland Tech) 47.93; Turner (West Valley) DQ
800 – 1. Gomez (Westmont) 1:50.21; 2. Charvet (Heritage) 1:50.79; 3. Van Dorpe (Mater Dei) 1:51.07; 4. Poynter (California) 1:51.85; 5. Zarate-Sanchez (Davis) 1:51.02; 6. Bush (Tesoro) 1:52.06; 7. Moreland (Campbell) 1:52.17; 8. Irish (Palos Verdes) 1:52.51; 9. Ratkovich (Loyola) 1:52.67; 10. Anderson (Carlmont) 1:53.04; 11. Hickman (Mission Viejo) 1:53.55; 12. Alexander (Vanden)1:53.58; 13. McKenzie (Armijo) 1:53.75; 14. Boyle (Amador Valley) 1:53.96
1,600 – 1. Anderson (Redwood) 4:09.31; 2. Rosenthal (High Tech) 4:09.63; 3. Opsahl (Redlands East Valley) 4:10.79; 4. Chahal (Burbank Burroughs) 4:12.16; 5. Abberton (West Torrance) 4:13.06; 6. Medrano (Highland) 4:13.65; 7. Hastings (L. Plumas) 4:15.56; 8. Middleton-Pearson (Dublin) 4:15.72; 9. Grover (JSerra) 4:16.63; 10. Colonna (St. Francis) 4:20.23; 11. Schroeder (Dublin) 4:20.69; 12. Sterkel (West Ranch) 4:25.06
3,200 – 1. Strangio (Jesuit) 8:56.18; 2. Hazell (El Camino Real) 8:57.90; 3. Court (Mira Costa) 8:59.56; 4. Danforth (Canyon/CC) 9:00.30; 5. Anderson (Redwood) 9:00.60; 6. Livingston (De La Salle) 9:03.75; 7. Mota (Stockdale) 9:04.42; 8. Martinez de Pini (Cathedral Catholic) 9:05.34; 9. Galindo (Clovis North) 9:05.80; 10. Ramos (Rubidoux) 9:06.95; 11. Shively (Pasadena Poly) 9:07.11; 12. Miranda (Menlo) 9:07.57
110HH – 1. Ellis (Vista del Lago) 13.97; 2. So. Guttormsen (Davis) 14.02; 3. Hunt (Simi Valley) 14.09; 4. Williams (M. West) 14.20; 5. Woods (Clovis) 14.22; 6. Reed (Grant) 14.39; 7. Foster (Clovis North) 14.62; 8. Butt (Carson) 14.67; Wada-Law (Los Gatos) DQ (Trail leg)
300IH – 1. Lutalo-Roberson (Upland) 36.61; 2. Rash (ML King) 37.17; 3. Mak (JSerra) 37.50; 4. Woods (Clovis) 37.57; 5. Farmer (Rancho Bernardo) 38.02; 6. Williams (Millikan) 38.23; 7. Andrade (Redwood) 38.27; 8. Scott (Cosumnes Oaks) 38.77; 9. Lieu (Valhalla) 38.96
400 relay – 1. Great Oak 40.99; 2. Clovis North 41.14; 3. Rancho Verde 41.27; 4. Long Beach Poly 41.50; 5. Murrieta Mesa 41.51; 6. Rancho Cucamonga 41.57; 7. Tulare Union 41.74; 8. St. Mary's 41.93; Trabuco Hills DQ (Zone)
1,600 relay – 1. Murrieta Mesa 3:10.86; 2. Clayton Valley 3:12.31; 3. Long Beach Wilson 3:12.88; 4. Rancho Verde 3:14.37; 5. Aliso Niguel 3:14.75; 6. Roosevelt 3:14.95; 7. Valencia 3:16.39; 8. Junipero Serra 3:19.39; Clovis North DQ (Impeeded)
HJ – 1. Sean Lee (Trabuco Hills) 7-2; 2. Hicks (Clayton Valley) 6-10; 3. Tshiaba (Dorsey) 6-8; 4. Allen (San Marcos) 6-8J; 5. Krauss (Liberty) 6-6; 6. Molina (St. Francis) 6-6J; Lott (California) NH; Stratford (Scotts V.) NH; Somerville (Clovis North) NH; Ruddell (Morro Bay) NH; Toler (Vacaville) NH
LJ – 1. Clemons (St. Mary's) 25-1; 2. Enos (St. Ignatius) 24-0½; 3. Jackson (Eastlake) 23-8½; 4. Foster (Clovis North) 23-7; 5. Stevenson (Great Oak) 23-4½; 6. Wood (Clovis North) 23-1¾; 7. Walls (Bullard) 22-11¾; 8. Wesley (Santa Ana Valley) 22-9½; 9. Jermel (Grace Brethren) 22-9; 10. Harris (Benicia) 22-0¼; 11. Lewis (Oaks Christian) 21-10; 12. Carlisle (The Kings Ac.) 21-8
TJ – 1. Stevenson (Great Oak) 49-11¾; 2. Jackson (Eastlake) 49-3; 3. Whitt (Clovis North) 48-7; 4. McDaniel (Natomas) 47-9¼; 5. Wei (South Pasadena) 47-4½; 6. Agina (Sanger) 46-9; 7. Pierce (Pittsburgh) 46-9J; 8. Davis (Highland) 45-9½; 9. Jones (Palisades) 45-5¼; 10. Mbamo (Rancho Bernardo) 45-3¾; 11. Ruth (Oceanside) 45-1½
PV – 1. So. Guttormsen (Davis) 17-10; 2. Ward (San Dieguito) 15-10; 3. Seireeni (Harvard-Westlake) 15-10J; 4. Rice (Rancho Bernardo) 15-10J; 5. Magula (Marina) 15-10J; 6. Si. Guttormsen (Davis) 15-4; 7. Flores (Gilroy) 15-4J; 8. Valles (Canyon) 15-4J; 9T. O'Brien (Loyola) 14-10; 9T. Amata (Roosevelt) 14-10; 11. Fredeen (Turlock) 14-10J; 12. Quimson (Irvington) 14-10J
SP – 1. Viveros (Liberty) 62-5½; 2. Duensing (Esperanza) 61-6¾; 3. Gould (Great Oak) 59-10¾; 4. Bryant (West Ranch) 59-0; 5. Lyons (Sherman Oaks Notre Dame) 58-6¼; 6. Elbettar (Newport Harbor) 58-2¾; 7. Cetti (Santa Barbara) 57-9¼; 8. Betchart (Washington) 57-7½; 9. Johnson (Buchanan) 54-5; 10. Phillips (Clovis North) 53-3½; 11. Hurst (Corona Santiago) 52-2¼; 12. Aviles (Ventura) 50-8
DT – 1. Lavalle (Mission Viejo) 182-7; 2. Werner (Granite Bay) 182-3; 3. Fua (Valley Christian) 181-5; 4. Stephens (Simi Valley) 181-1; 5. Van Grouw (Central) 181-0; 6. McMullen (Hart) 180-10; 7. Cruz (Newbury Park) 180-9; 8. Johnson (Buchanan) 180-0; 9. Gould (Great Oak) 178-6; 10. Aviles (Ventura) 177-0; 11. Navarro (Great Oak) 176-11; 12. Viveros (Liberty) 175-2
Girls' finals results
100 – 1. Nowling (Calabasas) 11.47; 2. Frost (Serra) 11.61; 3. Augustine (Long Beach Poly) 11.65; 4. Wilson (Stockdale) 11.71; 5. Abba (Etiwanda) 11.77; 6. Bowens (Redlands East Valley) 11.80; 7. Bolden (Pittsburgh) 11.99; 8. Shaheed (Madison) 12.00; 9. Allain (La Sierra) 12.19
200 – 1. Robinson-Jones (Bishop O'Dowd) 23.66; 2. Augustine (Long Beach Poly) 23.70; 3. Frost (Serra) 23.76; 4. Nowling (Calabasas) 24.02; 5. Medley (El Toro) 24.15; 6. Carter (Santa Rosa) 24.18; 7. Hicks (Upland) 24.37; 8. Pipion (Vista del Lago) 24.63; 9. Surrell (Newark M.) 24.71
400 – 1. Robinson-Jones (Bishop O'Dowd) 52.37; 2. Medley (El Toro) 53.08; 3. Carter (Santa Rosa) 54.07; 4. Surrell (Newark M.) 54.20; 5. Herron (Serra) 54.80; 6. Meaders (Chino Hills) 55.0; 7. Umans (Chaminade) 55.40; 8. Johnson (Quartz Hill) 56.00; 9. Pipion (Vista del Lago) 56.19
800 – 1. McIntosh (Del Oro) 2:05.22; 2. Yago (Marymount) 2:08.51; 3. Stanziano (Concord) 2:09.44; 4. Friedman (Santa Cruz) 2:09.58; 5. Johnson (Mission Viejo) 2:10.57; 6. Tomkinson (Menlo) 2:10.58; 7. Sanacore (Los Alamitos) 2:11.06; 8. Morales (Scripps R.) 2:12.92; 9. Browne (JW North) 2:15.56; 10. Penn (Corona Centennial) 2:16.31; 11. Harper (Trinity) 2:20.73; 12. Ibarra (Riverside Poly) 2:28.57
1,600 – 1. M. Denner (Oak Ridge) 4:42.77; 2. O'Keeffe (Davis) 4:43.69; 3. Duarte (Chino Hills) 4:44.87; 4. E. Denner (Oak Ridge) 4:45.49; 5. Suarez (Mayfield) 4:48.04; 6. Barnett (Village Christian) 4:48.64; 7. Castillo (Saugus) 4:49.34; 8. Cortes (Great Oak) 4:51.26; 9. Lowe (Buchanan) 4:52.10; 10. Peterson (Healdsburg) 4:54.16; 11. Riedman (La Costa) 4:55.28
3,200 – 1. E. Denner (Oak Ridge) 10:10.32; 2. M. Denner (Oak Ridge) 10:11.56; 3. O'Keefe (Davis) 10;12.56; 4. Fahy (La Costa) 10:16.45; 5. Gaitan (Great Oak) 10:20.34; 6. Herberg (Capistrano Valley) 10:21.13; 7. Lowe (Buchanan) 10:26.32; 8. Smith (Buchanan) 10:29.17; 9. McCandless (Granada) 10:35.26; 10. Wagner (Redwood) 10:35.81; 11. Pflughoft (Great Oak) 10:36.03; 12. Castillo (Saugus) 10:36.62
100HH – 1. Hicks (Upland) 13.35; 2. Dyer (Temecula Valley) 13.67; 3. Wilson (Stockdale) 13.73; 4. Shearer (Silver Cr.) 13.76; 5. Jones (San Marcos) 13.87; 6. Merritt (Santa Margarita) 13.93; 7. Asjah (St. Anthony) 14.26; 8. Bernard-Joseph (Roosevelt) 14.26; 9. Bowen (Edison/SJ) 14.43
300IH – 1. Bernard-Joseph (Roosevelt) 41.76; 2. Robinson-Hubbard (Calabasas) 42.07; 3. Merritt (Santa Margarita) 42.28; 4. Payne (Long Beach Poly) 42.30; 5. Fletcher (Ponderosa) 42.38; 6. Greene (Carter) 42.54; 7. Scott (Vista) 43.05; 8. Thomas (Torrey Pines) 43.56; 9. Brown (Segerstrom) 49.34
400 relay – 1. Serra 45.69; 2. Calabasas 45.91; 3. Sheldon 46.12; 4. Long Beach Poly 46.71; 5. Bishop O'Dowd 46.86; 6. Olympian 47.32; 7. Santa Margarita 47.65; 8. St. Mary's 47.66; Arcadia DNF
1,600 relay – 1. Bonita 3:42.62; 2. Serra 3:44.37; 3. Chino Hills 3:45.44; 4. Quartz Hill 3:45.60; 5. Sheldon 3:45.92; 6. Alemany 3:46.80; 7. St. Mary's 3:47.91; 8. Dana Hills 3:49.19; 9. Woodcreek 3:50.27
HJ – 1T. Burke (Riverside Poly) 5-10; 1T. Glen (Long Beach Wilson) 5-10; 3. Garner (Woodbridge) 5-8; 4. Hickey (Coronado) 5-8J; 5. Agina (Sanger) 5-8J; 6. Peranich (St. Ignatius) 5-8J; 7. Hurst (Fortuna) 5-8J; 8T. Lybbert (Davis) 5-6; 8T. Morales (Dos Pueblos) 5-6; 10. Blotzer (Santiago) 5-6J; 11. Kaufman (Harvard-Westlake) 5-4; 12. Kamba-Griffin (Davis) NH
LJ – 1. Hickey (Coronado) 19-9¾; 2. Turner (Carson) 19-3; 3. Fletcher (Wildwood) 19-3J; 4. Ruotolo (Mater Dei) 19-2¾; 5. Ronan (St. Ignatius) 18-10½; 6. Mallory (Desert) 18-8¼; 7. Jones (San Marcos) 18-5; 8. Shearer (Silver Cr.) 18-3; 9. Wilson (Bonita) 18-1½; 10. Hatcher (St. Mary's) 17-6½; 11. Yen (Arcadia) 17-6¼; 12. Kimball (Downes) 16-7¼
TJ – 1. Fisher (Silver Cr.) 41-7; 2. Fulton (Muir) 41-4½; 3. Lee (Castro Valley) 40-6¾; 4. Hatcher (St. Mary's) 40-6¾J; 5. Shearer (Silver Cr.) 40-1¾; 6. McDonald (Mater Dei) 40-0½; 7. Kamara (Leigh) 38-11½; 8. Garner (Woodbridge) 38-10; 9. Wells (Taft Union) 38-10J; 10. Lyon (Woodbridge) 38-4½; Ruotolo (Mater Dei) Foul
PV – 1. Wong (Santa Catalina) 12-6; 2. Turner (Redondo) 12-6; 3. Sommers (Westlake) 12-6J; 4. Finau (Branham) 12-6J; 5. Cervantes (Poway) 12-0; 6T. Flynn (Aliso Niguel) 12-0J; 6T. Grant (Presentation) 12-0J; 8. Gonzalez (Apple Valley) 12-0J; 9. Thomson (Poway) 11-6; 10. Aquilizan (Moreau) 11-6J; 11. Kern (Carondelet) 11-6J; Grau (Mira Costa) NH
SP – 1. Budwig (Fowler) 46-11; 2. Franklin (Golden Valley) 46-1½; 3. Ramirez (West Ranch) 45-5¼; 4. Hall (James Logan) 44-8¼; 5. Bryant (Miramonte) 43-7¾; 6. Watts (Terra Nov.) 43-6; 7. Butler (Buchanan) 43-2¼; 8. Bender (Liberty) 43-0½; 9. Williams (Clovis North) 41-5; 10. Jackson (Redwood) 40-2½; 11. Sale (Los Alamitos) 39-11; Tovi (San Gorgonio) Foul
DT – 1. Grotegeer (Wheatland) 174-9; 2. Hall (James Logan) 165-4; 3. Budwig (Fowler) 161-0; 4. Nnaji (M. West) 160-7; 5. Bender (Liberty) 158-8; 6. March (Granada) 155-2; 7. Ramirez (West Ranch) 145-10; 8. Bryant (Miramonte) 143-11; 9. DiPaola (American) 140-11; 10. T. Crenshaw (Costa Mesa) 138-5; 11. Wilkerson (Trabuco Hills) 130-7; 12. Blair (Calaveras) 128-1
Twitter: @ProfessorTurner
---