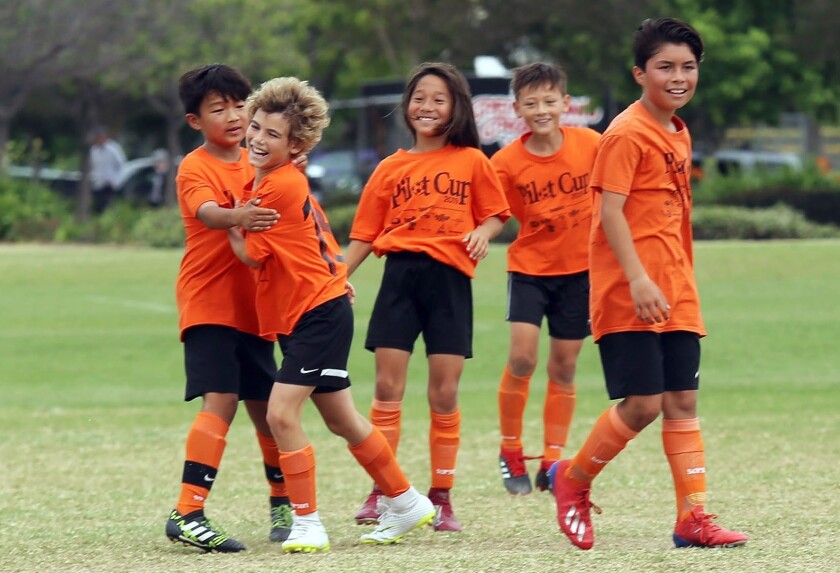 Jose Duarte's Costa Mesa Davis Magnet School team had already run onto the soccer field ahead of opening kickoff in the Daily Pilot Cup's Gold Division final for third- and fourth-grade boys, then remembered something he wanted to tell his players, so he called them back.
The Ducks hadn't trailed while dominating four foes en route to Sunday's title clash at Jack R. Hammett Sports Complex — averaging more than six goals per game while conceding just two in all — and Duarte knew his team wasn't certain how they'd handle adversity.
His message was simple: If anything happens — if we fall behind, if we make a mistake — don't panic. Keep playing your game.
Good thing he did. Costa Mesa Pomona came out with great energy, applied heavy pressure and struck within five minutes, but it didn't faze Davis, which took charge soon after, went ahead before halftime, then pulled away in the second half to a 4-1 triumph.
It gave Duarte and the Ducks back-to-back Daily Pilot Cup championships in the highest division after dropping the 2017 title game to Costa Mesa Kaiser, a most gratifying achievement.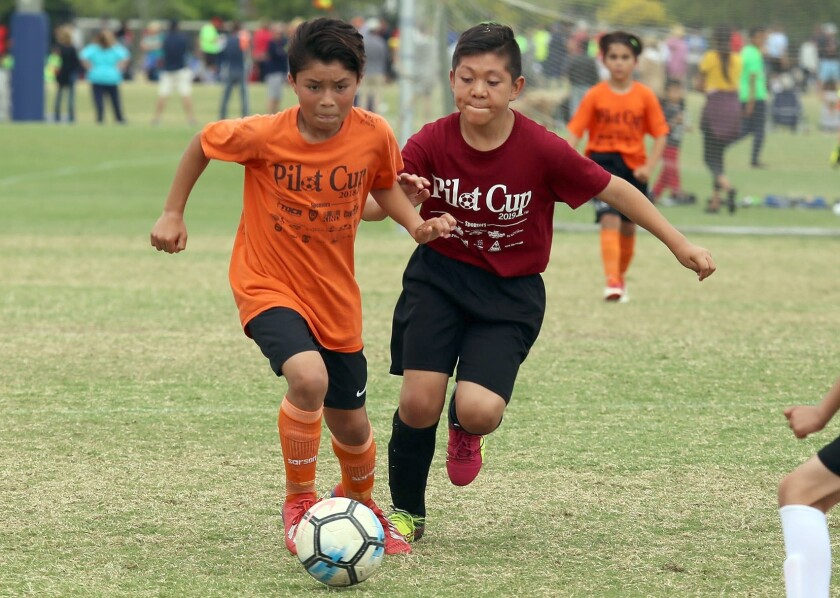 "It feels amazing," said Isaak Duarte, the coach's son, who scored his 13th and 14th goals of the tournament and set up another. "It feels great."
It was by far the toughest encounter Davis faced, but solid defense — with novice goalkeeper Luke Hobbis making some huge stops — and a multifaceted attack led by the younger Duarte, Sea Perkins, Lucas Chung and Sam Boyce were more than Pomona could handle. The Ducks took 13 shots and put 10 of them on frame.
"It's very, very, very hard [to repeat as champions]," Jose Duarte said. "Two years ago, I thought we had a really good team, and we lost in the final. Last year, the team was decent, but I didn't think we'd win, and this year I knew we had a decent team, but being the champion last year, you've got a target on your back, so I knew everybody would play harder."
Isaak Duarte, Chung and Rahul Lopez were the only returning players from last year's championship team. But Jose Duarte — a coach with the Strikers FC youth club — put together a strong roster of veterans and rookies, and he said his experienced players brought "the other players to their level."
Everybody on the field for Davis had skill, a great rarity in the Pilot Cup.
"We played a good team," Pomona coach Mike Munguia said. "We got them in the first half, but mistakes killed us, and as soon as we miss a goal [we should have scored], they score on us. That was the key to the game, but first half, we got on top. If we had scored those goals, [Davis would have] been done."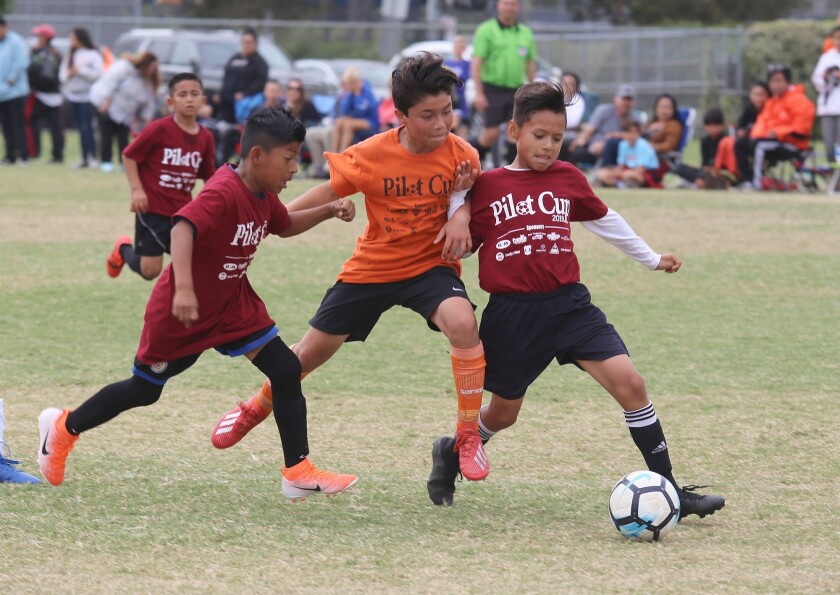 Pomona (3-2) had won three in a row after dropping its group opener Tuesday to Kaiser, avenging that defeat with a 1-0 semifinal victory on George Ocampo's late goal earlier Sunday. And the Panthers were the better team at the start of the final. Axel Mejia, a diminutive forward with silky skills, fired them ahead with a wonderful goal, a first-time strike to the lower-right corner from Jesse Aguayo's corner kick.
Davis did not collapse.
"I told them if we fall behind, don't worry about it," Duarte said. "And I'm glad I remembered to tell them, because otherwise they would have freaked out. ... [Falling behind] has never happened to us, but I told them I didn't care if [Pomona] scored, just don't let it affect you."
Davis, which rolled to a 7-0 semifinal win over Costa Mesa Rea, equalized four minutes later.
Chung followed up Isaak Duarte's free kick from outside the box and knocked home the rebound when goalkeeper Josue Perez turned aside the initial shot. The Ducks almost fell behind again moments later, but Hobbis, a baseball player with little soccer experience, parried Aguayo's blast from distance onto the crossbar, and Duarte fired Davis ahead just two minutes later from Perkins' pass.
Davis came out sharp after the break, and Boyce had two good chances. Perez knocked aside his drive from the right in the 27th minute, and his poke from Duarte's corner kick seven minutes later was cleared by a defender.
Boyce netted his fourth goal of the tournament in the 39th minute, a shot from the right that Perez misplayed. Duarte scored his second goal six minutes later.
"There's only one winner, so I'm very grateful," Chung said. "Winning the final, winning the championship, is very good, and when you do it twice, then it's telling you that your team is [the best]."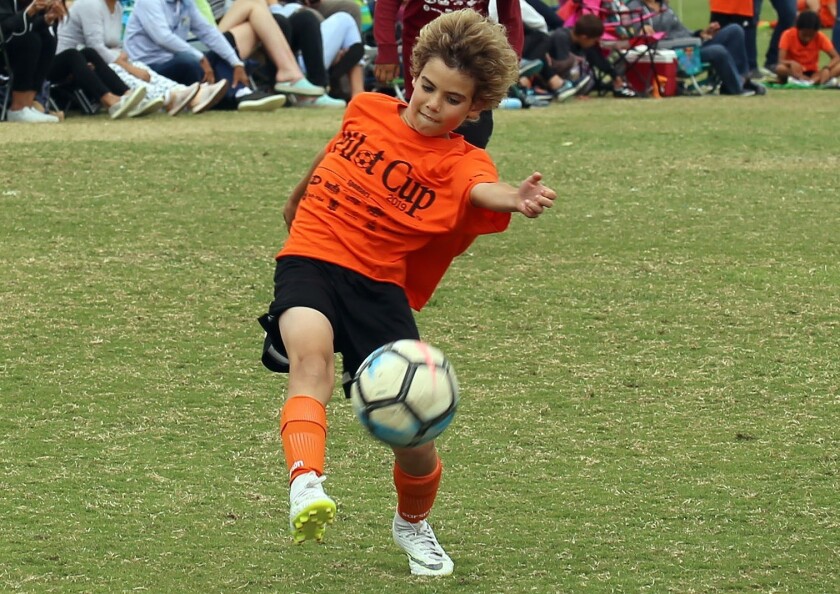 Support our sports coverage by becoming a digital subscriber.
For more sports stories, visit latimes.com/socal/daily-pilot/sports or follow us on Twitter @DailyPilotSport.
SCOTT FRENCH is a contributor to Times Community News.
---