For the first time, three Pacheco brothers are playing on the same football team this season.
Each has a role for Estancia High. Trevor Pacheco, a senior, plays running back and cornerback. Nathan Pacheco, a junior, plays wide receiver and linebacker. As for the youngest, sophomore Lucas Pacheco, he sees some time at fullback.
With an age gap of two years, Trevor said he has never played on the same team as Lucas growing up. They're getting that chance this season, and little brother gets to block for big brother.
"It's pretty cool," said Trevor, whose father, Jack, also played football at Estancia and older brother, Devin, played football and wrestled at Mater Dei.
"Cool" would describe Trevor Pacheco's numbers through the first two games of the season. In his second year starting at running back for the Eagles, he has helped the team achieve a 2-0 start.
Pacheco rushed 15 times for 307 yards in last week's 55-21 victory over La Quinta at Bolsa Grande High. That's just more than 20 yards per carry. His very first one, a 71-yard touchdown on the Eagles' first play from scrimmage, helped get Estancia going.
Pacheco said he bounced outside and was gone down the left sideline. With the game a blowout, he exited in the third quarter.
The Eagles kept scoring. Senior Max Perez and sophomore Beto Sotomayor came into the game at running back, and each also scored a touchdown. Estancia also got two rushing scores from junior quarterback Jaycen Cash, along with three passing touchdowns.
Trevor's a tiny guy, but he reminds me of Mighty Mouse. He takes his shirt off and he's totally ripped. A lot of schools overlook him ...
Mike Bargas, Estancia High coach
As Estancia coach Mike Bargas notes, each of his running backs is 5-foot-7 and shorter. Pacheco had to grow nearly two inches in the last year to achieve that height, but through two games he already has 46 carries for 558 yards and four touchdowns.
"They're just little guys," Bargas said. "That's kind of what we've always had here. If [the offensive linemen] just open the hole a little bit, they'll scamper through it. Trevor's a tiny guy, but he reminds me of Mighty Mouse. He takes his shirt off and he's totally ripped. A lot of schools overlook him, but I think he can definitely play at a Division 3 school [in college].
"If he gets three yards past the offensive line, it's lights out, because now you're depending on a cornerback or safety to make a play. I don't think he's taken a direct shot so far this year, where he just got straight up lit up by a linebacker."
Pacheco is quick to credit Estancia's offensive line. Sophomore left tackle Bryan Agustin, senior left guard Raul Gonzalez, junior center Margarito Olivera, senior right guard Jacob Parsons and senior right tackle Sebastian Rivera make Pacheco look good.
"Everyone was working together nicely," Pacheco said. "Everything was meshing how it should … It's awesome. This year, our line is taking over. They're stepping up and opening up holes. It makes it easier for me."
The Eagles, off to their first 2-0 start in six years, have already matched the win total from last year's 2-8 campaign. They are ranked No. 9 in this week's CIF Southern Section Division 13 poll, and play against Santiago on Friday night at 7 at Garden Grove High.
Last year, Estancia started its nonleague schedule 0-5. Bargas believes that notching wins early in the season this year is important, gearing up for a difficult Orange Coast League campaign. Orange and Santa Ana have entered the league this year. Orange was last year's CIF Southern Section Division 13 champion, while Santa Ana made the semifinals in Division 12.
Estancia hosts Orange on Oct. 12, and travels to Santa Ana on Oct. 19.
"We're trying to get back into the postseason [for the first time since 2014], and they don't do you any favors," Bargas said. "[The Orange Coast League] is a lot easier if you're not playing football. Santa Ana isn't a critically acclaimed water polo team or softball or something like that. For football and soccer, it's going to be tough for us. We just played La Quinta, [which] was in the [Division 13] semifinals last year."
Pacheco can help the Eagles try to get back to the postseason. So can his younger brothers.
After playing Orange and Santa Ana, Estancia closes the regular season at home against rival Costa Mesa on Oct. 26. The Battle for the Bell game is meaningful for the Pacheco family, and not just because Trevor rushed for 200 yards and four touchdowns last year as the Eagles earned a 44-20 win, their fourth straight in the rivalry series.
Pacheco's mother Stephanie went to Costa Mesa High, where she played volleyball. But there's not a chance she'll be rooting for the Mustangs that night, with three sons playing for the Eagles.
"She's all for Estancia," Pacheco said with the smile of someone who's off to a big start to his senior year.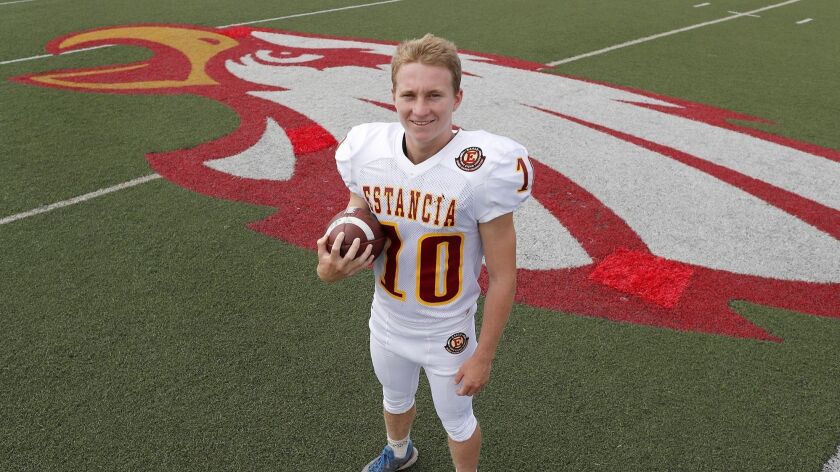 Trevor Pacheco
Born: Sept. 14, 2000
Hometown: Costa Mesa
Height: 5 feet 7
Weight: 155 pounds
Sport: Football
Year: Senior
Coach: Mike Bargas
Favorite food: Hamburger
Favorite movie: "The Meg"
Favorite athletic moment: Helping Estancia improve to 2-0 with last week's win over La Quinta.
Week in review: Pacheco had 15 carries for 307 yards and a touchdown as Estancia beat La Quinta 55-21 on Aug. 30.
Twitter: @mjszabo
---