In March of last year, Costa Mesa native Tanner Cislaw found himself in a position not unlike many young adults his age.
Spring break had arrived in his freshman year at UC Santa Cruz, and Cislaw had come back home. He got together with a group of close friends, and they went on a hiking trip.
In the era of social media, people have increasingly documented and shared the moments that they experience. Cislaw and his friends headed to Potato Chip Rock near San Diego, a destination often seen in pictures online.
Disaster struck when Cislaw decided to hang from the cliff's edge, in his own words, hoping to achieve an "Instagram-worthy" picture. He lost his grip and fell 30 feet onto a rock slab, before sliding farther down the side of the rock formation.
Cislaw, 20, said that he felt no pressure to make the decision that he made on March 28, 2018. The accident turned him into a T-10 paraplegic, but even as he spent more than a month in a hospital, he insisted that no one should feel sorry for him.
"He said that right after the accident," Holly Cislaw, his mother, said. "He said, 'Don't feel sorry for me. You know, there's a reason. Maybe I'm supposed to inspire others. Maybe I'm supposed to do something with this.' "
Prior to the injury, Cislaw had engaged in a variety of physical pursuits, most notably soccer. Two of the people that were with him during the hiking accident — Sean-Liam McCarthy and Sean Harper — played with him on the Newport Harbor High boys' soccer team. The other was Rey Parayno.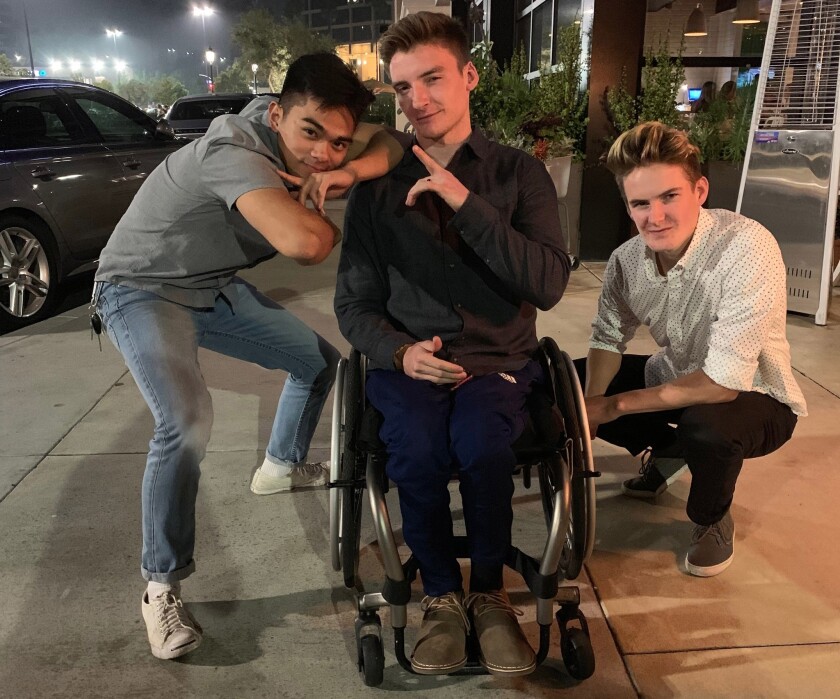 Even though Cislaw would be spending the majority of his conscious hours in a wheelchair, he found a way to keep his competitive edge. In a spinal cord injury support group, he had the good fortune to come across two mentors who turned him on to the idea of paraclimbing.
"I had been building up to this," Cislaw said of taking on the new challenge. "I was almost training for this injury, to be able to rise above all of these expectations and to be able to move so quickly and transition through these really difficult phases of recovery and being in the rehab outpatient treatment.
"It was almost like everything kind of set itself up in a way that allowed me to take this on with the most strength, in all meanings of that word — just physical strength, mental strength, and the strength of having people around me to support me."
On March 30, almost exactly a year removed from his fall, Cislaw made the climb out of his wheelchair and tightened his grip on his newfound purpose. He took first place in the seated category of the USA Climbing Adaptive National Championships in Columbus, Ohio, his first time participating in an adaptive climbing event.
Cislaw will be leaving next week to compete for Team USA in the International Federation of Sport Climbing Paraclimbing World Championships in Briancon, France, from July 16-17.
He said, 'Don't feel sorry for me. You know, there's a reason. Maybe I'm supposed to inspire others. Maybe I'm supposed to do something with this.'
Holly Cislaw
Asked what he finds most exciting about the chance to compete in the world championships, Cislaw said he cannot wait to connect with more people from the climbing community.
"I think it's just meeting a bunch of really cool people and just [to] have this be a learning experience," Cislaw said. "My natural competitiveness comes through every now and then. I'm just like, 'I want to beat everyone out there and rise above and do what I can to be on the top.' Being that it is still just my first year competing and being in this new world, it's just more of a learning experience and being able to kind of pick the brains of people that have been in it a little longer than I have and making connections.
"I have been really fortunate to meet some really incredible people in such a short amount of time. That can only increase from here."
Cislaw finds climbing to be liberating, and he hopes that he can inspire more people to move beyond the anticipated limitations of their disabilities. He even wants to help with the innovation of climbing equipment for the disabled. At UC Santa Cruz, he is majoring in bioengineering with a concentration in assistive motor technology.
Through the recovery process, Cislaw has had a great support system. His friends never left his side, and neither did his girlfriend, Isabella Dean. The couple met at college, and Cislaw said she has provided the firm hand needed to keep him on track.
"I've been through a lot of growth," Cislaw said. "I've worked through a lot of emotions and trauma, and I've only just now come into a very new and wholesome love for not only myself, but the world around me and just appreciating everything a little bit more.
"She's really facilitated that. She's just been incredible. Her family has been absolutely incredible. It was interesting because we had been together for just a handful of months before the injury."
Cislaw's mother also appreciates that Dean was willing to take on the role of caretaker after the accident.
"She's heaven sent," Holly Cislaw said. "They met just a few months before the accident, and she has stuck by him. They both go to UC Santa Cruz, and they plan to spend their lives together. It's really beautiful."
Support our sports coverage by becoming a digital subscriber.
For more sports stories, visit latimes.com/socal/daily-pilot/sports or follow us on Twitter @DailyPilotSport.
Twitter: @ProfessorTurner
---