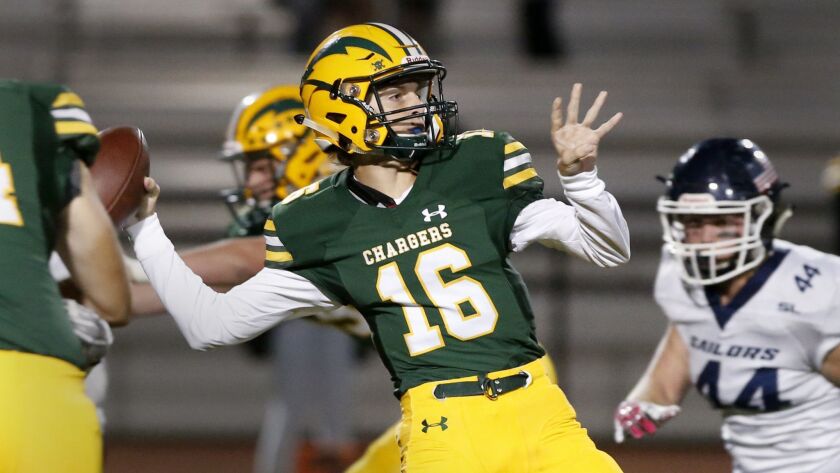 The Battle at the Beach passing tournament returns to Edison High on Saturday for the 22nd time.
High-profile high school football programs will compete in the seven-on-seven showcase, which will feature 20 teams divided into four different pools.
The host Chargers will be in Pool A, along with Long Beach Poly, Westlake Village Oaks Christian, San Diego Cathedral Catholic and Servite.
Cathedral Catholic made a deep playoff run last season, winning the CIF San Diego Section Open Division crown with a 28-17 victory over San Diego Torrey Pines.
In the CIF State Division 1AA playoffs, Cathedral Catholic beat Harbor City Narbonne 24-21 in the regional final, before falling to Folsom 21-14 in overtime in the state championship game.
All but one team in the field of this year's Battle at the Beach made the playoffs last season.
Headlining Pool B will be Mater Dei, which beat Bellflower St. John Bosco 17-13 for the Southern Section Division 1 title a year ago. The Monarchs, who have won the Battle at the Beach three years in a row, will be in a pool with Mission Hills Alemany, Narbonne, Norco and Santa Fe Springs St. Paul.
Corona Centennial, a semifinalist in the Southern Section's Division 1 playoffs last season, leads Pool C. Also in the group are Gardena Serra, JSerra, San Marcos Mission Hills and Rancho Cucamonga.
A pair of Southern Section runner-ups will be in Pool D in St. John Bosco (Division 1) and Moreno Valley Rancho Verde (Division 2). The pool will also include Los Angeles Cathedral, La Habra and Buchanan.
Elite talent will grace the fields at Edison on Saturday. A top prospect expected to appear is St. John Bosco quarterback DJ Uiagalelei, who has committed to Clemson.
Of local interest, Edison plans to have rising juniors Braeden Boyles and Jacob Hanlon play quarterback on Saturday.
Senior-to-be wide receiver Cole Koffler and linebacker Mike Walters, as well as two-way players Tanner Nelson and Jack Kosick, are also players to watch for the Chargers.
Pool play begins at 9 a.m., and advancing teams will start the quarterfinals at 1:30 p.m. The finals for the Battle at the Beach are scheduled for 3 p.m.
Parking for the event is $5, and a snack bar is available at the tournament.
::
Support our sports coverage by becoming a digital subscriber.
For more sports stories, visit latimes.com/socal/daily-pilot/sports or follow us on Twitter @DailyPilotSport.
Twitter: @ProfessorTurner
---