High School Male Athlete of the Week: Cameron Davidson sparked Edison's historic season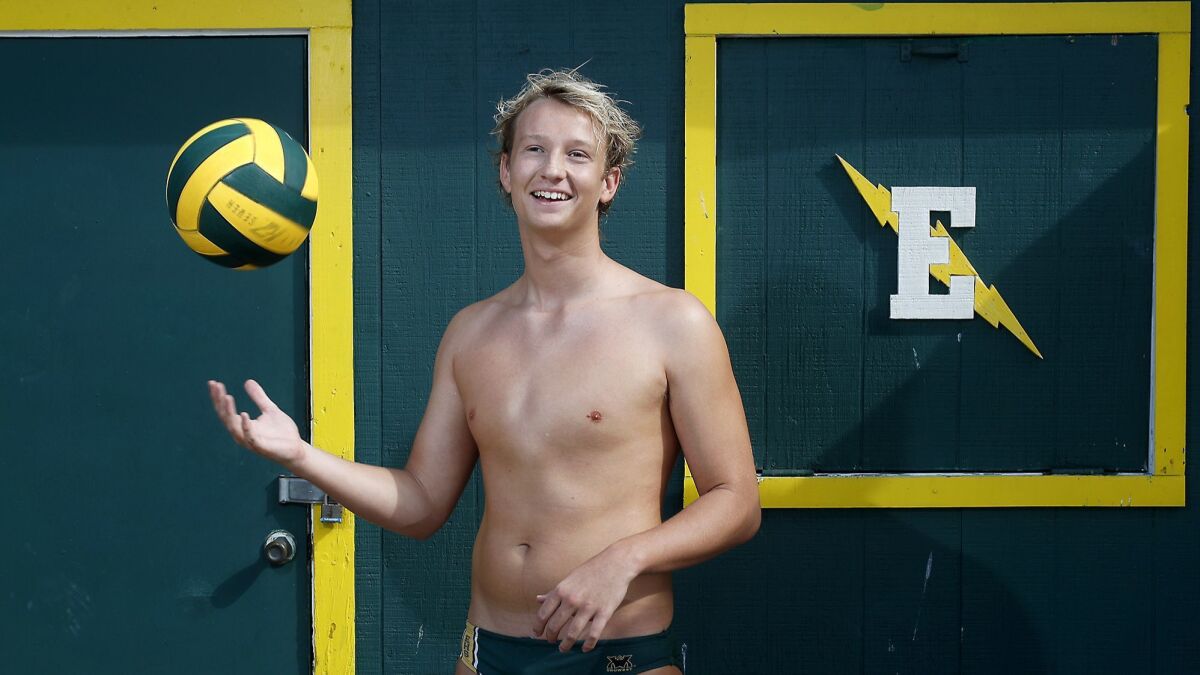 Cameron Davidson did not necessarily see a historic season with the Edison High boys' water polo team coming.
The Chargers entered the season without a lot of meaningful varsity experience, and without a real goalie.
Davidson, a senior attacker in his third year with Edison after transferring from La Verne Bonita as a sophomore, came to a conclusion.
"I wanted to have fun," Davidson said. "That was my main thing, just enjoy it. And obviously, it was a new league. I thought we would make CIF, which we did."
Pieces got filled in. Juniors stepped up and took more of a leadership role, including Caden Martin, who converted from a field player to goalie.
The new league did help, as Edison went from a mid-level team in the Sunset League to a contender in the new four-team Wave League, part of the Sunset Conference. But Davidson also elevated his game.
He finished with a program single-season record 122 goals, topping Alex Nathan's mark of 103 goals in 2015. And Davidson led the Wave League runner-up Chargers to the CIF Southern Section Division 3 quarterfinals, where they lost 15-4 to top-seeded Rancho Cucamonga Los Osos on Nov. 3 at Ocean View High.
It is believed to be the first Edison boys' water polo team to make the CIF quarterfinals. The Chargers were in Division 1 for years, but they have found growth in Division 3 under third-year coach Sean Little.
Little said that Davidson provided leadership as a senior, like his older brother Michael did before graduating last year. Michael Davidson played set guard, but out of the pool, Cameron said his older brother had to undergo surgeries to remove a tumor in his bladder following his junior season at Edison.
"He was a good, solid personality to have on the team, and I think that definitely rubbed off on Cameron," Little said. "This year Cameron was more of a leader and just an all-around solid player for us."
Not only did Davidson lead the team in goals this season, but also assists with 58. Little credits the entire senior class, including team captains Spencer Powley and Michael Bugard, for keeping the team moving throughout the season.
Little had to spend some time away from the team after his wife, Jessica, gave birth to their first son, James, on Sept. 19. He said James was born several weeks premature.
The Chargers kept moving toward CIF. Davidson set the goals record with his fourth goal in the team's 20-3 league win against Fountain Valley on Oct. 10 at Corona del Mar High.
"I never broke 100 until this year," Davidson said. "To jump 30 or 40 goals this year, it's a big difference. It's crazy. Going into the season, I wasn't even thinking about it. I was at a tournament, and I was at 70 or 80 with a lot of games left. My mom [Robin] was like, 'You know, you can break it.' And I was like, 'Maybe, I don't know.' "
Robin and Robert Davidson can be proud of all three of their children, each of whom plays water polo. Shanna is the youngest, and she will be perhaps the most accomplished when all is said and done. A long-time USA Water Polo Olympic Development Program participant, Shanna will be suiting up as a freshman this winter for the Huntington Beach girls' water polo team.
Cameron will watch her progress with pride. He was also proud of Edison's postseason run, which included a 10-9 upset over Tesoro in a Division 3 first-round match Oct. 30. Two days later, the Chargers won 12-7 at Palos Verdes Peninsula.
The quarterfinal match against Los Osos was tough for Davidson, who scored just once. He said he was playing against many of his former club teammates at Claremont-based Foothill Club Water Polo, so Los Osos definitely had a good scouting report.
"I think I got shot-blocked like nine times," Davidson said. "It was crazy. I'd get a foul, and they would be all spread out. I'd put my hand up to shoot, and like four guys would have moved into the middle to shot block."
It definitely took multiple people to stop Cameron Davidson's goal-scoring barrage this season.
Cameron Davidson
Born: April 18, 2001
Hometown: Huntington Beach
Height: 6 feet 1
Weight: 180 pounds
Sport: Water polo
Year: Senior
Coach: Sean Little
Favorite food: Cheeseburger
Favorite movie: "Star Wars: Episode V – The Empire Strikes Back"
Favorite athletic moment: Breaking the Edison single-season goals record this season, with 122.
Week in review: Davidson had seven total goals as he helped the Chargers win two matches and advance to the quarterfinals of the CIF Southern Section Division 3 playoffs.
Twitter: @mjszabo
All the latest on Orange County from Orange County.
Get our free TimesOC newsletter.
You may occasionally receive promotional content from the Daily Pilot.