Oaks Christian takes down Edison for third straight time
Reporting from Westlake Village —
The first two games of the Edison High football season were an absolute gauntlet.
After Friday's 75-mile drive, the Chargers hope they're mercifully out of it.
The Chargers fell 38-7 to Westlake Village Oaks Christian, ranked No. 6 in the state by CalHiSports.com, after a barrage of blunders on special teams buried them in the first half.
With last week's 17-6 loss to Tesoro, Edison now stands at 0-2 for the first time since 2005. Coach Jeff Grady's defense fought hard against a talented Oaks Christian offense, but running back Zach Charbonnet, a senior committed to Michigan, rushed 14 times for 161 yards and two touchdowns.
Led by senior linebackers Luke Hoggard and Cameron Eden, the Chargers committed the totality of their focus to bottling up Charbonnet. They had faced him twice last season, each time the Chargers lost to Oaks Christian at Huntington Beach High, first in nonleague play and then in the quarterfinals of the CIF Southern Section Division 2 playoffs.
On the first drive on Friday, Edison defensive lineman Jovanni Page slammed Charbonnet down in the backfield for a one-yard loss. Hoggard stuffed him at the line with Page twice.
The Lions (2-0) countered by dialing up a 44-yard play-action pass from Josh Calvert to Stanford commit Bryce Farrell to enter the red zone. Calvert scrambled 13 yards to open the scoring at the 7:35 mark in the first quarter.
Then Edison's Patrick Angelovic threw an interception on his first throw.
Calvert turned it over soon after. Eden found himself in the right place at the right time. He snagged an interception inside the 15-yard line and returned it toward midfield.
"I thought they battled and kept us in the game," Grady said. "Oaks [Christian] is talented, but we had our opportunities to turn the tide of the game."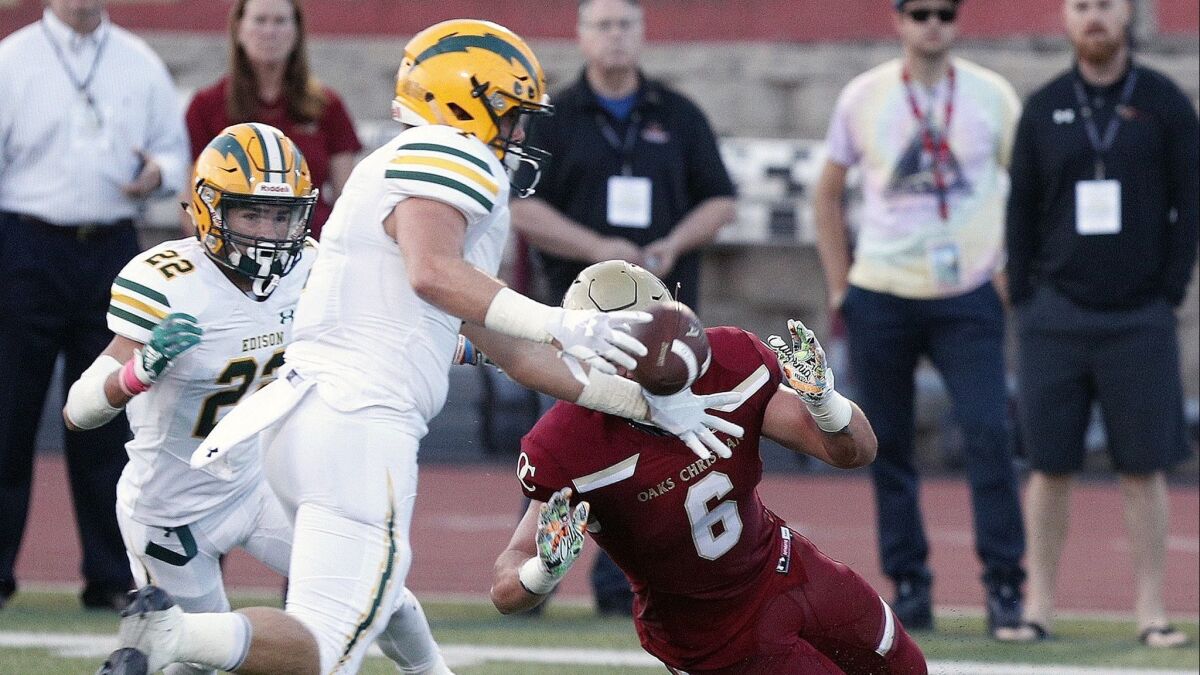 Eden finished with five tackles. Hoggard led all tacklers with six, while junior defensive end Trent Fletcher added a sack and a tackle for loss.
After a Charger three-and-out, the defense rose to the occasion once more, as senior safety Marcus Pittman kept his feet inbounds on a sideline pick.
The offense failed to take advantage, as Angelovic committed his second turnover with a fumble in Oaks Christian territory.
The Lions inserted former Mission Hills Alemany quarterback Tripp Mitchell for Calvert. Mitchell promptly found paydirt, scoring on a 16-yard run
Down two touchdowns, the Edison offense made its move.
Angelovic connected with Eden for a 12-yard gain on a sideline fade, followed by senior Cole Koffler on a 10-yard out. Hoggard then snuck out into the flat, corralling a pass for 17 yards. A pass interference crept the Chargers into the red zone.
Charbonnet, who also played safety, snuffed out the threat with an interception in the end zone. He returned it for 30 yards. Angelovic ended the night completing 12 of 24 passes for 166 yards and a touchdown, and he fumbled twice.
Charbonnet continued to seize the momentum with an ensuing 51-yard jaunt off a filthy cut to flip the field.
A 33-yard field goal by Garth White stretched the lead to 17-0. As much as the offense undermined the defense, Edison's special teams fell apart in the late stages of the half. Farrell turned the right corner, returning a punt 52 yards for a touchdown.
The next drive, Isaiah Palmer failed to secure a wobbly punt snap, and his impromptu run fell short of the first-down marker. Charbonnet converted with a 10-yard burst to make the score 31-0 going into halftime.
Charbonnet scored once more to open the second half, after runs of 50, three and 26 yards. Up 38-0, Lions coach Charlie Collins brought in the reserves. Angelovic found Koffler for a 12-yard score late in the fourth quarter, giving Edison its first offensive touchdown of the year.
The Chargers will now be looking for their first win of the year. Their next chance is at home Thursday against Canyon (0-2).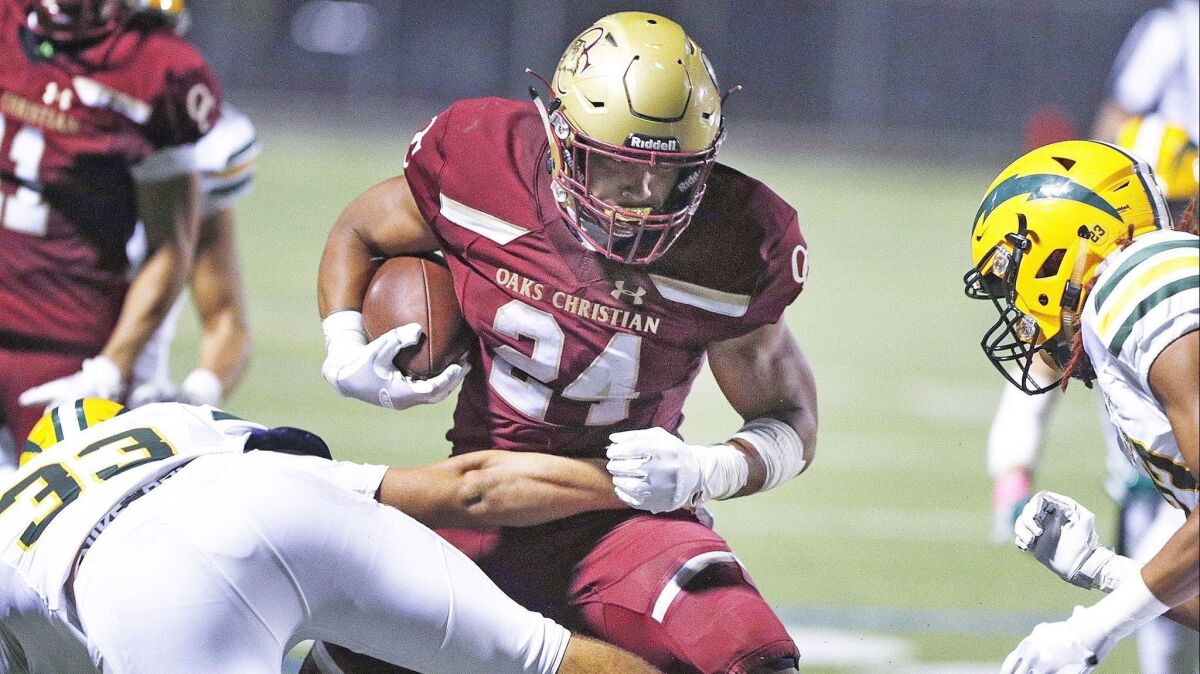 Nonleague
Oaks Christian 38, Edison 7
SCORE BY QUARTERS
Edison 0 – 0 – 0 – 0 — 7
Oaks Christian 14 – 17 – 7 – 0 — 38
FIRST QUARTER
OC – Calvert 13 run (Ga. White kick), 7:35.
OC – Mitchell 16 run (Ga. White kick), 1:46.
SECOND QUARTER
OC – Ga. White 33 FG, 8:15.
OC – Farrell 52 punt return (Ga. White kick), 4:37.
OC – Charbonnet 10 run (Ga. White kick), 1:12.
THIRD QUARTER
OC – Charbonnet 26 run (Ga. White kick), 10:22.
FOURTH QUARTER
E – Koffler 12 pass from Angelovic (Spradlin kick), 2:13.
INDIVIDUAL RUSHING
E – Lopez, 16-30.
OC – Charbonnet, 14-161, 2 TDs.
INDIVIDUAL PASSING
E – Angelovic, 12-24-1, 166, 1 TD.
OC – Calvert, 2-5-2, 49.
INDIVIDUAL RECEIVING
E – Koffler, 4-48, 1 TD.
OC – Farrell, 3-73.
SAM DODGE is a contributor to Times Community News. Follow him on Twitter: @samgododge
---
All the latest on Orange County from Orange County.
Get our free TimesOC newsletter.
You may occasionally receive promotional content from the Daily Pilot.