High School Female Athlete of the Week: Edison's Samantha Schofield plays her part well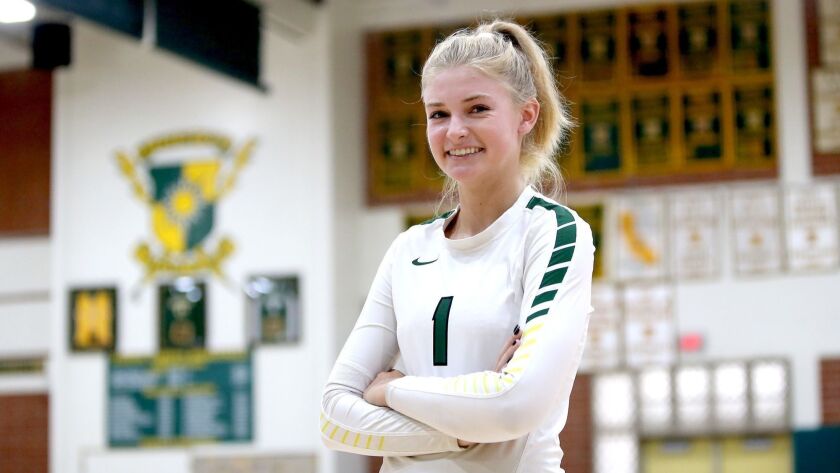 A primary rule of acting is to never break character.
If a gymnasium falls silent at an Edison High girls' volleyball match, you will know that Samantha Schofield has broken that rule.
On the court, Schofield has an engaging but competitive personality. She perfectly fits the mold of the senior student-athlete that has recognized that it is her time to lead.
Away from the court, Schofield has been playing her part for several years.
Growing up, Schofield attended the Boys and Girls Club of Huntington Valley. It was there that Schofield was introduced to the two interests that define her today — volleyball and musical theater.
Schofield remembers taking part in musicals such as "Seussical" and "Annie" while at the Boys and Girls Club.
It was a hard-knock life for Edison's opponents last week. Schofield produced 37 kills, 26 digs and 10 service aces, as the Chargers rolled to wins over El Dorado, Downey and Long Beach Wilson.
Edison has started the 2018 season strong, holding up against tough competition in the Honolulu Iolani Ann Kang Invitational and the Lakewood Molten Classic.
The Chargers have opened 8-4, having advanced to the quarterfinals of the Molten Classic before losing to Studio City Harvard-Westlake. Edison will travel to tournament co-host Lakewood St. Joseph's on Saturday, as the Chargers begin play in the fifth-place bracket at 8:30 a.m.
Schofield made it to varsity as a sophomore. Her innate competitiveness helped her rise through the ranks, despite an inauspicious start to her volleyball career.
In seventh grade, Schofield tried out for the volleyball team at Sowers Middle School in Huntington Beach. She did not make the team, but did not let that stop her.
"I usually always got sick of the sports, and even after getting rejected from those teams, I still wanted to play, and I kept pushing," Schofield said. "I still, to this day, after playing for five or six years, I still love it. I never get tired of it. I love coming to practice. I love pushing everyone.
"I would like to consider myself as a loud person. I love giving energy on the court. I'm told I'm too loud sometimes on the court."
She is the energy-bringer in our gym every single day, and I think the girls are starting to figure that out and learning how to follow that.
Matt Skolnik, Edison High coach
Edison girls' volleyball coach Matt Skolnik patently disagrees with the notion that Schofield is too loud.
"She's definitely loud, and I don't think there is ever such a thing as 'too loud,' " Skolnik said. "She's definitely not obnoxious or annoying about it. She is the energy-bringer in our gym every single day, and I think the girls are starting to figure that out and learning how to follow that."
Schofield's sophomore season was a good time to earn the promotion to varsity. Edison won the CIF State Division I title with a 25-20, 25-21, 25-18 victory over Menlo-Atherton at Santiago Canyon College in 2016.
Part of leadership is being a mentor. Asked who she may have looked at as a big sister in her time with the Edison program, Schofield said the class before hers made a big impact. Recent graduates Lindsey Sparks (UCLA), Taylor Gray and Kristin Austin were named as influential teammates of the past.
Skolnik said Schofield and Aly Fullbright have taken on vocal leadership responsibilities in their senior year.
"We have a very strong senior class," Schofield said. "We're all very close together. I think as a senior class, our goal is to have all the juniors come together as well and have the same bond that we do. I think it really helps when you're on the court."
The activities outlasted the people at the Boys and Girls Club, but Schofield does not deny that she was attracted to the activities that she chose because of the team-building aspect.
All six players on the court must defend their ground in order for a volleyball team to have success, just as everyone in a play must do their part or the show will be a failure.
"I definitely have been drawn to team or group sports and activities," Schofield said. "For one, you meet a lot of great people out of it. You're not by yourself. You're doing it with a group of people that share the passion that you have.
"It kind of gives you a sense of leadership and a role that you have, and you have to play that."
Schofield remained in the musical scene in high school, too. Last year, she played a suffragette ancestor in "The Addams Family."
"Musicals have defined me, a lot," Schofield said. "I'm big into musical theater. When I'm not on the court, I'm in a theater, either watching or in one.
"It's just one of those things. I don't know why I'm drawn to it. It's always been one of those things where, if I don't do volleyball, this is something that I will always have."
With graduation around the corner, Schofield says she plans to choose the college over the sport. If a walk-on opportunity is available, she would like to continue playing.
Wherever Schofield devotes her time, Skolnik says the team will be receiving a great asset.
"She's super competitive, but she's also a very caring, very loving person who pushes her teammates in the right way," Skolnik said. "It's hard to be able to do that, to be that competitive and still that nice. Sometimes, it doesn't happen that way."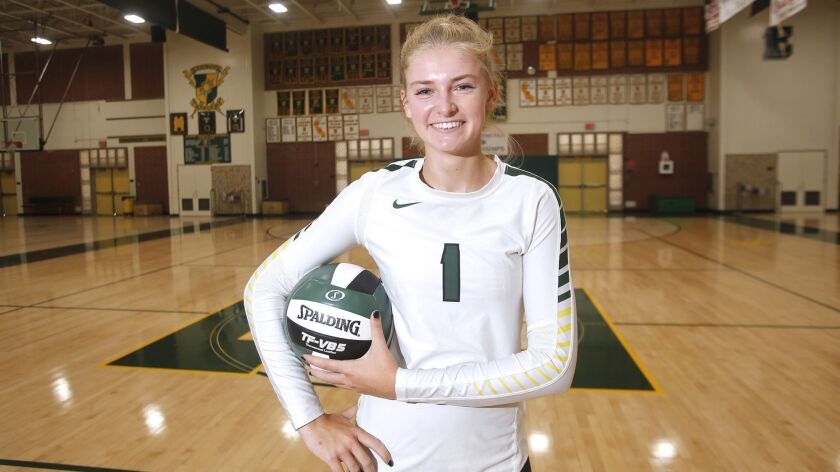 Samantha Schofield
Born: Sept. 10, 2000
Hometown: Huntington Beach
Height: 5 feet 9
Weight: 135 pounds
Sport: Volleyball
Year: Senior
Coach: Matt Skolnik
Favorite food: Shoyu ramen
Favorite movie: "Back to the Future"
Favorite athletic moment: During Schofield's sophomore season in 2016, the Chargers won the CIF State Division I championship over Menlo-Atherton 25-20, 25-21, 25-18 at Santiago Canyon College.
Week in review: Schofield led the Chargers to a 3-0 record last week. The outside hitter had 37 kills, 26 digs and 10 service aces in her team's three wins against El Dorado, Downey and Long Beach Wilson.
Twitter: @ProfessorTurner
---
All the latest on Orange County from Orange County.
Get our free TimesOC newsletter.
You may occasionally receive promotional content from the Daily Pilot.