High School Football Player of the Week: Arick McLawyer now shines at running back for Huntington Beach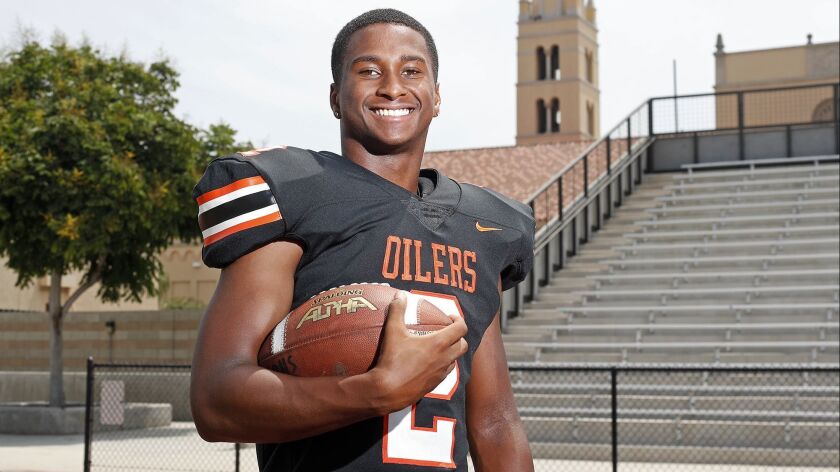 Arick McLawyer wants to make the most of his senior season with the Huntington Beach High football team, even if he's no longer the one under center.
McLawyer played receiver for the Oilers as a sophomore after transferring from Fountain Valley, sliding into the quarterback spot when then-starting quarterback Nick Welch broke his hand. Last year, McLawyer also started the year as a receiver, but Oilers coach Brett Brown moved him to quarterback during Sunset League play.
Barring anything unexpected, McLawyer will not play quarterback this season. That role belongs to Brady Gardner, a junior. Make no mistake, though — McLawyer will still touch the ball a lot for Huntington Beach.
He is the team's starting running back, and McLawyer turned in a big performance on Aug. 17 to help the Oilers earn a 41-15 season-opening victory over Canyon at El Modena High in Orange. The High School Football Player of the Week had 16 carries for 123 yards and two touchdowns. His touchdown runs, which went for 23 and 57 yards, respectively, helped spark a 28-point second quarter for Huntington Beach.
"It felt good," McLawyer said. "I felt like we really needed that win. Last year, we were up and they came back in the second half and beat us [30-27]. That was really on our minds throughout the whole game. We were like, 'All right, we're better than this team and we've been better this team,' but we couldn't go to sleep on them just because we're up by 28 points."
With Gardner throwing two touchdown passes, it was a balanced attack for the Oilers, which Brown liked to see. His team can go 2-0 for the first time since 2013 when Huntington Beach plays at Western (1-0) on Friday at 7 p.m. The Oilers are ranked No. 6 in the CIF Southern Section Division 6 poll, while Western comes in at No. 2 in Division 11.
The Pioneers can expect a steady diet of McLawyer, who passed for eight touchdowns last season, ran for six touchdowns and caught two TD passes.
"We saw how effective he was running the ball [at quarterback], so why not just hand him the ball?" Brown said. "With his big-play potential, you have to just keep telling him, 'Look, sooner or later you're going to break one.' If he gets into the open field, he's so explosive. The way he can cut without changing speeds is pretty special."
McLawyer, who said he has offers from San Jose State, UNLV, Portland State, Sacramento State and Hawaii, is an aggressive player. That's also true on defense, where he moved from free safety to strong safety this season. He said he enjoys playing up in the box.
McLawyer's outlook on the Sunset League also draws interest. Huntington Beach finished in a three-way tie for third place in the league last season after losing the finale to Newport Harbor. The Oilers, Sailors and Fountain Valley were all 2-3 in the league, but Huntington Beach lost a coin flip and missed out on the CIF Southern Section Division 7 playoffs.
McLawyer knows that newcomer Corona del Mar is the favorite for the Sunset League crown. But he also knows that the Sea Kings have to earn it.
The dudes I've talked to from Edison, Los Al, Fountain Valley … none of us are really worried about CdM.
Arick McLawyer, Huntington Beach High running back
He said he thinks CdM will have difficulty adjusting to the speed of its new league.
"The dudes I've talked to from Edison, Los Al, Fountain Valley … none of us are really worried about CdM," McLawyer said. "It's more so the people on the outside looking in. They beat up on all of the people in [the Pacific Coast League], but they didn't really come from a top league, a league like the Sunset League. They're coming into a whole different level of competition. That's how we feel.
"We're not just going to let them come in here and intimidate us because it's Corona del Mar. We do respect them, though, but we're just not believing the hype about them."
McLawyer knows about hype. In 2013, the year that CdM was winning its third straight CIF Southern Section Southern Division title and also won the CIF State Division III Bowl Game, it was Kai Ross who was taking Huntington Beach to new heights.
Ross, a senior quarterback and cornerback at the time, led the Oilers to the Southwest Division title. He threw three touchdowns, also returning two passes for touchdowns on defense, as Huntington Beach beat Newport Harbor 42-28 at Angel Stadium.
It was the program's first CIF title in 78 years. Ross is now coaching the quarterbacks and running backs for the Oilers.
"I didn't watch him play personally, but I watched film on him," McLawyer said. "He's a good athlete … I definitely respect Kai a lot. We have a funny relationship. He's like an older brother in a way, though he's still my coach."
Brown, who was an assistant coach with the Oilers for nine seasons before being named head coach in 2016, called McLawyer the best pure running back in his time with the program. If McLawyer can lead the Oilers to another CIF title, that will be the best senior year that he could imagine.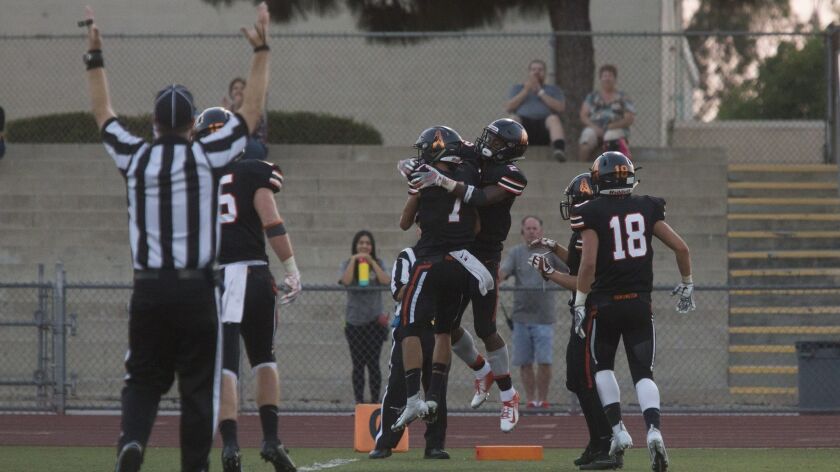 Arick McLawyer
Born: Sept. 25, 2000
Hometown: Huntington Beach
Height: 6 feet 1
Weight: 185 pounds
Sport: Football
Year: Senior
Coach: Brett Brown
Favorite food: Carne asada fries
Favorite movie: "Radio"
Favorite athletic moment: Starting at quarterback in Huntington Beach's CIF Southern Section Division 7 first-round playoff game at Tustin in 2016.
Week in review: McLawyer had 16 carries for 123 yards and two touchdowns as Huntington Beach beat Canyon 41-15 to open the season with a nonleague win at El Modena High on Aug. 17.
Twitter: @mjszabo
---
All the latest on Orange County from Orange County.
Get our free TimesOC newsletter.
You may occasionally receive promotional content from the Daily Pilot.