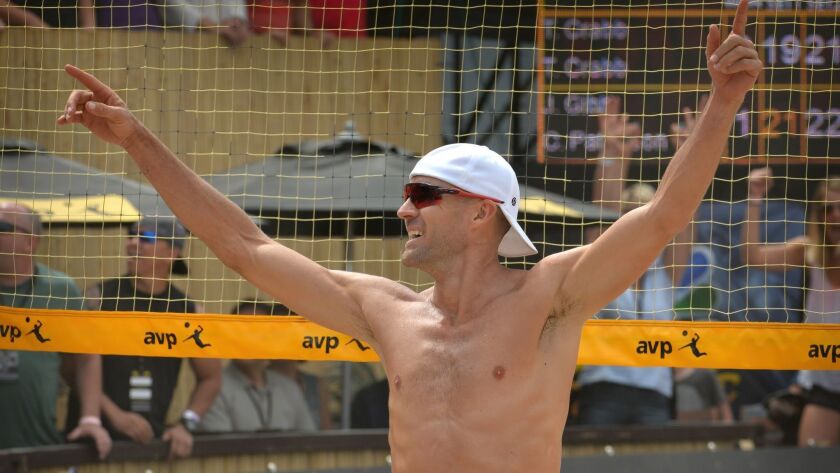 Jake Gibb said he has two years left in his beach volleyball career.
At age 43, the three-time Olympian doesn't have much left to prove.
Gibb still travels across the world playing the sport he loves. But this weekend, the Huntington Beach resident gets to compete right in his own backyard.
The Huntington Beach Open kicks off the Assn. of Volleyball Professionals season, with the main draw starting Friday and running through Sunday at the Huntington Beach Pier.
Gibb and partner Taylor Crabb of Redondo Beach, a former Long Beach State standout, were the AVP Men's Team of the Year last season. Entering their third year as partners, they are coming off a ninth-place finish at the FIVB event in China last week. Though they did not fare well last year at Huntington Beach, finishing 25th when the event was an FIVB four-star event, Gibb said he's optimistic for this year. He has won the tournament three times, most recently in 2016 with Casey Patterson.
"It's just nice to compete at home," said Gibb, who partnered with Crabb to win AVP tournaments in Seattle and Chicago last year and compile a 23-6 record. "The Huntington Beach fans are some of the best in the world. They understand volleyball. They know what's going on and they understand what a really good point is, versus maybe the average fan that maybe doesn't understand what's going on out there. It's cool to play in front of that kind of crowd."
General admission is free to the AVP Huntington Beach Open, which will mark the 20th straight year that a professional beach volleyball tournament has been played in Huntington Beach. Both men's and women's action will feature a 24-team main draw, with eight teams that make it through qualifying on Thursday earning a spot. Everyone is competing for a piece of the $200,000 total prize money.
April Ross, the former Newport Harbor High standout and a two-time Olympian, returns to action with Alix Klineman. They had success in 2018, winning four tournament titles and earning Women's Team of the Year honors, with Ross being the tour's MVP and Best Offensive Player.
Ross and Klineman finished fifth at the FIVB China event.
"This is usually the one my family comes to town for," said Ross, 36. "Everybody makes sure they're here to support and cheer. My aunt and uncle are down from San Francisco to watch, and all my friends can come as well. I'll get a lot of former teammates from Newport Harbor will come out. It's kind of the one time a year I'll get to see them and their families, so it's super-fun to play in Huntington."
Ross said she is enjoying her partnership with Klineman, the former Stanford University standout. They won the last three events of 2018, in Manhattan Beach, Chicago and Waikiki in Hawaii, and finished with a 34-5 record. They are coached by Jen Kessy, Ross' former partner with whom she won the silver medal at the 2012 London Olympics.
"I really enjoy being on the court with her, and having Jen Kessy as our coach. I feel like it's a really great dynamic," Ross said. "It's fun to travel with them. I feel like we've created a pretty solid team around us. Alix works as hard or harder than anyone I've ever played with. She's really determined to be the best, and that means a lot for me in a partner. We had a bad first match in China … then we came back and played really well the rest of the tournament. I'm feeling really positive about our team going into Huntington, for sure."
Ross has won the Huntington Beach Open three times, most recently in 2016 with Kerri Walsh Jennings.
Costa Mesa native Sara Hughes, who now lives in Hermosa Beach, also will be in action. Hughes is partners with Summer Ross. They finished ninth at the FIVB China event.
Support our sports coverage by becoming a digital subscriber.
For more sports stories, visit latimes.com/socal/daily-pilot/sports or follow us on Twitter @DailyPilotSport.
Twitter: @mjszabo
---