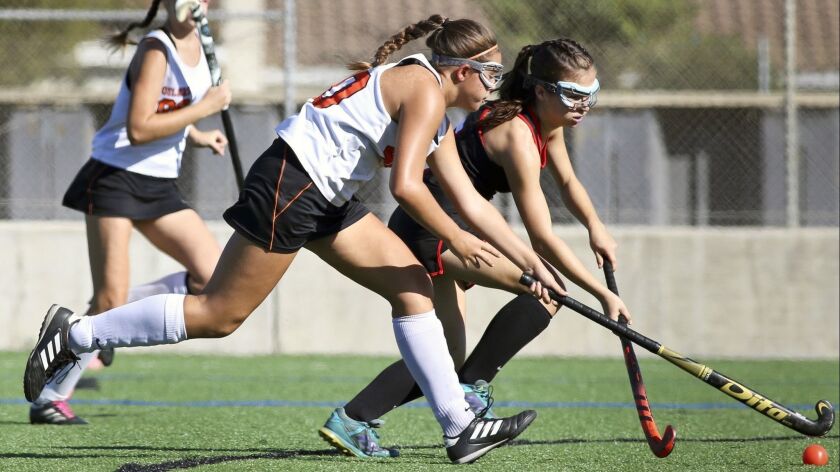 Huntington Beach High field hockey coach Cathy Van Doornum called it a matter of personal preference that her team plays opponents from outside its league once the playoffs begin.
She believes that such a scenario allows her team to showcase its improvement over the course of the season, and the Oilers certainly did that in the final of the Los Angeles Field Hockey Assn. Tournament of Champions.
After winning the Sunset League South for the third year in a row, the Oilers matched up with defending champion Studio City Harvard-Westlake.
Although the Oilers were unable to dethrone the Wolverines, they put forth a valiant effort in dropping the championship game 2-1 on Saturday at Edison High.
Huntington Beach (21-4-1) got on the board first. Stella Ziegler found Taylor Gates on a cross-cage pass for a one-timer, and the Oilers went to halftime with a 1-0 lead.
Ella Ganocy had a pair of goals in the second half, including the game-winner with 9:23 remaining, to send the Wolverines to the win.
Nicole Cramer had 13 saves for the Oilers.
"I was just proud of the way that we played," Van Doornum said. "I think the first time that we played [Harvard-Westlake], we were just trying to figure out a lot of things, [pertaining to positioning] and just overall toughness.
"I think the potential was there, but it was going to take a little time. Slowly, we were better. We got more competitive, too."
The teams had last met on Sept. 4, when the visiting Wolverines earned a 7-3 nonleague victory.
Van Doornum said that midfielders Kaitlyn Kirkman and Ella Davison played well in the final.
"They don't get a lot of credit, but they shut down the middle," Van Doornum said. "That's instrumental in our success.
"I think that was the difference between Harvard the first time and the second time was that the first time, I remember them just coming right down the middle of the field. We really stopped that, I think, the second game."
Taylor Rubly had a pair of two-goal games, as Huntington Beach defeated West Hills Chaminade 3-1 in the quarterfinals, and then the Oilers shut out La Verne Bonita 2-0 in the semifinals.
Gillian Rule also assisted on a goal by Gates against Chaminade.
Earlier in the season, Ziegler was selected as California's representative for the National Field Hockey Coaches Assn. High School Player of the Month. She had 15 goals and 13 assists in September.
Twitter: @ProfessorTurner
---