Olympic gold medalist Kerri Walsh Jennings leads youth volleyball clinic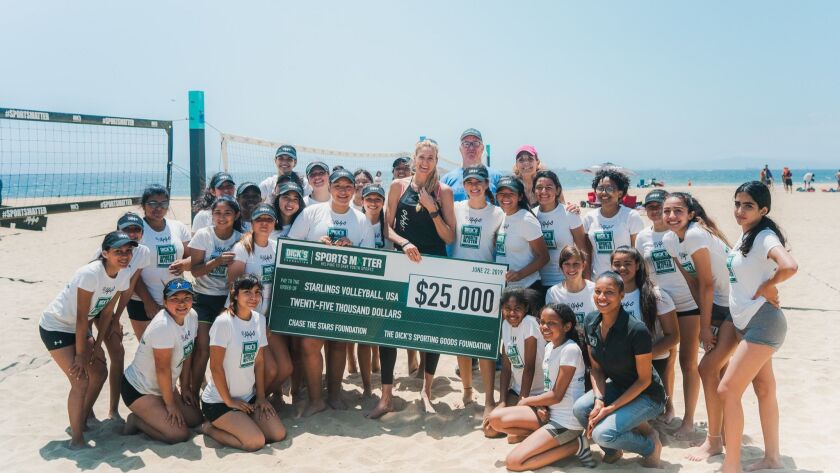 Joanna Stroud and Natalia Soto have been nuts about volleyball for years, so the opportunity to learn about the game from one of its legends seemed too good to be true.
Except it was true. Stroud and Soto, teammates at Santa Fe High School in Santa Fe Springs, were among nearly three dozen teen girls affiliated with a program that brings the sport to at-risk youth participating in a clinic Saturday at Bolsa Chica State Beach with five-time Olympian Kerri Walsh Jennings.
"Me and Natalia, we would always mess around and say we were going to be Kerri Walsh Jennings and Misty May-Treanor," said Stroud, a 17-year-old outside hitter for Starlings Volleyball USA's new Orange County program. "I was Kerri and she was always Misty."
The possibility to become Kerri and Misty, for real, might be unimaginable but for Starlings Volleyball USA, which has worked since 1996 to bring the sport to at-risk communities normally priced out of opportunities to play. The clinic, put on by Walsh Jennings' p1440 -- a platform dedicated in part to creating greater access to the beach game -- and organized by Dick's Sporting Goods Foundation's Sports Matter program was a step in that direction.
"Kerri is a superstar, so this is awe-inspiring for the girls, for all of us," said Lucy Jones, Starlings Volleyball USA's executive director. "Starlings has not branched into beach volleyball yet, and this is something we're aspiring to do. So this is a great launch."
Walsh Jennings, who has won three Olympic gold medals and three world championships in beach volleyball, gained as much from the experience as the players.
"Just, literally, so much joy and inspiration," she said following the four-hour clinic. "These girls were so awesome. They were so appreciative, and they were here to do it right, and you can see that from the first minute.
"None of these girls have played beach volleyball before, but they came out here, like, I'm here to learn, I'm here to have fun, and they were committed. As a coach or as an ambassador for the sport, when you see kids who don't really know the sport but they're curious about it and their potential drives them, like, today was a joy."
Starlings Volleyball Anaheim, one of about 50 clubs within the program, had just finished an eight-week clinic with volleyball legend Karch Kiraly and players from the U.S. women's indoor team. More than 700 Starlings graduates have gone on to play college volleyball, Jones said, and many have returned to coach within the organization.
"Our mission is to positively impact the lives of at-risk youth," she said. "It's our job to use volleyball to teach life skills and empower them to become victorious, not just over the typical trials and hurdles of being a teenager, but also the additional ones that come with being at-risk youth."
The clinic focused on the game's fundamentals, and Walsh, 40, watched as the players "started to have touch on the ball, started to create a rhythm -- and our sport is all about rhythm -- and by the end, we were competing, and you could see the little lions in them come out."
The event closed with a surprise. Dick's Sporting Goods Foundation presented Starlings Volleyball USA with a $25,000 check.
"This means there's more of our little Starlings, our little birds out there on the court and in the gym," said Jones, who hadn't been told in advance. "It means we can do more for them, and my heart just swells. Because these kids, they're hurting, and they need Starlings not just to learn a [sport], but to really get through life, and now we're empowered to do that."
Perhaps the experience opens a path to becoming the next Kerri or Misty? That's part of it, for sure.
"I don't play club, it's so expensive, so all those girls [playing for high-priced clubs] already have such a big advantage," said Soto, a 16-year-old setter. "Me not being able to afford that and having somebody so big in the sport of volleyball find it in her heart to encourage and motivate other girls to be better versions of themselves and better players on the court, it's just a great feeling."
::
Support our sports coverage by becoming a digital subscriber.
For more sports stories, visit latimes.com/socal/daily-pilot/sports or follow us on Twitter @DailyPilotSport.
SCOTT FRENCH is a contributor to Times Community News.
---
All the latest on Orange County from Orange County.
Get our free TimesOC newsletter.
You may occasionally receive promotional content from the Daily Pilot.