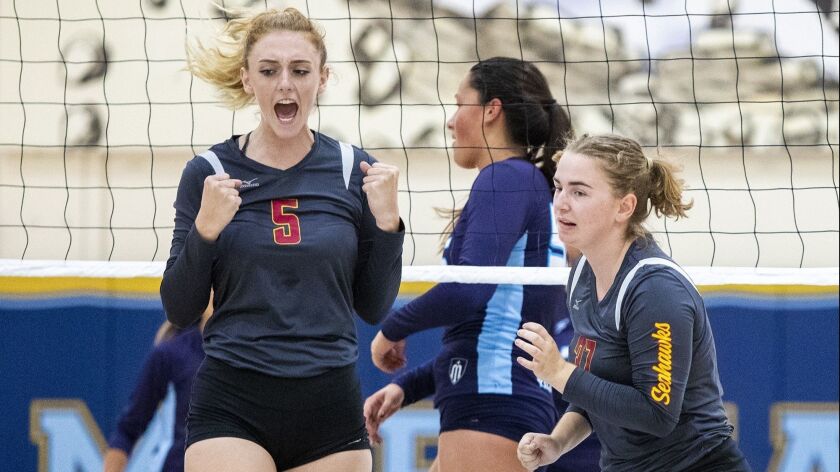 Reporting from Temecula —
The Ocean View High girls' volleyball team entered the Lions' Den on Saturday in the semifinals of the CIF Southern Section Division 7 playoffs.
And in a 25-15, 25-20, 25-18 loss at top-seeded Temecula Linfield Christian, the Seahawks were exposed as somewhat of a paper lion.
Ocean View came in on a 17-match win streak that included a 10-0 Golden West League record, a league championship and a No. 4 playoff seeding. During the winning streak, Coach Joshua Nehls' squad won 51 of 56 sets and amassed 12 of its 17 sweeps on the season.
But heading into the second round of the playoffs, Ocean View (23-4) had defeated just two teams with winning records, and those squads were a combined three matches better than .500.
The Seahawks, who came up one victory short of reaching their first CIF title match since 1998, did knock off San Gabriel Academy (21-7-1) in the second round, and handled Rolling Hills Prep (19-3) in the quarterfinals.
But Nehls said his team's lack of quality competition throughout the season hampered its ability to deal with the host Lions (28-4) on Saturday.
"We haven't seen a team this tough in a long time; since preseason," Nehls said. "[The Lions] had stronger servers … all six of them served tough. We're not used to seeing teams like that. It's basically stuff you wish you could prepare for, but you can't change your league, you know."
Linfield Christian's strength at the service line helped keep Ocean View off balance for most of the match. With their passers supremely challenged, creating any offense flow was difficult for the visitors.
"We made too many unforced errors," Nehls said. "We didn't adjust to the serves, so we were playing out of system most of the time."
Only six of Ocean View's 19 kills came on traditional swings from the pin positions (the outside boundaries near the net), and the Seahawks managed just two quickset kills put away by full swings in the middle.
Nehls said his team had relied all season on 6-foot middle blockers Helen Reynolds and Wendie Smith. Smith, a sophomore led the team with six kills and added four blocks, while Reynolds, a senior, had four kills and one block.
Senior outside hitter Jillian Pratt chipped in four kills and the rest of the roster combined to contribute just five.
Nehls credited senior Cambria Adams for shifting from opposite to become the second setter when he initiated a 6-2 formation to start the second set. The change sparked the visitors briefly, as they forged a 9-4 lead.
But Linfield Christian, which led the entire first set, rallied to win the second game, then overcame a 2-0 deficit in the third to advance to the title match.
Seniors Kelly Greiner and Katelyn Taylor, as well as sophomore Dana Abascal, also contributed for Ocean View, which had not been swept since a season-opening loss to Orange Lutheran.
"We are always going to push to be better, but if look back, we had a fantastic season, the best Ocean View has had in a long time," Nehls said.
Makenzie Phelps, a 6-0 senior outside hitter, and Paige Williams, a 6-1 junior middle blocker, led the winners with eight and seven kills, respectively.
Linfield Christian had seven aces and two service winners, while missing 10 serves.
Ocean View had three aces, but missed five serves and amassed 16 hitting errors.
BARRY FAULKNER is a contributor to Times Community News. Follow him on Twitter: @BarryFaulkner5
---