Nick Murrey was one pitch away from reaching his pitch limit of 85 and one out away from throwing a no-hitter for the Ocean View Little League Yankees.
The home plate umpire let Murrey pitch to one more Seaview Little League Red Sox batter, and Murrey didn't let the opportunity go to waste.
Murrey needed five pitches to record his 10th strikeout, earning him a no-hitter and the Yankees a trip to the District 62 Tournament of Champions Major Division semifinals.
The host Yankees beat Seaview 3-0 in the quarterfinals on Wednesday at Park View Elementary School in Huntington Beach. They will play the Huntington West Little League Cubs on Thursday at 5:30 p.m. at home.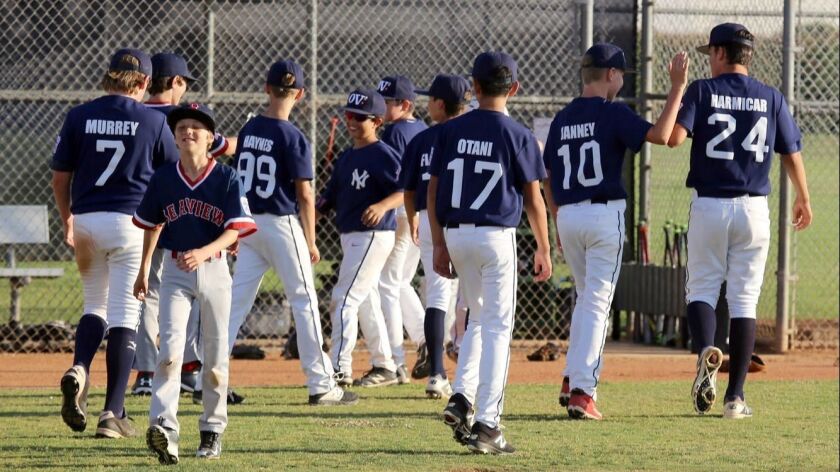 "Every kid contributed, Nick pitched fantastic, [and] we played fantastic defense," Ocean View coach Dean Haidl said.
The only blemish the Yankees' defense had was in the first inning, when Seaview's Luke Gass got on base due to an error. But for most of the game, the defense helped keep Murrey's no-hitter intact.
"My team played really good defense [and] I pitched good," said Murrey, who threw 89 pitches.
The Yankees scored the first run in an unusual way. Matt Haidl scored from first base off a wild pitch and a high throw over the second baseman.
Seaview's best chance at getting on the scoreboard came in the top of the third inning. Jake McNabb walked and stole second base, but the defense helped Murrey get out of the jam.
One standout that the Yankees had defensively was Lucas Harmicar, who got a lot of the Red Sox players out.
"Lucas Harmicar made four or five amazing plays, including a line-drive catch," Dean Haidl said of his first baseman.
The Yankees took a 2-0 lead thanks to a run-scoring single from Dylan Flannigan, bringing home Matt Haidl from second base. Their lead increased to 3-0 off a wild pitch, which brought Murrey home from second base.
Haidl went two for two in his only at-bats, both resulted in RBI singles. To the credit of the Red Sox, starter Ryder Cannon did all he could to limit Ocean View's scoring. He went the distance, striking out seven.
"My pitcher threw a heck of a game, I can't say enough about the kid," Seaview coach Dan Gass said about Cannon. "He's a really a stud for us. He's been a horse that we've been riding for the whole year.
"They got three unearned runs and it was frustrating a little bit, but that's a good team we played."
Despite the loss, Gass was proud of the way the Red Sox battled.
"Our kids are holding their heads high," he said. "We're fighters, we went down swinging, and the kids learned a lot this year."
Ocean View is one win away from playing in Saturday's championship game, which would be another home game.
"We're excited," Dean Haidl said. "We want to win for all the kids and for Ocean View."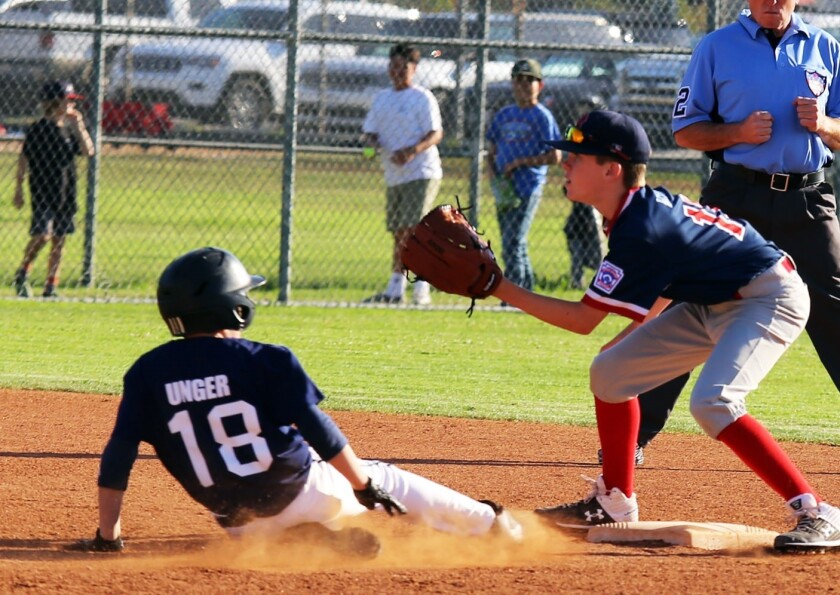 Support our sports coverage by becoming a digital subscriber.
For more sports stories, visit latimes.com/socal/daily-pilot/sports or follow us on Twitter @DailyPilotSport.
TERAN RODRIGUEZ is a contributor to Times Community News.
---