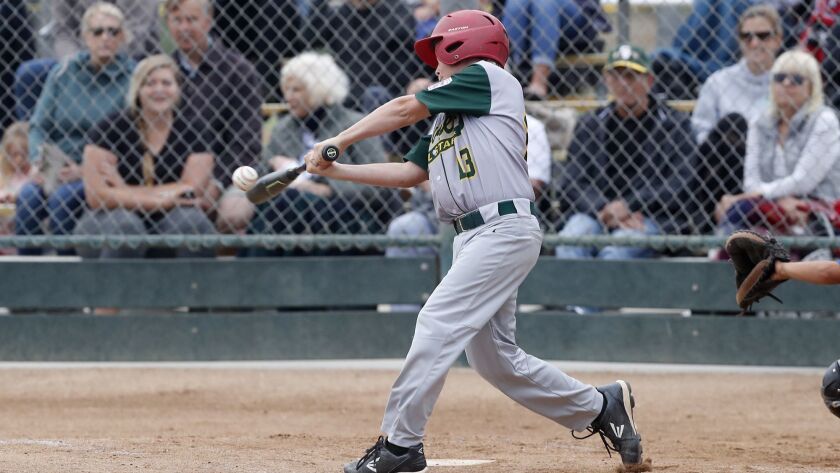 The Seaview Little League 8- to 10-year-old All-Star baseball team wants to keep playing as long as it possibly can.
A loss to in-city rival Huntington Valley on Monday night put Seaview's season on the brink, but it was never in doubt on Tuesday as the team began its battle back through the loser's bracket.
Seaview pounded out 22 hits and threw a combined no-hitter in a 23-0 victory over a young Costa Mesa National team in an elimination game of the District 62 All-Stars tournament at Fountain Valley Sports Park.
Two more victories would be required for Seaview to work its way back to the championship bracket. The next game for Seaview will be on Thursday at 5 p.m. at Fountain Valley Sports Park against an opponent yet to be determined.
Carter Mason and Gage Artle combined on a no-hitter in a game that was shortened to three innings due to the mercy rule. Artle issued a leadoff walk to Zach Cox, but he struck out the side in order after that.
"It's awesome," Seaview coach Bryan Bear said of what it meant to the kids to extend their season. "Carter started out there, and I think he only threw one or two balls, so he had command the first two innings that he pitched. Then Gage came in, as well, and I think he had three strikeouts to close out, so it was a good outing for both of them."
Shortstop Carson Cato and center fielder Gannon Arellano each had three hits for Seaview. Catcher Caden Bear, second baseman Evan Moorhead, left fielder Mikey Smith, right fielder Will Crinella and Artle had two hits apiece.
While every player to enter the game for Seaview had a hit, Artle had to wait until his fourth plate appearance before driving a double to left-center field.
After getting his second hit of the third inning, Artle took the mound to finish the game out.
"It felt really good," Artle said of completing the combined no-hitter. "I was just excited and happy that I achieved that accomplishment."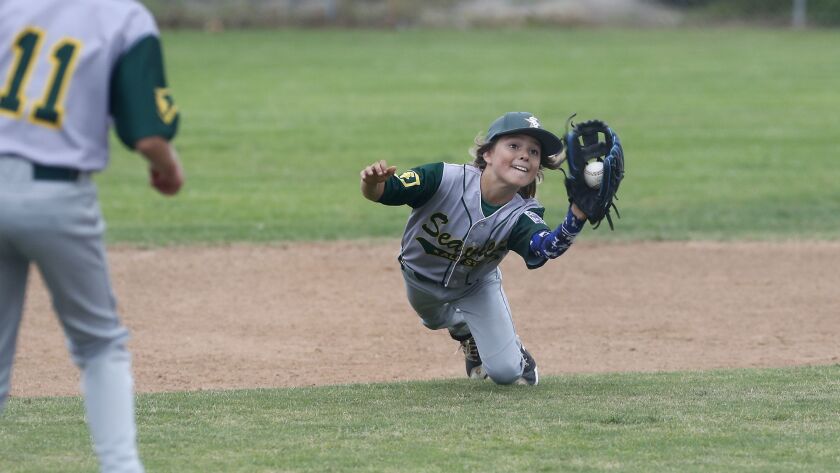 Joseph Rabay had the loudest hit of the night, lacing a two-run inside-the-park home run to the gap in right-center field in a pinch-hitting appearance in the second inning.
"It was nice to finally hit one real far and get a good hit," Rabay said, adding that he thought he was going to be stopped at third base before being sent home. "Normally, I get a lot of hits, but I've never hit a home run."
Asked what he likes best about playing in this tournament, Rabay said it was knowing that he could trust his teammates to make the plays in front of them.
"When I play, I can play with other kids that when I throw it to them, I know that they will catch it," Rabay said. "I know that my team can back me up."
Colin Crinella, Adam Hitch, Casey Shill, Parker Ross, Rabay and Mason also had hits.
Middle infielder Jackson Gregory provided highlights defensively for Costa Mesa National, taking a pair of hits away by catching line drives in the air in the third inning.
Gregory beamed as the fans applauded his efforts in the field, and after the game, he gave his first career interview.
He leaned over the recorder, and he enthusiastically said, "Hi!"
Gregory added, "It felt good," when asked about his reaction to the plays he made on defense.
Most of the Costa Mesa National team will remain in its current age group, with eight of the players being 9 years of age. Two of the players were 8-year-olds, including Turner Stewart, who pitched for his team in the third inning.
::
Support our sports coverage by becoming a digital subscriber.
For more sports stories, visit latimes.com/socal/daily-pilot/sports or follow us on Twitter @DailyPilotSport.
Twitter: @ProfessorTurner
---