Brazilians make push at U.S. Open of Surfing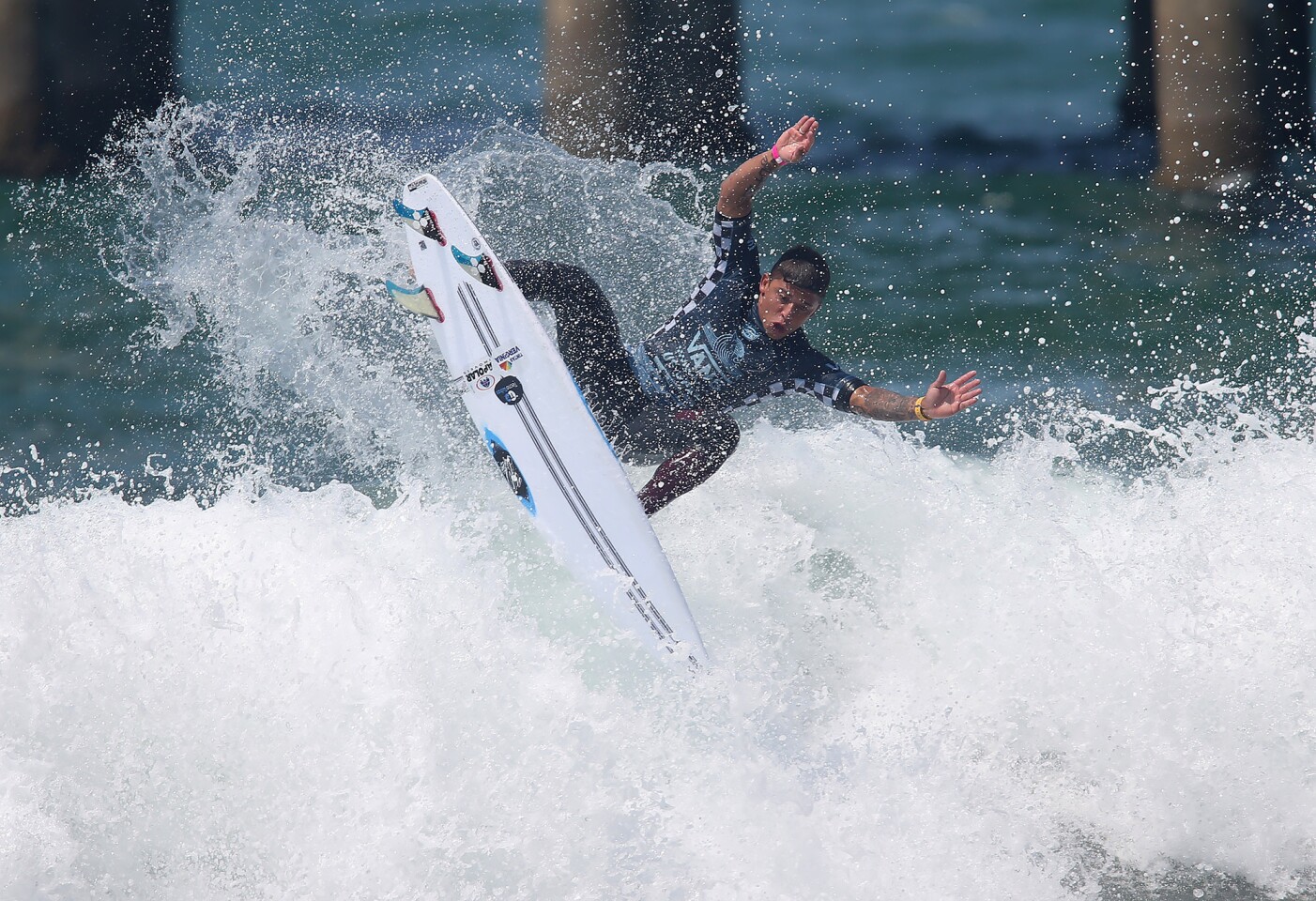 Brazil's Peterson Crisanto goes high in the air off the foam in route to highest heat score as he competes in round 2 of the Men's QS10000 during the Van's US Open of Surfing on Tuesday.
(Don Leach / Daily Pilot)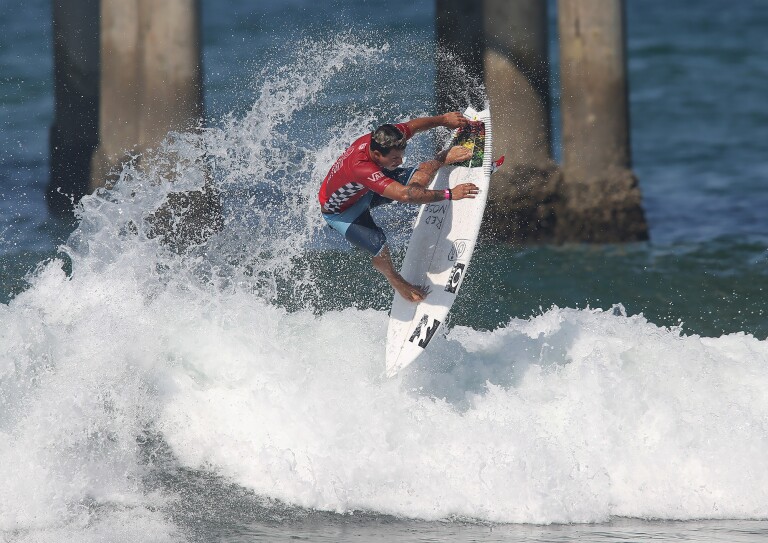 Brazil's Italo Ferreira completes a 180 air reverse as he competes in round 2 of the Men's QS10000 during the Van's US Open of Surfing on Tuesday.
(Don Leach / Daily Pilot)
Peterson Crisanto has been in Orange County for just a handful of days, preparing for the U.S. Open of Surfing.
The Brazilian still feels right at home. Crisanto, 26, said he's staying at the San Clemente home of fellow Brazilian surfer Felipe Toledo, a two-time U.S. Open champion who isn't surfing the event on the south side of the Huntington Beach Pier this year.
"He is not here, but he gives me all of the support, whatever I need here," Crisanto said. "I'm so confident for this event."
Toledo currently is the top-ranked surfer in the World Surf League Men's Championship Tour. Crisanto currently is top-ranked in the Men's Qualifying Series, which features tour hopefuls.
The common theme is Brazil, and it was a good day for that country Tuesday as the U.S. Open of Surfing Men's QS 10,000 event continued with second-round action.
Twelve of the 32 surfers to advance to round three so far hail from Brazil. They include Crisanto, who had the second-highest two-wave score of the day, a 15.77 to easily win his heat in less-than ideal conditions that featured one-to-three-foot waves.
Other Brazilian surfers to advance included Alejo Muniz, ranked No. 4 in the QS, as well as No. 6 Deivid Silva and No. 10 Thiago Camarao.
I'm so glad to see the boys ripping, all of the Brazilians.
— Peterson Crisanto, surfer
Crisanto won the Ballito Pro event in South Africa at the end of June and knows another top performance at the U.S. Open would go a long way.
"It's actually my dream to be in the final here," he said. "I've worked for this, and this is one of my goals for this year. If I make the final here, pretty much I'll be on tour next year. So yeah, I'm going to take it heat by heat and try to do my job the best I can.
"I'm so glad to see the boys ripping, all of the Brazilians."
A pair of Surf City natives — and U.S. Open champions — are scheduled to surf Wednesday, as the final eight heats of round two are completed starting at about 11 a.m. Brett Simpson, who won the U.S. Open in 2009 and 2010, will compete in Heat 19. Kanoa Igarashi, the defending event champion, is in Heat 21.
Four of the round three advancers so far are from Orange County. Kei Kobayashi, Kolohe Andino, Tanner Gudauskas and Griffin Colapinto all call San Clemente home.
Prior to the men's competition Wednesday, the Junior Women's Pro event will contest the first round, quarterfinals and semifinals. Kayla Coscino of Laguna Beach is among the hopefuls.
The Junior Men's Pro field was pared to its final four Tuesday, as the quarterfinal and semifinal rounds went off. The finalists include Kade Matson and Cole Houshmand of San Clemente, as well as Barron Mamiya of Hawaii and Alan Cleland of Mexico.
Matson and Houshmand both emerged from a hotly contested first semifinal, with Matson collecting a 6.57 score at the end of the 25-minute heat to place first with 12.70 points. Houshmand was second with 11.67, and Jackson Butler of Encinitas placed third with 10.90.
Matson has advanced to the Junior Men's Pro final for the second straight year. He placed third last year, and though he wants to win, he is happy that Houshmand is also still alive in the competition.
The winner receives $2,500 and 1,000 points on the tour.
"We all surf with each other every day," Matson said. "We all want to make heats together, but at the same time, we all want to take each other down. It's kind of that friendly rivalry going down. We want to put our best performances in."
Twitter: @mjszabo
---
All the latest on Orange County from Orange County.
Get our free TimesOC newsletter.
You may occasionally receive promotional content from the Daily Pilot.