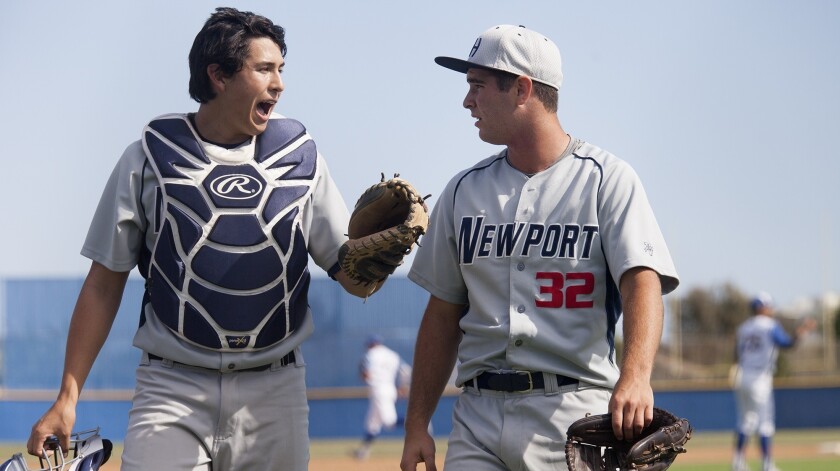 Sophomore Clay Liolios went three for three with a home run and four runs batted, and the Newport Harbor High baseball team defeated visiting Edison 10-3 in a Sunset League game on Friday.
Max Crabbe, AJ Stefano, Cameron Mahaffy and Kelly Austin each had two hits for Newport Harbor (6-4, 2-1 in league).
Matt Weiss earned the win after giving up three hits and three runs and striking out three in five innings.
The Sailors play rival Newport Harbor in the Battle of the Bay game at UC Irvine on Saturday at 11 a.m.
Connor Aoki was two for three with two RBIs for Edison (6-8, 0-3), which hosts Fountain Valley on Tuesday at 3:15 p.m.
Corona del Mar 8, Northwood 2: Senior J.T. Schwartz hit a grand slam, leading the host Sea Kings to their second straight Pacific Coast League win on Friday.
Chazz Martinez threw five shutout innings to earn his first win. He gave up five hits, struck out four and walked one.
Reece Berger drove in two runs for CdM (4-4, 2-1 in league).
Estancia 14, Saddleback 0: Senior Adam Aurriema and junior Jeremy Gardner combined to strike out 10 and throw a one-hitter for the visiting Eagles in Friday's Orange Coast League game that was called after five innings because of the 10-run mercy rule.
Hayden Pearce went three for four with two RBIs, a double and three runs for Estancia (8-3, 3-0 in league), which hosts Calvary Chapel on Tuesday at 3:15 p.m.
Ocean View 4, Westminster 0: Sophomore Shane Hoodman threw a four-hit shutout, striking out seven while walking two in the Seahawks' Golden West League game on the road Friday.
Ocean View's Michael Fernandez had a two-run double.
The Seahawks (7-5, 3-1 in league) play at El Segundo on Saturday at 11 a.m.
*
BOYS' TENNIS
CdM All-American Invitational
The host Sea Kings split their first two matches of the tournament on Friday, losing to the Iolani School of Hawaii 5-3 in the first round before beating The Haverford School of Pennsylvania 7-1 in a consolation quarterfinal.
Freshman Bradley Amor went a combined 4-0 in singles and doubles in the two matches for the Sea Kings, who will play in a consolation semifinal Saturday at 8 a.m. at University High.
*
GIRLS' LACROSSE
Edison 13, Segerstrom 5: Sarah Olsen, Lauryn Atencio, Caitlin Moledo and Sarah Boyd each scored twice for the Chargers in Friday's nonleague game at home.
Sarah Horner, Rylee Siegel, Mia Whalen, Alyssa Wyman and Haley Finch added goals for Edison (7-2).
The Chargers play host to Norco on Saturday at 1 p.m.
*
SOFTBALL
Edison 4, Laguna Hills 1: Junior Jenna Bloom struck out 10, and the Chargers defeated host Laguna Hills 4-1 on Friday in a nonleague game.
Junior Serena Starks had two hits to lead the Chargers (5-2) offensively.
Edison opens Sunset League play with a home game against Marina (6-3) on Thursday at 3:15 p.m.
*
BOYS' VOLLEYBALL
Edison 3, Marina 0: Junior outside hitter James Carpenter had nine kills, and the visiting Chargers came away with a 25-8, 25-11, 25-22 victory to open Sunset League play on the road Friday.
Senior middle blockers Trevor McKay and Austin Pratt each had six kills for the Chargers (6-9 overall).
Twitter: @DailyPilotSport
To report scores of high school games, or other newsworthy items from youth, college and professional sports, contact the Daily Pilot sports staff listed below:
David Carrillo Peñaloza, Sports Editor
(714) 966-4612, david.carrillo@latimes.com
Fall: football, girls' golf
Winter: boys' basketball, boys' soccer
Spring: baseball, boys' golf
*
Matt Szabo, Sports Reporter
(714) 966-4614, matthew.szabo@latimes.com
Fall: boys' water polo, girls' tennis
Winter: girls' soccer, girls' water polo
Spring: boys' tennis, swimming, lacrosse
*
Andrew Turner, Sports Reporter
(714) 966-4611, andrew.turner@latimes.com
Fall: girls' volleyball, cross-country, field hockey
Winter: girls' basketball, wrestling
Spring: boys' volleyball, track and field, softball
---