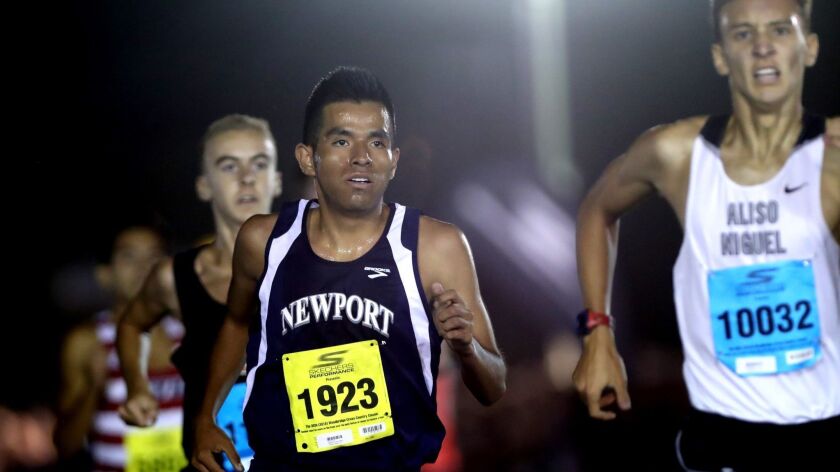 The Sunset Conference cross-country finals provided high drama on Friday at Central Park in Huntington Beach.
Although the conference separated its eight teams into a top tier (Surf) and lower tier (Wave) league, it opted to run all of its schools together.
That left a pair of All-CIF State performers to run against each other. Laguna Beach's Ryan Smithers, the newcomer, proved a worthy adversary to the two-time champion Alexis Garcia from Newport Harbor.
Garcia crossed the finish line in 14 minutes 21.1 seconds, narrowly holding off Smithers (14:21.4) in a scintillating race between the two seniors.
"It was intense," Garcia said. "I'm used to being by myself coming back, so when I saw that guy with me, I got really, not worried, but I said to myself that I had to work harder than what I'm used to doing here.
"I just held it like I did last week [at the Orange County Championships], and then at the end, I just finished it."
Both runners will receive credit for being league champions. Garcia became the first Surf League champion, while Smithers claimed the inaugural Wave League individual crown.
The top two teams in a four-team league receive berths into the CIF Southern Section preliminaries, which will be held at the Riverside City Cross-Country Course from Nov. 9-10.
Los Alamitos defeated Newport Harbor 42-44 for the boys' Surf League team title. Corona del Mar also qualified by virtue of having been featured in at least two of the section's final four sets of rankings.
Laguna Beach put up a perfect score in besting Huntington Beach by the count of 15-59 for the boys' Wave League championship.
The course measured out to 2.9 miles, just shy of the traditional three-mile race. Still, the time of 17:05.6 that CdM sophomore Annabelle Boudreau ran to win the girls' combined championship race was mighty impressive.
Fountain Valley's girls pulled off the remarkable feat of winning their third straight league title in the competitive Sunset Conference. The Barons beat Los Alamitos 22-53 for the Surf League title.
Seniors Ashley Faller (second, 17:16.7) and Sara Feitz (third, 17:41.2) can be seen as the beginning of this recent dynasty for Fountain Valley. The Barons have filled out the lineup with junior Maddie Jahshan (fourth, 17:53.0), freshman Ashlee Gallegos (sixth, 18:04.1) and sophomore Julia Svartstrom (seventh, 18:05.3).
"I'm just so proud of how far our team has come, the progression from freshman year until now," Faller said. "Last week, at the Riverside Invite, we had a really good race. Everyone was in a really tight pack, and we were like, 'Wow, we're doing so well.'
"I really think that we carried that well into this race, and we dropped the times even more. I think we're feeling really confident going into CIF, possibly even state."
CdM's girls also advance to CIF through the section's rankings criteria.
Hannah Konkel (first, 17:37.7) and Jessie Rose (second, 17:57.8) led Laguna Beach past Newport Harbor 22-38 for the girls' Wave League championship. The win marks the Breakers' seventh straight league title on the girls' side.
FOOTBALL
Marina 33, Westminster 6: The visiting Vikings closed out the regular season by winning the Battle at Boswell rivalry game at Boswell Field on Friday.
The Vikings finished 3-7 overall and in third place in the Big League at 1-2. With an overall record below .500, Marina will not qualify for an at-large berth into the CIF Southern Section Division 9 playoffs.
Santiago 34, Los Amigos 8: The Lobos' season ended Friday at Garden Grove High, going winless in the Garden Grove League for the first time since 1977.
Los Amigos (3-7, 0-5 in league) dropped its final six games.
::
Twitter: @DailyPilotSport
To report scores or newsworthy items, contact the sports staff listed below:
David Carrillo Peñaloza, Sports Editor
(714) 966-4612, david.carrillo@latimes.com
Twitter: @ByDCP
Fall: football, girls' golf
Winter: boys' basketball, boys' soccer
Spring: baseball, boys' golf
::
Matt Szabo, Sports Reporter
(714) 966-4614, matthew.szabo@latimes.com
Twitter: @mjszabo
Fall: boys' water polo, girls' tennis
Winter: girls' soccer, girls' water polo
Spring: boys' tennis, swimming, lacrosse
::
Andrew Turner, Sports Reporter
(714) 966-4611, andrew.turner@latimes.com
Twitter: @ProfessorTurner
Fall: girls' volleyball, cross-country, field hockey
Winter: girls' basketball, wrestling
Spring: boys' volleyball, track and field, softball
---