High School Roundup: CdM boys' water polo advances to Division 2 semifinals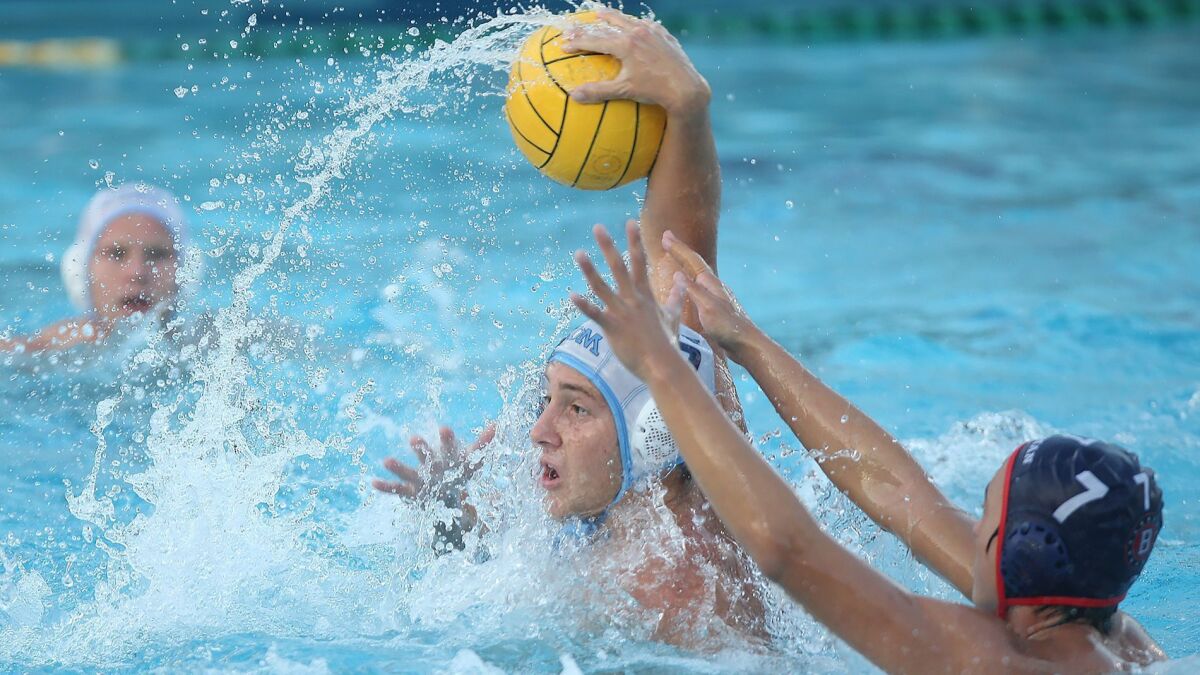 Senior co-captains Shane Papa and Matt Ueberroth, as well as junior Tanner Pulice, all scored three goals as the Corona del Mar High boys' water polo team beat Murrieta Valley 10-6 on Saturday in a CIF Southern Section Division 2 playoffs quarterfinal match at CdM.
"I've really tried to encourage Matt and Shane to take big steps forward as far as leadership goes," CdM coach Kareem Captan said of Ueberroth, a center, and Papa, a defender. "They showed it today. Matt with three goals and Shane with three goals, that's exactly what you want out of your captains. It was huge."
Tyler Harvey had three assists and three steals for No. 4-seeded CdM (16-13). Caden Strauss had a goal and two assists, while Cole Fisher also had two assists. Goalkeeper Harrison Smith made eight saves.
The Sea Kings will play rival Foothill (18-10) on Wednesday night in a Division 2 semifinal match at Irvine's Woollett Aquatics Center. That's a rematch of last year's Division 2 final won by the Knights, and Foothill also had two one-goal wins over CdM earlier this season.
"The coaching staff is hungry, the players are hungry, the alumni from last year are hungry," Captan said. "I definitely would like to get another [shot at Foothill], and I love to compete against Foothill and [coach] Jim [Brumm] as a coach."
Rancho Cucamonga Los Osos 15, Edison 4: Ethan Galaz scored two goals for the Chargers in Saturday's CIF Southern Section Division 3 playoff quarterfinal match at Ocean View High.
Los Osos (18-13) is the top-seeded team in Division 3.
Cameron Davidson and Sean Angelovic each scored one goal for Edison (17-14).
Tustin 11, Estancia 7: Sophomore Noah Gniffke scored three goals for the Eagles, who fell to the top-seeded Tillers in a CIF Southern Section Division 6 playoff quarterfinal match Saturday at Tustin High.
Sophomore Logan Richard added two goals and two assists for Estancia (17-12), while senior Jake Blinn and freshman Brodi White had one goal each.
Culver City 12, Los Amigos 10: The Lobos' season ended after Saturday's CIF Southern Section Division 6 playoff quarterfinal loss to the No. 3-seeded Centaurs at Garden Grove High.
Los Amigos finished the season 18-11.
::
Twitter: @DailyPilotSport
To report scores or newsworthy items, contact the sports staff listed below:
David Carrillo Peñaloza, Sports Editor
(714) 966-4612, david.carrillo@latimes.com
Twitter: @ByDCP
Fall: football, girls' golf
Winter: boys' basketball, boys' soccer
Spring: baseball, boys' golf
::
Matt Szabo, Sports Reporter
(714) 966-4614, matthew.szabo@latimes.com
Twitter: @mjszabo
Fall: boys' water polo, girls' tennis
Winter: girls' soccer, girls' water polo
Spring: boys' tennis, swimming, lacrosse
::
Andrew Turner, Sports Reporter
(714) 966-4611, andrew.turner@latimes.com
Twitter: @ProfessorTurner
Fall: girls' volleyball, cross-country, field hockey
Winter: girls' basketball, wrestling
Spring: boys' volleyball, track and field, softball
All the latest on Orange County from Orange County.
Get our free TimesOC newsletter.
You may occasionally receive promotional content from the Daily Pilot.