High School Roundup: Newport Harbor boys' basketball reaches Grizzly Invitational quarterfinals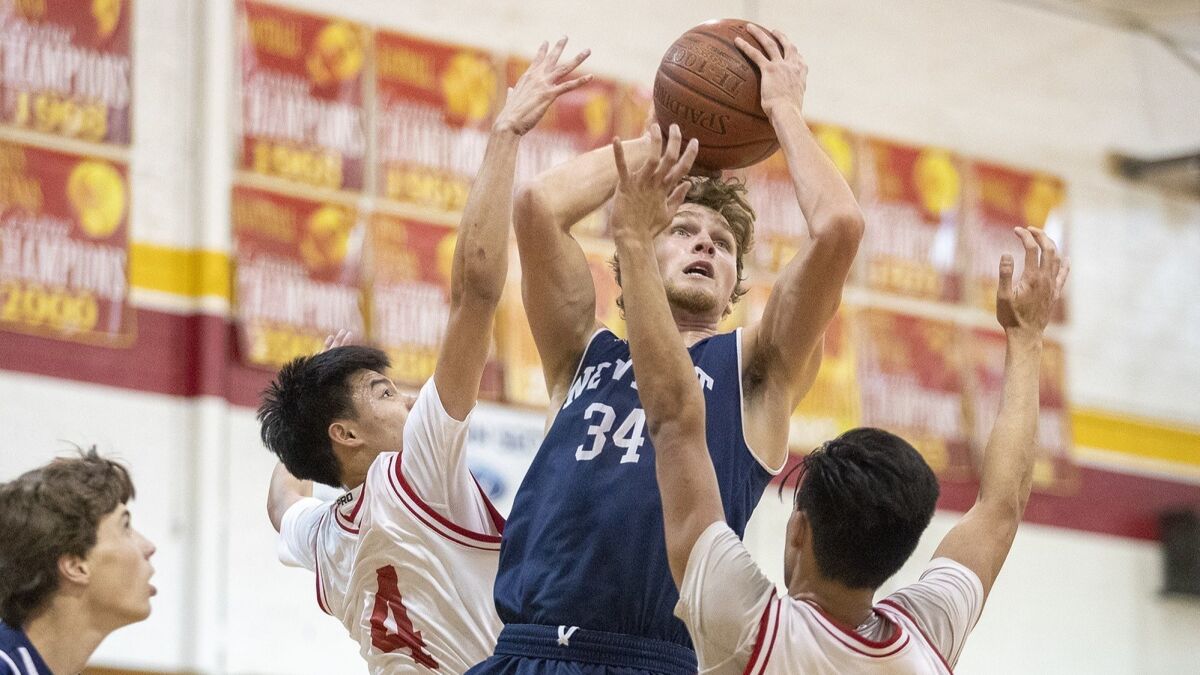 Senior forward Dayne Chalmers finished with 23 points and eight rebounds, helping the Newport Harbor High boys' basketball team advance to the Grizzly Invitational Gold Division quarterfinals with a 61-36 win over Long Beach Wilson at Loara High on Wednesday night.
The Sailors (3-0), who won their pool, will play El Dorado in Thursday's quarterfinal game at Godinez High at 6:15 p.m.
Robbie Spooner had 13 points for Newport Harbor.
Laguna Beach 65, Foothill 59: Junior guard Lucas Kravitz had 23 points in the Breakers' final pool-play game of the Grizzly Invitational at Godinez High on Wednesday.
Laguna Beach (3-1) plays San Clemente in the Silver Division quarterfinals at Irvine High on Thursday at 3:15 p.m.
El Toro 93, Costa Mesa 73: The Mustangs finished second in their Grizzly Invitational pool at Loara High on Wednesday.
Costa Mesa (1-1) faces Fullerton in the Silver Division quarterfinals at Loara on Thursday at 7:45 p.m.
BOYS' SOCCER
Corona del Mar 4, Long Beach Poly 3: Senior forward Niko Urban scored the game-winning goal in the 78th minute in the Sea Kings' season opener on the road Wednesday.
Aidan Holmes had two goals for CdM, while Matt Katz added a goal and two assists.
The Sea Kings host Brea Olinda on Friday at 3 p.m.
Los Amigos 4, Ocean View 0: Senior midfielder Alfonso Montano had a goal and an assist for the visiting Lobos in Wednesday's nonleague match.
Brandon Alfaro and Mauricio Rodriguez each recorded a goal and an assist for Los Amigos (2-1), which hosts Canyon on Friday at 3:15 p.m.
Edison 2, Bell Gardens 0: The Chargers opened the season with a shutout Wednesday in the Aliso Cup at Bell Gardens' John Anson Ford Park.
Edison hosts Valencia in the tournament on Friday at 5 p.m.
Fountain Valley 3, Villa Park 2: The host Barons won the nonleague match on Wednesday.
Magnolia 2, Sage Hill 0: The Lightning dropped to 0-2 after Wednesday's nonleague match at home.
GIRLS' BASKETBALL
Costa Mesa 60, Loara 31: Katie Belmontes had 26 points to lead the host Mustangs to their first win of the season on Wednesday.
Samantha Filner, McKayla Ortiz and Amy Martinez each added five points for the Mustangs (1-6).
Costa Mesa plays at Portola (1-2) on Friday.
Corona del Mar 50, El Modena 30: Tatiana Bruening had 23 points and seven blocked shots for the Sea Kings in a pool-play game at their CdM Tip-off Tournament on Wednesday.
Trasara Alexander also had 10 points for CdM (4-4), which won its pool.
The Sea Kings will play Palos Verdes (5-2) in the semifinals on Friday at 7 p.m.
Laguna Beach 55, Los Angeles Summit View West 10: The Breakers used a balanced scoring effort on Wednesday to improve their record to 8-0.
Anna Cheng led Laguna Beach with 10 points. Mia Pitz and Autumn Moreland each had eight points, and Julia Henry and Laila Hassan both contributed seven points.
Crean Lutheran 71, Edison 55: Lainey Johnson had a team-high 21 points and 11 rebounds for the Chargers on Wednesday in a Vernie Ford Tournament game at Fullerton High.
Madison Copeland added 10 points and nine rebounds. Irene Ontiveros had nine points, and Sarah Gray chipped in with eight points and eight rebounds.
Edison (1-3) will continue tournament play on Thursday against Compton at 3 p.m.
GIRLS' WATER POLO
Laguna Beach 22, Murrieta Valley 3: Morgan Van Alphen, Imani Clemons, Emma Singer and Nicole Struss all scored three goals for the host Breakers in Wednesday's season opener.
Emma Lineback, Molly Renner, Bryn Gioffredi and Lela McCarroll all scored twice for Laguna Beach. Senior goalkeeper Quinn Winter made six saves.
Laguna Beach hosts San Clemente on Dec. 6 at 4 p.m.
GIRLS' SOCCER
Corona del Mar 4, Portola 1: Megan Chelf scored twice for the Sea Kings in their season opener Wednesday on the road.
Mia Ferentino and Sarah Nieger also scored for CdM, while Natalie Hueston had two assists.
Emiko Tachiki and Celeste Wayne each had one assist for CdM, while Giovanna Broderick made three saves.
CdM plays Santa Rosa Montgomery in a Back Bay Invitational showcase game on Friday at 3 p.m. at Newport Harbor High.
::
Twitter: @DailyPilotSport
To report scores or newsworthy items, contact the sports staff listed below:
David Carrillo Peñaloza, Sports Editor
(714) 966-4612, david.carrillo@latimes.com
Twitter: @ByDCP
Fall: football, girls' golf
Winter: boys' basketball, boys' soccer
Spring: baseball, boys' golf
::
Matt Szabo, Sports Reporter
(714) 966-4614, matthew.szabo@latimes.com
Twitter: @mjszabo
Fall: boys' water polo, girls' tennis
Winter: girls' soccer, girls' water polo
Spring: boys' tennis, swimming, lacrosse
::
Andrew Turner, Sports Reporter
(714) 966-4611, andrew.turner@latimes.com
Twitter: @ProfessorTurner
Fall: girls' volleyball, cross-country, field hockey
Winter: girls' basketball, wrestling
Spring: boys' volleyball, track and field, softball
---
All the latest on Orange County from Orange County.
Get our free TimesOC newsletter.
You may occasionally receive promotional content from the Daily Pilot.