High School Roundup: CdM girls' soccer beats Ocean View to stay undefeated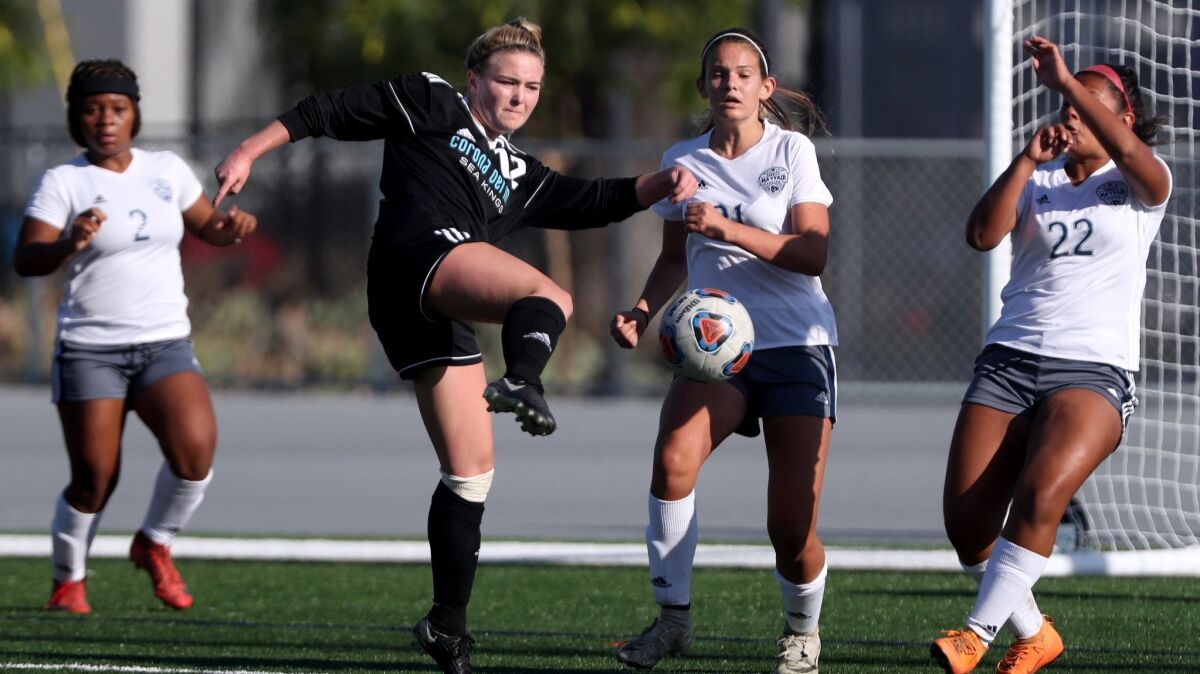 Megan Chelf had a goal and an assist as the Corona del Mar High girls' soccer team beat visiting Ocean View 2-1 in a nonleague match Tuesday.
Chelf scored the unassisted game-winner, her ninth goal of the season, in the 71st minute for the Sea Kings (4-0-1). She also assisted Katharine Caston's goal in the first half.
Goalkeeper Giovanna Broderick made three saves for CdM.
The Sea Kings host Pico Rivera El Rancho on Thursday at 3:15 p.m.
Bella Messina scored for Ocean View (2-1-1), which hosts Woodbridge on Thursday at 5:45 p.m.
Newport Harbor 3, Tesoro 0: Reese Bodas had a penalty kick goal and an assist for the host Sailors in Tuesday's nonleague match.
Skylynn Rodriguez and Emily Johnson also scored for Newport Harbor (3-0-1), while Emily Johnson had an assist.
Goalkeepers Jessica Gardner and Sammy Nowak combined on the shutout.
Pacifica Christian Orange County 3, Whittier Christian 0: Sadie Hill, Carly Kane and Leila Bahnsen all scored for the Tritons in Tuesday's nonleague home match.
Junior captain Brooklyn Motske had her team-best seventh assist and Buze Harrison also had an assist for Pacifica Christian (3-0), ranked No. 9 in the CIF Southern Section Division 6 poll.
Calvary Chapel 2, Sage Hill 0: Freshman goalkeeper Lainey Cauffman had four saves for the Lightning in Tuesday's nonleague match at home.
Sage Hill assistant coach Megan Cid said standouts for the Lightning (2-1-1) included freshman midfielder Lauren Graham, freshman forward Anisha Punia, sophomore midfielder Ava Cooper and senior midfielder Sydney McCord.
Sage Hill plays at Cerritos Valley Christian on Thursday at 5:30 p.m.
El Dorado 3, Edison 1: Riley O'Brien scored on Emily Brownfield's assist for the Chargers in Tuesday's Aliso Cup pool-play match at El Dorado High.
Edison fell to 1-2 overall.
BOYS' BASKETBALL
Newport Harbor 70, Bell Gardens 45: Dayne Chalmers had 24 points and 13 rebounds as the Sailors won their pool-play opener of the Tartan Classic at St. Margaret's Episcopal School on Tuesday.
Robbie Spooner scored 17 points for Newport Harbor (6-1), which continues pool play Thursday at 5:30 p.m. against Tustin.
Marina 76, Jurupa Hills 40: Ethan Barnella scored 26 points for the Vikings in Tuesday's Blue Pride Classic opener at Pico Rivera El Rancho High.
Marina improved to 5-4.
Downey 66, Huntington Beach 53: The Oilers' four-game winning streak ended Tuesday in the Lakewood Artesia Tournament.
Nick Saccacio had 18 points for Huntington Beach (6-6), and Michael Hennessy added 12 points.
Century 57, Estancia 52: Jake Covey had 20 points for the host Eagles in a nonleague game on Tuesday.
Brandon Pearson added eight points for Estancia (5-5).
GIRLS' WATER POLO
Costa Mesa 21, Pacifica 4: Sofia Rice had seven goals and seven assists for the Mustangs in Tuesday's nonleague home match.
Sey Currie added five goals for Costa Mesa (3-4), while Taiuta Uiagalelei scored four and Michelle Keifer had three goals.
Costa Mesa hosts Marina on Thursday at 4 p.m.
Estancia 14, Long Beach Cabrillo 3: Mackenzie McIntyre had three goals and three assists for the Eagles in Tuesday's nonleague match on the road.
Gidget Brestel and Caroline Connor also scored three goals each for Estancia (3-5), and Giannina Bauer made seven saves.
Long Beach Wilson 9, Newport Harbor 5: The Sailors, ranked No. 10 in CIF Southern Section Division 1 and 2, were upset in their season opener by the No. 18-ranked Bruins on Tuesday at the Belmont Plaza pool.
GIRLS' BASKETBALL
Pacifica Christian Orange County 40, Bethel Baptist 13: Anna Eddy had a team-high 18 points to lead the host Tritons in Tuesday's Western League game.
Annika Bahnsen added 12 points for Pacifica Christian (4-1, 3-0 in league).
::
Twitter: @DailyPilotSport
To report scores or newsworthy items, contact the sports staff listed below:
David Carrillo Peñaloza, Sports Editor
(714) 966-4612, david.carrillo@latimes.com
Twitter: @ByDCP
Fall: football, girls' golf
Winter: boys' basketball, boys' soccer
Spring: baseball, boys' golf
::
Matt Szabo, Sports Reporter
(714) 966-4614, matthew.szabo@latimes.com
Twitter: @mjszabo
Fall: boys' water polo, girls' tennis
Winter: girls' soccer, girls' water polo
Spring: boys' tennis, swimming, lacrosse
::
Andrew Turner, Sports Reporter
(714) 966-4611, andrew.turner@latimes.com
Twitter: @ProfessorTurner
Fall: girls' volleyball, cross-country, field hockey
Winter: girls' basketball, wrestling
Spring: boys' volleyball, track and field, softball
---
All the latest on Orange County from Orange County.
Get our free TimesOC newsletter.
You may occasionally receive promotional content from the Daily Pilot.