High School Roundup: Laguna Beach boys' track and field wins mile relay at Arcadia Invitational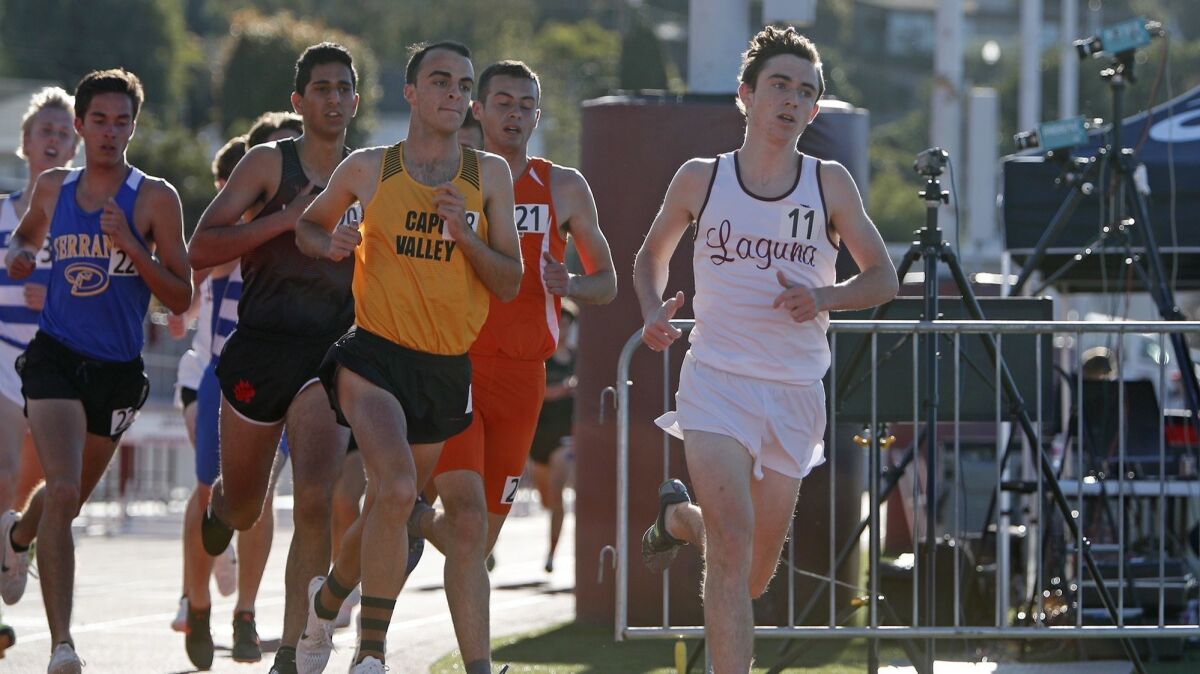 The Laguna Beach High boys' cross-country team won a CIF State Division IV championship in the fall, and the Breakers are not done adding to their accomplishments.
Mateo Bianchi, Logan Brooks, Ryan Smithers and Sebastian Fisher combined to form the winning track team in the mile relay at the Arcadia Invitational on Friday.
The Breakers quartet blistered the track, running the fastest time in the nation this year at 17 minutes 27 seconds flat.
"Going into the race, I told the boys, 'If we can get top three, I'll be really happy,'" Breakers boys' track and field coach Tommy Newton-Neal said. "Right before the race, I said, 'Stay relaxed, be patient in the beginning, and just run for the boys.'
"That's exactly what they did. They executed perfectly."
Newton-Neal added that Laguna Beach had never won an invitational section race at the Arcadia national meet.
Laguna Beach beat a number of perennial distance-running powerhouses, including CIF Southern Section Division 1 programs Dana Hills and Temecula Great Oak.
Newport Harbor was 11th in the race in 18:11.06. Alexis Garcia, Will DeBassio, Luke Downing and Michael Davey ran on the relay team.
SOFTBALL
Costa Mesa 15, Estancia 6: Katie Belmontes went four for five with two home runs and nine runs batted in for the visiting Mustangs in an Orange Coast League game on Friday.
Belmontes had a grand slam, as Costa Mesa (7-10, 4-1 in league) completed a sweep of the Battle for the Bell series.
Alexis Litvak struck out six in the win.
Estancia fell to 5-8-1 overall and 3-2 in the league.
Corona del Mar 13, Laguna Beach 2: Makena Tomlinson homered and drove in six runs for the host Sea Kings in a Wave League game on Friday.
Amerys Barshtak had a double and three stolen bases, and Sophia Skerik struck out eight over five innings for CdM (11-10, 1-4 in league).
Laguna Beach dropped to 4-9 overall and 0-4 in the league.
BASEBALL
Sage Hill 8, Rowland Heights Southlands Christian 1: The Lightning improved to 4-2 in the San Joaquin League after Friday's game at home.
Sage Hill, which is 8-4 overall, is a half-game behind first-place Capistrano Valley Christian, which is 4-1 in the league.
The Lightning host rival St. Margaret's on Tuesday at 3:15 p.m.
Downey 5, Edison 4: Blake Morton went three for four with a run batted in for the Chargers, who almost erased a five-run deficit in Friday's nonleague road game.
Hunter Baclig had a hit and three RBIs for Edison (14-8), and Garrett Runyan had a hit and scored a run.
BOYS' VOLLEYBALL
Corona del Mar 3, Laguna Beach 0: Nathaniel Dickinson had eight kills to lead the host Sea Kings in Friday's 30-28, 25-15, 28-26 win in Surf League competition.
Glen Linden had seven kills, and Matt Olson added six kills for the Sea Kings (17-5, 2-1 in league).
Laguna Beach dropped to 10-7 overall and 0-3 in the league.
Los Alamitos 3, Fountain Valley 0: The Griffins swept the visiting Barons 25-19, 25-21, 25-20 in Friday's Wave League match.
Fountain Valley is now 9-13 overall and 1-2 in the league.
BOYS' LACROSSE
Edison 16, Laguna Beach 1: The Chargers improved to 7-4 overall and 3-2 in the Sunset League after Friday's match on the road.
::
Twitter: @DailyPilotSport
To report scores, breaking news or newsworthy items, contact the sports staff listed below:
David Carrillo Peñaloza, Sports Editor
(714) 966-4612, david.carrillo@latimes.com
Twitter: @ByDCP
Matt Szabo, Sports Reporter
(714) 966-4614, matthew.szabo@latimes.com
Twitter: @mjszabo
Andrew Turner, Sports Reporter
(714) 966-4611, andrew.turner@latimes.com
Twitter: @ProfessorTurner
---
All the latest on Orange County from Orange County.
Get our free TimesOC newsletter.
You may occasionally receive promotional content from the Daily Pilot.