Column: Joe Surf: Huntington Beach's Peter 'PT' Townend says 'Surf's up' in China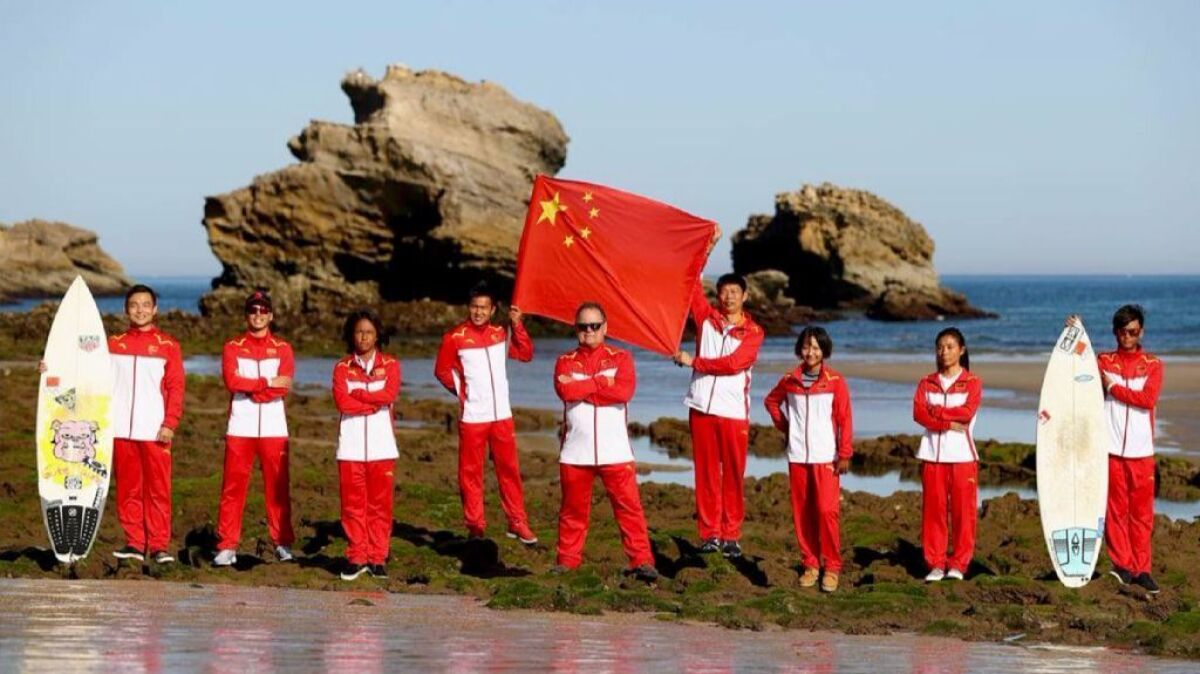 There's a Jamaican bobsled team, so why not a Chinese surf team?
When the International Olympic Committee announced that surfing would be an official sport in the 2020 Olympics in Japan, there was rejoicing in places like Hawaii, Southern California, Brazil and Australia.
In China, the reaction likely was somewhat different. Maybe something like, "What's surfing?"
In reality, understanding how competitive the Chinese are in international athletic competition, they set out to learn how to surf. Sort of a crash course on Surfing 101.
Step No. 1: Find a coach. But who?
It would have to be someone who was a successful competitive surfer himself, someone who understands the nuances of coaching, someone with international experience, and someone with name recognition who could command instant respect.
Hello, Peter "PT" Townend.
For the past few weeks, PT has been in China, working with the Chinese national team. This past summer, they were here in Huntington Beach, surfing against high school teams from Huntington and San Clemente. China got smashed.
But PT fit the bill. A native Australian who won the first surfing world championship in 1976 and moved to Huntington Beach in 1979, PT is an ambassador for surfing around the world.
And taking on the challenge of coaching the Chinese national team as it prepares for the Olympics? Kind of like rounding up some little leaguers and trying to get them ready for the World Series.
Still in China, here's how PT answered questions about his latest endeavor:
Question: How did the opportunity to coach the Chinese national team come about? Who contacted you?
PT: Five years ago, I began working on the Silver Dragon river bore event annually in Hangzhou and as the event director I began to establish relationships with the government officials. Then in December of 2014 the ISA (International Surfing Assn.) was hosting a China Cup, an eight-nation special event in which China was given a host nation slot. A team was hand-selected to compete and I was asked if I would coach.
This was really a 'fake' China team, but when it was announced in September 2016 in Rio that surfing would be in the Tokyo 2020 Olympics, now it was serious as China is a world power in the Olympics.
So I was put on a list of candidates for the head coaching position, along with other very qualified coaches that were being scouted by the government Watersports Bureau in Beijing. But the thing that pushed it over the top for me was that I had been the 1976 World Champion, and the Chinese like that king of stature.
Q: Why was coaching the Chinese team appealing to you?
PT: Well, to be at the ground floor of establishing surfing as a culture and a sport in one of the most powerful countries in the world, I thought would be a great challenge, realizing Chinese people have not been surfing a decade yet, the rest of the world a 100 years.
Q: Do you have any concerns about possible negative feedback related to coaching an "enemy" (or maybe "adversary" is a better word) of the U.S.? Forty years ago, no one from the U.S. would dare coach the Russian team in any sport, right?
PT: Don't worry, I already had plenty of that when I coached (U.S. surfer) Tom Curren to win the gold medal in Australia in 1982 in my hometown of Coolangatta. Ha! Ha! But today it is standard practice, with Aussie Martin Dunn coaching the Peruvians to Team Gold and only last week, and South African Wade Sharp coaching Japan to an individual Gold in the ISA World Junior Championships.
Q: China's team surfed against Huntington and San Clemente high schools last August and from what I understand the Chinese surfers lost every heat. Were you coaching them then yet? And where are they now compared to then? How is their progress?
PT: The Chinese national team was in California for three weeks in August, based in HB. We scrimmaged with HB High and San Clemente High and of course got thrashed. The Chinese kids have very little competition practice at this point because at home in China there is no domestic competition program, just an annual championship. My best two kids also competed in an NSSA Explorer event at the south side of the HB Pier.
But that will change in China. I am currently here on Hainan Island in typhoon season with lots of waves and running training camp with some contest simulation and a regular competition schedule will be established in 2018.
Q: Were there opportunities to coach other national teams, like the U.S. or the Aussies?
PT: Well, through the years I've coached quite a bit at the ISA level, six coaching appearances for Team USA in the ISA World Games and ISA World Junior Championships and we've won some gold.
I've never coached the Aussies, but I did win the bronze (as a competitor) for Australia in the 1972 ISA World Games in San Diego, and as I said I have coached the U.S. on multiple occasions, first with NSSA national team in the early 1980s and the U.S. national team in 1982 where Tom Curren won the gold at the ISA World Games in Australia. And again in 1984 when the USA won Team Gold in Huntington Beach.
After that I went into the real business world for the next 20 years, and in publishing and marketing with Surfing Magazine and Rusty Surfboards & Apparel. Then I founded under SIMA (Surf Industry Manufacturers Assn.) Surfing America in the late 1990s to revitalize U.S. youth surfing and came back to coach again with us winning Team Silver in the ISA World Junior Games in Tahiti in 2004, and Julia Christian winning a gold at the 2006 ISA World Games in Huntington Beach and Team Bronze as well.
Q: One last bio question. You moved to HB in 1979. And the reason was to coach the U.S. national team?
PT: Ha! Ha! Nah! I married a girl from Fountain Valley when I was No. 5 in the world in '79, my daughter Rana was born in 1980, and she would go on to be homecoming queen at HB High and I never left.
In 1980 Chuck Allen, a founder of the NSSA, approached Ian Cairns and me to become Executive Directors of the association and we founded Sports & Media Services in HB that would also go on to launch the OP Pro, hiring our first employee straight out of high school, Meg Bernardo, who is still running WSL North America to this day.
JOE HAAKENSON is a Huntington Beach-based sports writer and editor. He may be reached at joe@juvecreative.com.
---
All the latest on Orange County from Orange County.
Get our free TimesOC newsletter.
You may occasionally receive promotional content from the Daily Pilot.