Laguna Beach resident Jett Cole said that he loves playing in the USTA Southern California Junior Sectional Championships because of the scheduling. Through Saturday, players in the boys' 18-and-under bracket will only have to play one singles match per day.
After winning his match on Thursday morning in straight sets, Cole said that he took advantage of what amounted to having most of the day off.
Cole went surfing before returning to the court on Friday, and it was good that he found his sea legs.
A major test awaited Cole in Sunland's Jean-Baptiste Badon, who upset the No. 4 seed Ali Amiri of Santa Ana in the previous round.
Cole was up to the challenge, grinding out a 3-6, 6-3, 6-2 victory over Badon in a round of 16 match on Friday at Costa Mesa Tennis Center.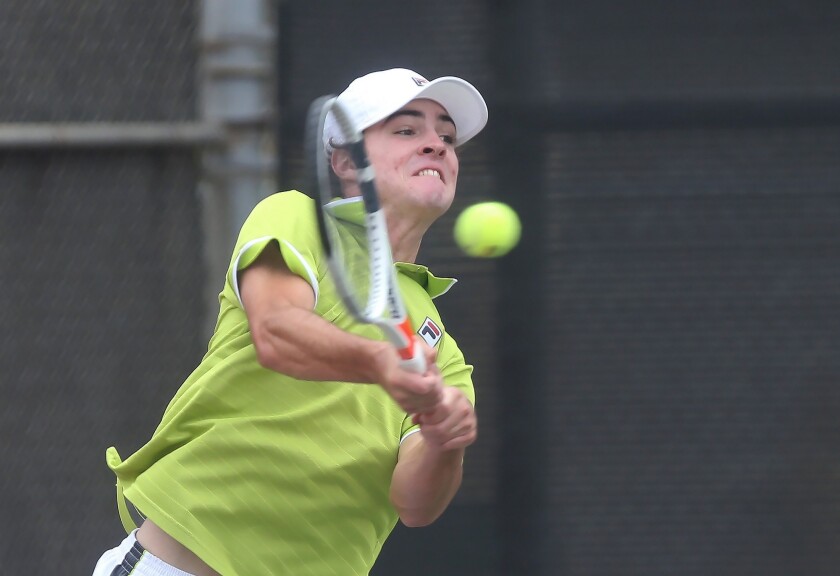 The quarterfinals will pit Cole against Brett Brinkman of Canoga Park on Saturday at noon at Los Caballeros Sports Village in Fountain Valley. Brinkman, one of four No. 5 seeds in the tournament, defeated Elijah Strode of El Cajon 6-0, 4-6, 7-5.
It became evident almost instantly that Cole and Badon would test each other's conditioning. Cole broke serve in the opening game. The lead lasted only three more games, but it stood for another 35 minutes.
Badon broke back to even the first set at 2-2, winning a prolonged deuce game that lasted as long as the first three games combined.
"That was brutal, definitely brutal," Cole said of the game. "I was really nervous, a little bit, because it got later into the game, and he just kept staying with it. He's a fantastic player. He plays really solid from behind the baseline."
He added that dropping serve after the amount of effort that had been exerted into the game led to a mental lapse, one that he could not get over until the second set.
"In the first set, that break was really important," said Badon, a 16-year-old who has played up a division since he was 15. "I was really trying to stay fired up as long as I can and giving 100% in that game because I could have been down 3-1. I had to bring it in, dig down deep and fight for it."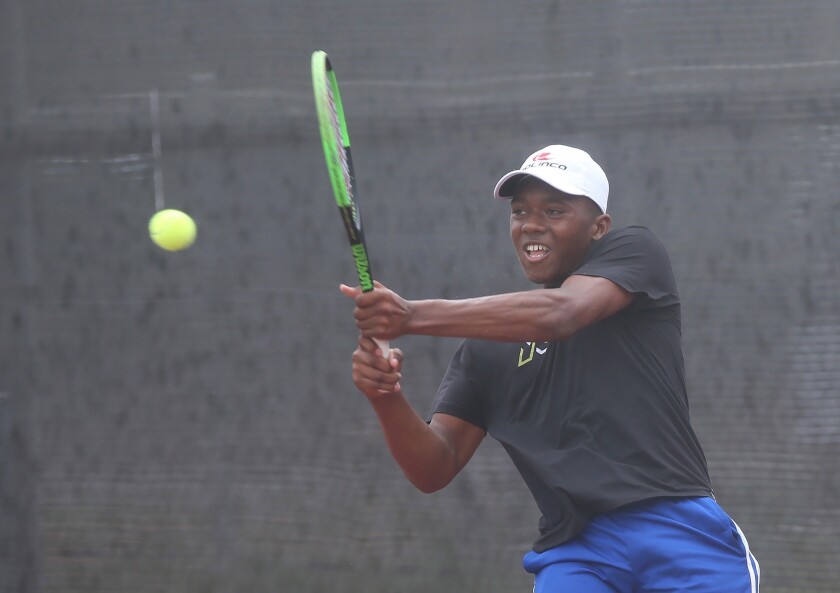 Badon strung together four games in a row, closing out the first set and securing a break to open the second set.
In a match that saw its share of frustration and momentum shifts, Cole made tactical changes in the second and third sets that helped him gain an edge.
"The second set, I just kind of regrouped and started playing a little closer to the baseline to take his time away because I spent the first set playing so far back," Cole said. "I felt like that kind of gave me the edge in the second set, so I ended up taking that."
As a left-handed player, Cole did not introduce the lefty slider serve in the ad court as much as one might have expected. He said he made an adjustment to keep his first-serve percentage high.
After a 10-minute break following the second set, Cole came back with another game plan. It would be a lesson in geometry, as he began angling off his ground strokes to open up the court.
"He started making a lot more balls [in the third set], but my strategy was to kind of pull him off the court a little bit," Cole said. "I feel like the points were lasting a lot longer in the second set, due to the fact that I wasn't spreading the court enough.
"The second I started angling the ball off a little more, making him move and then moving in behind that, I was able to get a lot of edge and take those games."
Tyler Davis of Redlands upset Newport Beach resident Max McKennon 6-2, 6-2 in the round of 16 on Friday at Costa Mesa Tennis Center. McKennon was the top seed in the boys' 18-and-under bracket.
Davis will face a No. 9 seed in Kai Brady of Redondo Beach in the quarterfinals on Saturday at noon at Los Caballeros Sports Village.
Support our sports coverage by becoming a digital subscriber.
For more sports stories, visit latimes.com/socal/daily-pilot/sports or follow us on Twitter @DailyPilotSport.
Twitter: @ProfessorTurner
---