Nick Beebe and Roshan Swaroop are not starters for the Edison High boys' tennis team.
The seniors typically come off the bench, bringing energy in the third round of a match.
On Thursday afternoon, they did more than that. The Wave League opener at Laguna Beach came down to Beebe and Swaroop.
They came up clutch, providing the clinching 6-4 win over the Breakers' Diego Tellez and Kyle Herkins in the last round as Edison earned a 10-8 victory.
"In that last game, we were down 40-love and they were serving," said Beebe, who had the winning overhead on the "deuce plus one" point. "Honestly, I didn't want to get subbed in [to the match]. If we didn't get subbed in, that meant we were winning the match. But we were ready to play, always.
"Laguna is a really good team, so it feels good. We knew coming in that it was a really important match. If we won, we would have a really good chance of winning league if we play up to our potential, for sure."
Edison coach Dave Lemons said he has never won a league championship in boys' or girls' tennis in his 11-year tenure, and has not made the postseason in boys' tennis. This year the Chargers (4-2) appear to have a good opportunity in new four-team league, the lower one in the Sunset Conference which also includes Newport Harbor and Marina.
Despite the heroics of Beebe and Swaroop, Edison relied on its No. 1 singles player and doubles teams for three wins against Laguna Beach (4-4). Sophomore Jason You swept 6-4, 6-3, 6-1 at No. 1 singles; Lemons said You has lost just twice on the young season.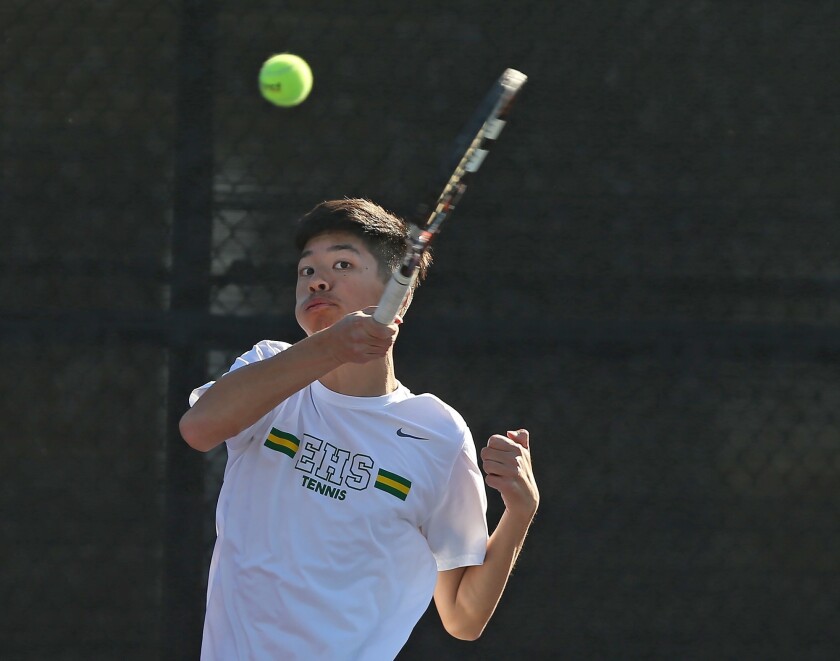 Seniors Ryan Lum and Logan Sherouse swept by the same scores, 6-4, 6-3, 6-1, at No. 1 doubles for Edison.
"They're working on an Ojai application that we're turning in [Friday], so they've been focused," Lemons said of You, Lum and Sherouse. "It's been easy to motivate them."
The Chargers were tied 3-3 after the first round, but behind 29-22 on games. The score was 6-6 after the second round, yet Laguna Beach still had a sizable 59-50 lead in games.
Edison needed four set wins in the final round to earn the victory.
"I knew where they had to come from, I just wasn't sure if those guys were up for stepping up," Lemons said. "It turned out, they were, and it was awesome."
You beat Laguna Beach freshman Ian MacLaughlin 6-1, and Lum and Sherouse handled the Breakers' Matt Berk and Francis Pillsbury by the same score.
Edison's No. 3 doubles team of senior Chris Nero and sophomore Justin Bullette beat Laguna Beach sophomores Casey Boehm and Matthew Duong 6-2, giving the Chargers their ninth set victory. Attention shifted to Beebe and Swaroop, who delivered.
"They played great at Dana Hills [on Tuesday]," Lemons said. "The way they played that day showed me that they're ready to come in and play doubles against any type of team that's out there, whether it's power, finesse, whatever. They're consistent enough to pretty much be the thorn in the side of pretty much any doubles team. That day was what gave me confidence to put them in today."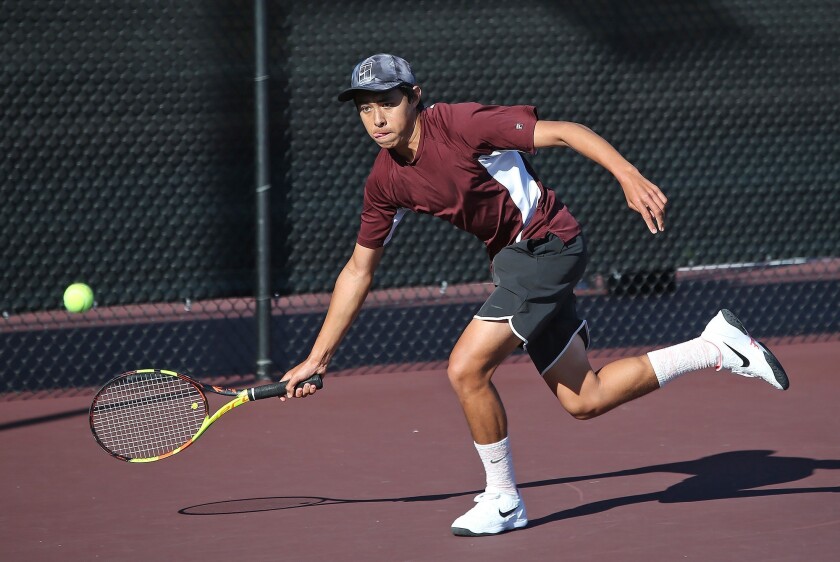 Senior Mason Lebby, junior Andrew Johnson and MacLaughlin each won twice in singles for Laguna Beach, last year's CIF Southern Section Division 4 champion. The tandems of Boehm and Duong, as well as Berk and Pillsbury, each won one doubles set each.
Edison plays at rival Fountain Valley in a Sunset Conference crossover match Tuesday, while Laguna Beach hosts Los Alamitos.
Twitter: @mjszabo
---