High School Male Athlete of the Week: Laguna Beach's Sebastian Fisher finds way to front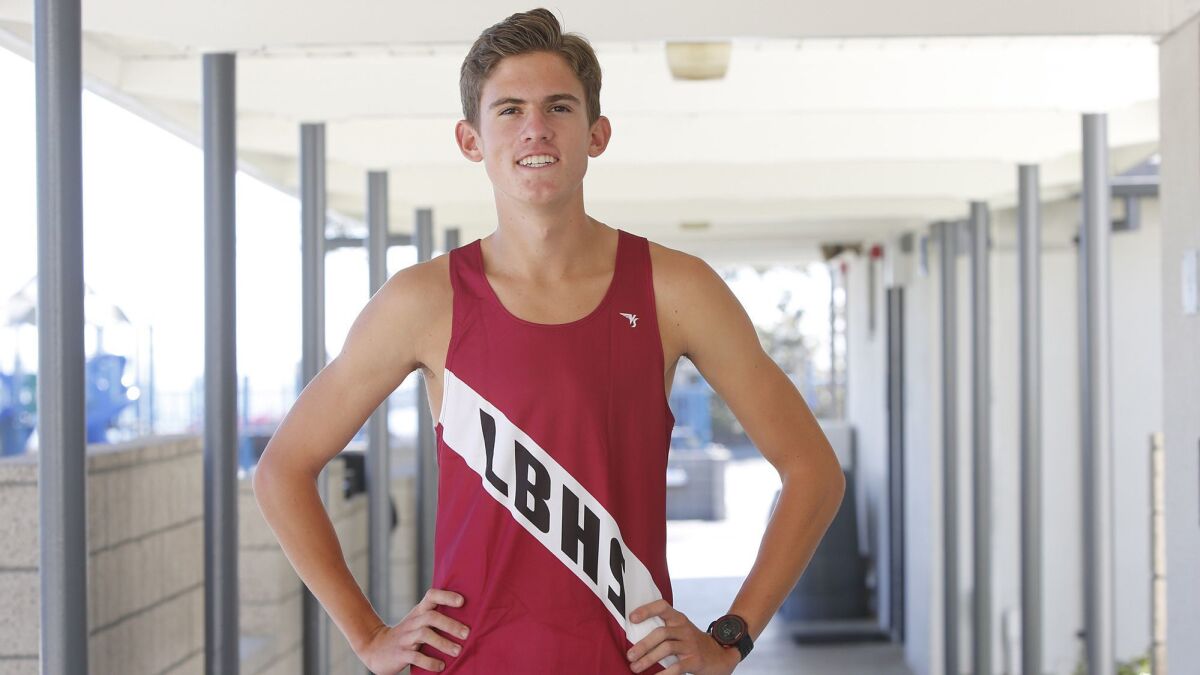 Sebastian Fisher was born in New York City.
He does not remember it, as he was only 2 years old when his family moved to New Jersey.
New York has many nicknames, among them, "The City of Dreams." One can gain stardom under the bright lights of the big city.
Fisher has lived in Laguna Beach for the last decade, but make no mistake, he may have had a date with destiny last Saturday night at the SilverLakes Sports Park in Norco.
The Laguna Beach High senior broke the school record for a three-mile race in boys' cross-country, completing the course in 14 minutes 38.8 seconds in the boys' sweepstakes race of the Woodbridge Invitational.
He conquered the Breakers' previous record of 14:45, which was set by Blake Hofmeister in 2009.
Ryan Smithers served as the ace of a Laguna Beach team that took second in the CIF Southern Section Division 4 finals and sixth in the Division IV state race last year. The senior also beat Hofmeister's standard, crossing the finish line in 14:40.0.
"Last season, it was really good," Smithers said. "For the most part with these big races, I was by myself. I got to say, having Sebastian around now is a huge help.
"It's brutal during the races because you have someone pushing you, and it's really hard. If he wasn't with me, I wouldn't be running as fast as I am right now."
Fisher missed almost all of the 2017 cross-country season with a sacral stress fracture, making one start at the Clovis Invitational. He added that the Breakers' coaching staff has been very understanding of the needs of their runners.
"They're definitely super supportive," Fisher said. "They say, 'If you're feeling something, come to us and tell us about it. Don't try to ignore it.'
"They take everything seriously. They do encourage…stretching a lot. When we do have injuries on the team, they're cautious about it."
In an effort to maintain Fisher's health, the Breakers have cut down on his mileage during the week.
The individual accolades were just icing on the cake for Fisher. What really mattered to him was the team's success. Fisher, Smithers, Zachary Falkowski (15:08.9), Mateo Bianchi (15:20.3) and Cal Nielson (15:21.5) combined to run 75:07, the fastest team time in the history of the program.
Laguna Beach's prior team time record was set at 76:56 in 2009 in the rated race of the Woodbridge Invitational.
"I think that was just cool, too, because it showed that our entire team, we're all working together," Fisher said. "We run as a pack in workouts. I think we all push each other to be a lot better as a group."
The Breakers' 43-second spread among their scoring five says a lot about the team's pack mentality.
Team bonding comes in many forms. In addition to training, the Breakers have also traveled together. Over the past three summers, Fisher said that the team has gone to New Zealand, Utah and Ireland.
During their trip to Ireland, Breakers coach Scott Wittkop said the team put in miles in the morning. Then they proceeded to immerse themselves in another culture.
"Sometimes, Coach [Wittkop] will take away our phones," Fisher said. "We'll all play cards or just talk and really get to know each other better, become a lot closer as a team.
"I think it helps bring us together a lot more. We find a lot more ways to interact with each other, and that really helps as a team."
Some fun facts about Fisher include his study habits and his appetite.
Fisher said that he is a logical thinker who enjoys math and science. He earned a perfect score of 36 on the ACT, and he has thought about majoring in a discipline of engineering.
As for Fisher's diet, Wittkop told the story best.
"We talk a lot about nutrition," Wittkop said. "We do a lot of trips, to Ireland, to Utah, to Hawaii. When we're on these trips, we stop by a convenience store to get a quick snack because we're going from city to city.
"Every once in a while, out of the corner of your eye, you'll catch Sebastian with just a grip of candy going to checkout, and we have to look at him. Then he'll quietly put it back.
"This year, he has really focused on it. He's worked on his diet. He hasn't eaten candy since we were in Ireland."
Sebastian Fisher
Born: Feb. 24, 2001
Hometown: Laguna Beach
Height: 6 feet
Weight: 140 pounds
Sport: Cross-country
Year: Senior
Coach: Scott Wittkop
Favorite food: Pasta
Favorite movie: "Star Wars: A New Hope"
Favorite athletic moment: Fisher said that the boys' sweepstakes race of the Woodbridge Invitational last Saturday was his favorite race because he was ready for the bright lights, adding, "I didn't psyche myself out."
Week in review: Fisher set a new school record for three-mile races with a time of 14:38.8 in the Woodbridge Invitational last Saturday night at SilverLakes Sports Park in Norco. The previous Laguna Beach boys' cross-country record of 14:45 had belonged to Blake Hofmeister since 2009.
Twitter: @ProfessorTurner
---
All the latest on Orange County from Orange County.
Get our free TimesOC newsletter.
You may occasionally receive promotional content from the Daily Pilot.