Daily Pilot Male Athlete of the Week: Magula masters his craft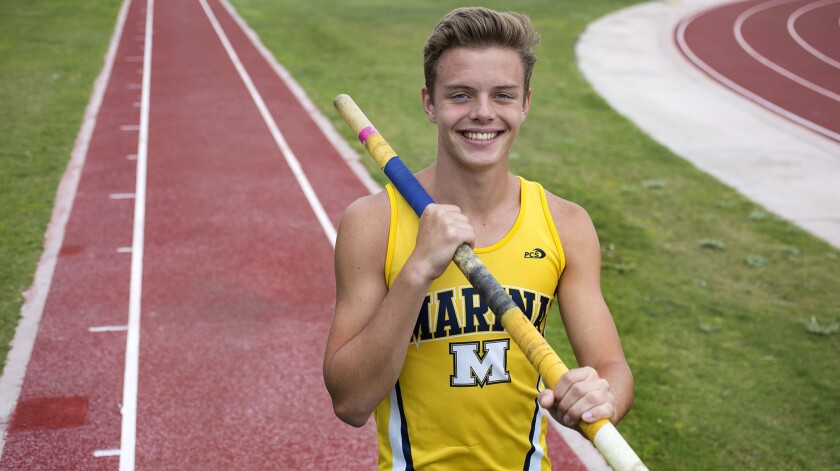 Marina High's Michael Magula estimates that he did not fall asleep until after 2 a.m. last Friday night.
It was impossible to wipe the grin from his face as he continued to relive the events that happened hours earlier.
Magula placed second in the boys' pole vault competition of the CIF Southern Section Masters Meet, extending his season to the state meet for the first time in his career.
The Vikings senior has made up for lost time. An injury-plagued junior season set him back, as he reached the height of 14 feet just once all year.
The Beach Cities Invitational was the only meet that Magula failed to conquer that height this season. He has achieved a mark of 15 feet or better in 10 of his 14 meets.
At the Masters Meet, Magula soared to new heights, clearing the bar at 16 feet to set a new lifetime best. He had never advanced past the CIF-SS Division 2 Preliminaries, but he has now earned himself a trip to the CIF State Track and Field Championships. That meet will be held at Clovis Buchanan High on Friday and Saturday.
Former Vikings star Jett Gordon won the state title last year, and he was the runner-up as a junior. He had high praise for how far his successor has come.
"It was crazy to see the dedication from him this year," Gordon said. "He really started working really hard for it. It was amazing to see the progress that he made. I've been vaulting with him, this is the fourth year now.
"It just goes to show how when you put your mind to it and you get practicing hard, a lot of great things come from it. He's living proof of that. He really dug deep and was practicing hard day in and day out."
As things often are with track and field's postseason, the boys' pole vault has been a case of "what have you done for me lately?"
Magula became the fourth Orange County vaulter to jump 16 feet this spring with his Masters performance, but only two of those athletes will be going to the state meet. Newport Harbor's Ryan Fegan is the other.
Edison's Michael Chadwick did not clear a height at the CIF-SS Division 1 Prelims. The same happened to Sage Hill's Alex Escalera last week after he sprained his left ankle prior to the Masters Meet.
The eliminations were tough for Magula to see. He said that he had envisioned a state meet that would include the four locals, together as friends.
"Alex was rough to deal with, and Chadwick, too," Magula said. "I remember I was kind of in disbelief when I heard that Chadwick didn't make it.
"I texted (Chadwick) about it, and he said, 'Do good for me.'"
Magula collected himself after seeing Escalera go out with his own eyes. He rallied behind the motivation of doing it for his friends.
The senior cleared two more bars after seeing Escalera go out at 15 feet. If only for a moment, his career-best day applied some pressure to event favorite Tate Curran.
Tate is the son of UCLA pole vault coach Anthony Curran. The Redondo Union senior has bested 17 feet on six separate occasions this year.
"I think it's definitely possible," Magula said when asked if he thought someone could take the state crown from Curran. "Everybody has bad days because it's pole vault. It's very unforgiving, but it's possible. I do believe it could happen."
Curran has finished behind just one state competitor this year. Ryan Fegan cleared 16 feet, 6 inches on his first attempt at the Mt. SAC Relays to take second place there.
Neither won the event that day, as national sensation Armand Duplantis (Lafayette, LA) took the competition with a mark of 18-3.
Fegan has not felt 100 percent since then due to a right hamstring injury.
"The easiest way for Tate to have not won (state) would be Ryan Fegan," Magula said. "With how he's been feeling, it doesn't look like that could be an easy thing to do anymore.
"It looks like Tate is going to walk away with it unless someone has a pretty spectacular day."
Pride swells deep for Kevin Magula, Michael's father and pole vault coach. He has been connected to Marina High for 32 years, but he says nothing has made him as nervous as watching his son jump.
During his career with the Vikings, Magula set a school record at 14 feet, 6 1/2 inches in 1988. Logan Odden, Michael's uncle, would establish a new school and then-Orange County record of 16-7 in 2000, before Gordon set the current school standard at 17-2 at the CIF-SS Division 2 Finals last year.
"I think one of the big differences is that I'm definitely a lot more nervous at the meets," Kevin said of coaching his son. "Not only does it affect the athlete, but it affects me a little bit more because it's obviously my son.
"I've been to many, many of these state meets. Even just the league finals and the Masters Meet, I'm a lot more nervous than I was for most of the athletes that I've coached in the past, even Jett."
The Magula family is far from done at Marina, or even in the pole vault, for that matter. Michael's younger brother, Skyler, matched the qualifying height (14-0) for the CIF-SS Division 2 Finals as a sophomore this year.
Down the road, sisters Kiersten (12) and Anika (10) may also join the picture. Their dad says that both have shown interest in the sport.
Michael Magula
Born: June 11, 1999
Hometown: Huntington Beach
Height: 6 feet 3
Weight: 160 pounds
Sport: Track and field (pole vault)
Year: Senior
Coach: Kevin Magula (pole vault) and Carlos Castellanos (head coach)
Favorite food: Homemade macaroni and cheese
Favorite movie: "Sky High"
Favorite athletic moment: He does not have to look back very far, as it is his lifetime best clearance of 16 feet at the Masters Meet in Arcadia last Friday.
Week in review: Magula qualified for his first state meet with a personal record of 16 feet. He finished second in boys' pole vault to Redondo Union's Tate Curran in the CIF-SS Masters Meet at Arcadia High last Friday.
Twitter: @ProfessorTurner
---
All the latest on Orange County from Orange County.
Get our free TimesOC newsletter.
You may occasionally receive promotional content from the Daily Pilot.