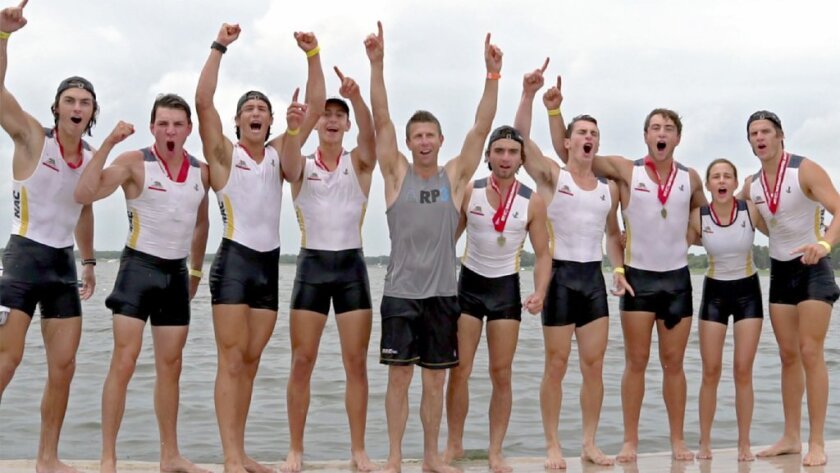 The Newport Aquatic Center's varsity eight won the national title in a record time of 5 minutes 48.65 seconds at the 21st annual USRowing Youth National Championships on June 11 at Nathan Benderson Park in Sarasota, Fla.
The team featured four local high school athletes, Corona del Mar senior Simon Dillon, who is heading to USC, and Newport Harbor seniors Will Warwick (Alabama) and David Zachry (Orange Coast College), and junior Natasha Ellis, the coxswain. The other members included high school seniors Jason Goode, Trevor Phillips, Angus Batstone, John Sclafani and Evan Krum.
"For us, it was a record-setting year," said NAC coach Nick D'Antoni, referring to the three course records the varsity eight posted at the San Diego Crew Classic, the USRowing Youth Southwest Regional Championships and the USRowing Youth National Championships. "There was a lot of excitement because we got to race in the World Championships race course."
The NAC men's pair of CdM juniors Harley Zieper and Jake Marlo came close to claiming a national title.
There was a photo finish, as Zieper and Marlo were 0.20 seconds behind RowAmerica Rye of New York's winning time of 6:46.71.
D'Antoni said the NAC brought six men's boats and one women's boat to the three-day event, and five of the boats placed in the grand finals, which are the top six spots, and two boats in the third-level finals, places 13 through 20.
The lightweight men's four won a silver medal with a time of 6:42.76. Newport Harbor's Jack Allen, who is bound for Ohio State, was the lone senior.
The men's double of CdM senior Wes Reynolds, heading to UC San Diego, and Spencer Ewanick finished fourth in 6:49.25, barely missing out on a medal.
The men's varsity four, with CdM senior JT Russell, going to UC Berkeley, took sixth in the nation in 6:38.77.
The men's lightweight eight and women's lightweight four each finished 13th.
— From staff reports
---