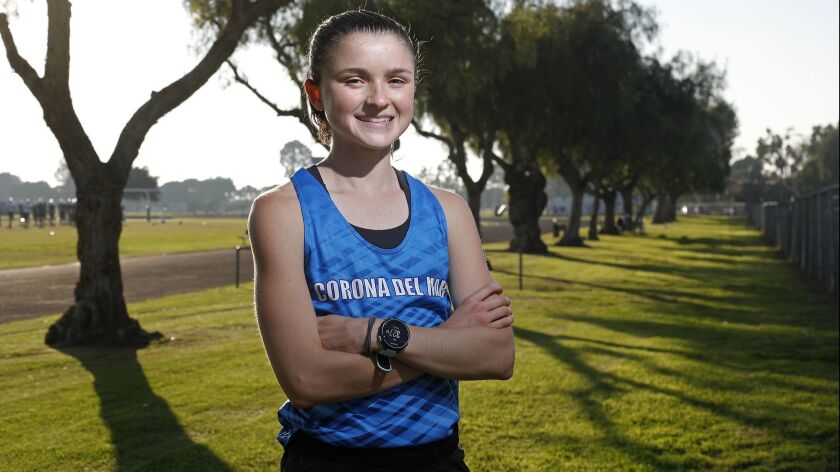 Coach Bill Sumner still remembers the moment that Annabelle Boudreau burst onto the scene for the Corona del Mar High girls' cross-country team last fall.
The Sea Kings ran in the Laguna Hills Invitational to open their season. Boudreau, then a freshman, finished third among all girls competing in the race in a time of 18 minutes, 30 seconds.
"Mike Salzman, my assistant coach, looks over at me," Sumner said. "He goes, 'You've got four years of this. Don't foul it up.' I'm like, you've got to be kidding me. Did he really just say that? Yeah, he did. It's like, 'Thanks a lot, Mike.' We still joke about that comment he made."
Boudreau's ability was no joking matter. Now a sophomore, she's almost halfway through that four-year cross-country career at CdM, and she continues to impress.
The latest evidence came in the CIF Southern Section divisional finals at the Riverside City College cross-country course on Nov. 17. Boudreau finished second in the Division 3 race, crossing the finish line in 17:40.
"We talked all week about what the race looked like, and she executed it almost perfectly," Sumner said. "You can't ask any more than that. She's a disciplined kid and she knows how to execute … and then it's, how do we make this better? On a scale from one to 10, her race [last Saturday] was probably a nine. Getting a lot more is going to be tough, but we will get more, because of who the kid is."
Boudreau, the Surf League champion, qualified as an individual for the CIF State meet. She will run in the Division III girls' race Saturday at noon at Woodward Park in Fresno. Unlike last year, the Sea Kings did not qualify as a team on either the girls' or boys' side, so it will be just Boudreau there.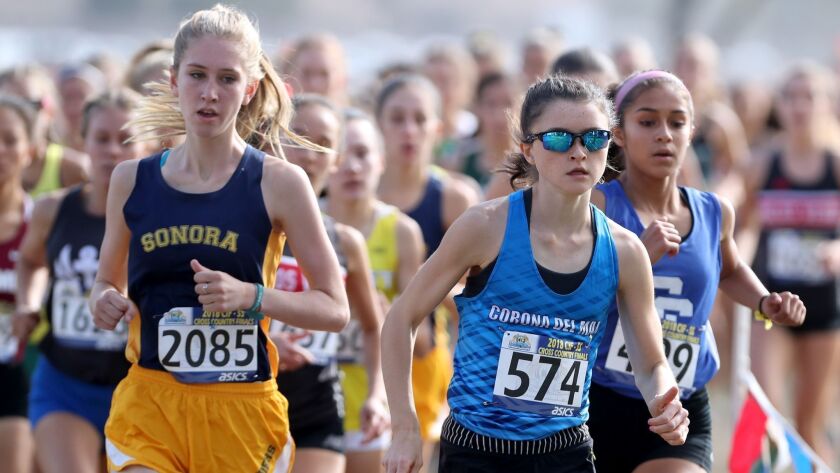 Sumner, who has been coaching cross-country at CdM since 1982, has seen many talented runners come and go. He fully intends for her to have a sparkling four-year career with the Sea Kings, even if CdM had a down year as a team after losing juniors Julia Tung (hip flexor) and Maya Buchwald (stress fracture) for the season. Sumner said they projected as the Sea Kings' Nos. 2 and 4 runners this season, respectively.
Boudreau, for her part, is soft-spoken. She ran most of the three-mile race in Riverside by herself. She was behind front-running Oak Park senior Sarah Shulze, who finished in 17:15.9, but ahead of the rest of the chase pack.
Boudreau finished a full 15 seconds ahead of third-place finisher Siena Palicke of Yorba Linda, who crossed the line in 17:55.5.
"The first half-mile just felt like I was running in no man's land, because I was by myself," Boudreau said. "As the race went on, I realized that there wasn't anyone with me. My coach was saying that it might have been a better move to stay with the group and go a little bit later in the race, have a better kick. But there's always things you wish you could have done better. Overall, I wasn't really focused on the time as much as I was focused on qualifying [for state]."
Still, she noted that she improved from 25th in Division 3 last season to second this year. She hopes for a good race at state and to again race at the Foot Locker West Regionals, where she finished third in the freshman girls' race last season, capping what she called a slightly disappointing freshman season.
Mike Salzman, my assistant coach, looks over at me. He goes, 'You've got four years of this. Don't foul it up.' I'm like, you've got to be kidding me.
Bill Sumner, Corona del Mar High coach
She has come back smarter this year, she said, and more willing to take Sumner's direction. Boudreau also has a bit more perspective. She said she missed the track season last spring after straining her hamstring, then developing a cyst on her knee that had to be surgically removed.
"I'm just grateful to have gotten to this point in the season," Boudreau said. "Running is one of those sports where certain seasons don't go how you've planned … so I'm grateful to have had a healthy season and some consistent races. That's definitely given me some confidence."
Boudreau will likely drink some coffee before Saturday's race. That's part of her pre-race routine, grinding some beans and adding some almond milk to the finished product.
"I'm a coffee connoisseur," she said with a giggle. "It's what gets me out of bed. I guess it just gets me focused, in the mode, and I enjoy the taste of it."
The taste of victory also is sweet to Boudreau, as well as her coach Sumner.
He doesn't want to foul this up.
"This week we'll run a little bit smarter, hopefully do a little bit better," Sumner said. "But I mean, heck, I have no complaints. She's a tough cookie."
::
Annabelle Boudreau
Born: June 8, 2002
Hometown: Madison, Conn.
Height: 5 feet 5
Sport: Cross-country
Year: Sophomore
Coach: Bill Sumner
Favorite food: Chicken
Favorite movie: "Rocky"
Favorite athletic moment: Finishing second at the CIF Southern Section Division 3 finals.
Week in review: Boudreau placed second in the CIF Southern Section Division 3 finals on Nov. 17 at the Riverside City College cross-country course, finishing in 17:40 and qualifying as an individual for the CIF state meet.
Twitter: @mjszabo
---