High School Female Athlete of the Week: Janie Marcus kept battling for CdM girls' tennis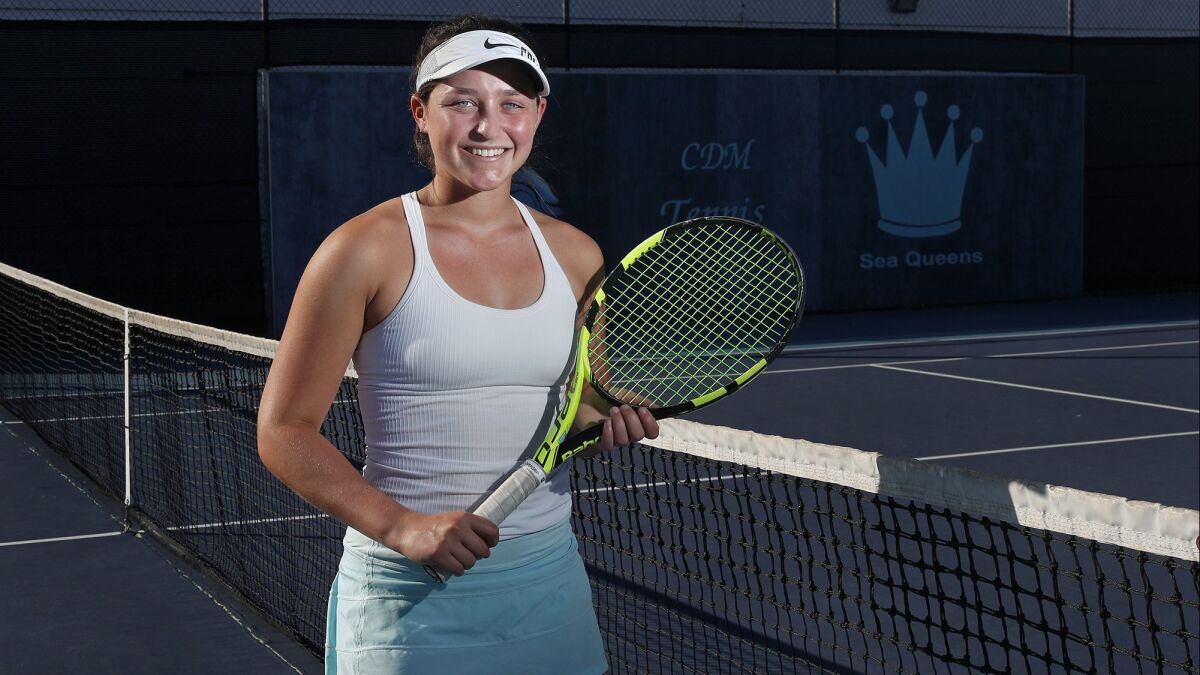 Janie Marcus missed going to a traditional high school.
She did it as a freshman and sophomore when she attended Los Angeles Marlborough. Marcus played on the girls' tennis team there both years, at No. 2 singles as a freshman and No. 1 singles as a sophomore.
Marcus then decided to focus even more on the sport she loved. Her family moved from Los Angeles to Newport Beach so she could attend Advantage Tennis Academy and do online schooling through the Irvine-based program.
Many of the members of the Corona del Mar High girls' tennis team also hit at Advantage part-time. Marcus would see players like Annika Bassey, Shaya Northrup and Bella McKinney there. Part of her wanted what they had.
"I didn't love doing the online school," Marcus said. "I like being in a classroom setting and going to a regular, brick-and-mortar high school. I missed that, and that's why I decided to come [to CdM]. February or March into my junior year, I met with [CdM coach] Jamie [Gresh]. I met a lot of the girls on the team, like Bella and Shaya, Alden [Mulroy] and Reece [Kenerson].
"They came to Advantage in the afternoons, and they hyped [CdM] up. I knew it was a great school academically. I knew they had a strong tennis program, so I wanted to join … Knowing them made it much easier to come into a brand new school as a senior."
Marcus enrolled at CdM for her senior season, and immediately found a spot on the team at No. 2 singles. The Sea Kings can be glad she made that decision.
She went 34-11 this season in helping CdM win the Surf League title and make the semifinals of both the CIF Southern Section Open Division and CIF State Southern California Regional playoffs. More than that, she developed a reputation as a grinder, someone who wasn't afraid to play long points and outwork — or outthink — the competition.
I like being in a classroom setting and going to a regular, brick-and-mortar high school. I missed that, and that's why I decided to come [to CdM].
— Janie Marcus, Corona del Mar High senior
That mentality also served her well in the CIF Southern Section Individuals singles tournament. Marcus almost didn't make it out of the third round. She fought for a 3-6, 6-2, 10-7 victory over Vini Bautista of Walnut to advance to the round of 32, rallying from a 7-5 deficit in the third-set super-tiebreaker.
"I threw in a high ball, some slices, some drop shots, and she really did not like those types of balls," Marcus said. "I was more thoughtful, I would say, in that second set and that tiebreak. There was a lot of pressure riding on that match, so I just felt a lot of relief. I was excited, because that meant that the season wouldn't be over for me, which I loved. I didn't want it to end too soon."
Marcus was at it again Tuesday in the round of 32. She fought back from 1-3 and love-40 down in the third set, beating Bella Nguyen of Long Beach Wilson 6-2, 3-6, 6-3.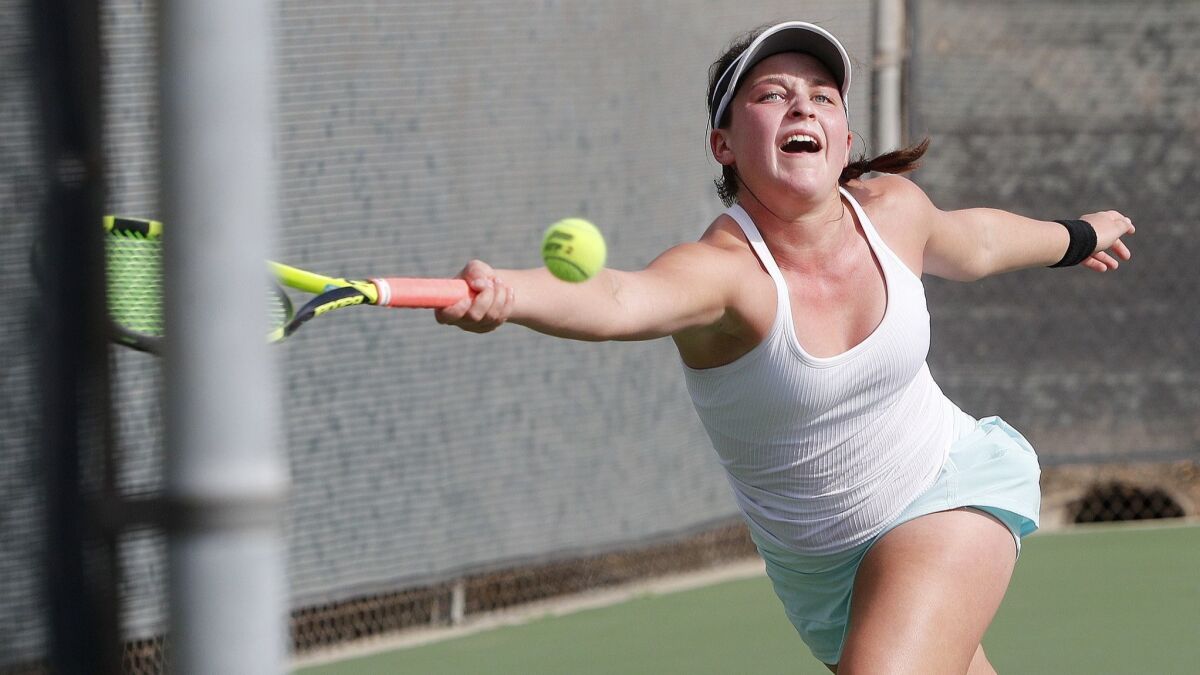 Her run ended Wednesday in the round of 16, when she lost 7-6, 6-2 to No. 4-seeded Vivian Cheng of Santa Monica at Seal Beach Tennis Center. Even then, she had chances, serving for the first set in three different games.
Marcus never really felt out of a match because of her scrappy mentality and positive attitude. She was always trying to fire herself up. If it wasn't her doing the encouraging, it was her mom, Wendy, who played high school tennis in the Bay Area at Saratoga High. Janie said that Wendy got back into the sport when her daughter started taking it more seriously.
Marcus' hard work has paid off. She played some of her best tennis in the Southern California Regional semifinals Nov. 16 at the Claremont Club. Playing close by her future college tennis home of Pomona-Pitzer, she won both matches that day, including a victory over Devyn Marinos of North Hollywood Campbell Hall that avenged a loss to Marinos from earlier in the season.
The turnaround was symbolic of Marcus' season. She said she had a slow start, partially due to readjusting to the high school format of playing three round-robin sets. But she put in the work. The entire CdM team spent an hour each Friday working on speed and agility with CdM trainer Karif Byrd, but Marcus said she also worked privately with Byrd twice a week.
"Her level of play definitely got better," Gresh said. "I feel like she started to do more with the ball and be more proactive, in terms of not just playing defensive tennis but a little bit more offensive. I feel like her neutral ball got a little heavier and deeper as the year went on, too. And I think she started to play a little bit looser and not put so much pressure on herself.
"I thought she had a wonderful senior season. She maxed out her level, for sure, and kind of left everything out there on the court for us."
Janie Marcus
Born: June 8, 2001
Hometown: Los Angeles
Height: 5 feet 6
Sport: Tennis
Year: Senior
Coach: Jamie Gresh
Favorite food: Pizza
Favorite movie: "Love Actually"
Favorite athletic moment: Recording the 10th set win to clinch CdM's 10-8 victory over Palos Verdes in the quarterfinals of the CIF Southern Section Open Division playoffs on Nov. 2.
Week in review: Marcus won twice at Whittier Narrows Tennis Center on Nov. 19 to advance to the CIF Southern Section Individuals singles round of 32.
Twitter: @mjszabo
---
All the latest on Orange County from Orange County.
Get our free TimesOC newsletter.
You may occasionally receive promotional content from the Daily Pilot.