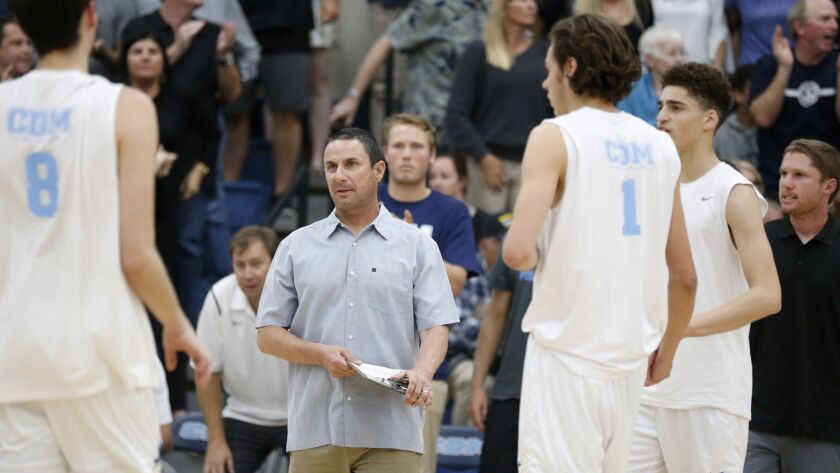 The illustrious reign of Steve Conti as the Corona del Mar High boys' volleyball coach has come to an end.
After 23 seasons as the head of the program, Conti chose to step down last Thursday, expressing a desire to spend more time with his family and friends, and to pursue some personal interests.
Conti, 52, said that it was tough to walk away, but the time is now.
"I really needed a little bit of a break," Conti said. "Knowing that my kids are only going to be around a few more years, I want to spend as much time with my kids as I can during the next few years."
"It was an amazing 23-year run," Conti added.
The decorated coach led the Sea Kings to 540 wins, 19 league championships, seven CIF Southern Section championships and four CIF Southern California Regional championships. CdM reached the section final 14 times under Conti.
Conti, an Estancia High graduate, also coached the CdM girls' team from 1997-2000, winning a CIF title in his first year.
"The accomplishments of his teams are incredible," CdM athletic director Don Grable said. "He's obviously unbelievable at making better volleyball players, but he's truly better at making better people and teammates."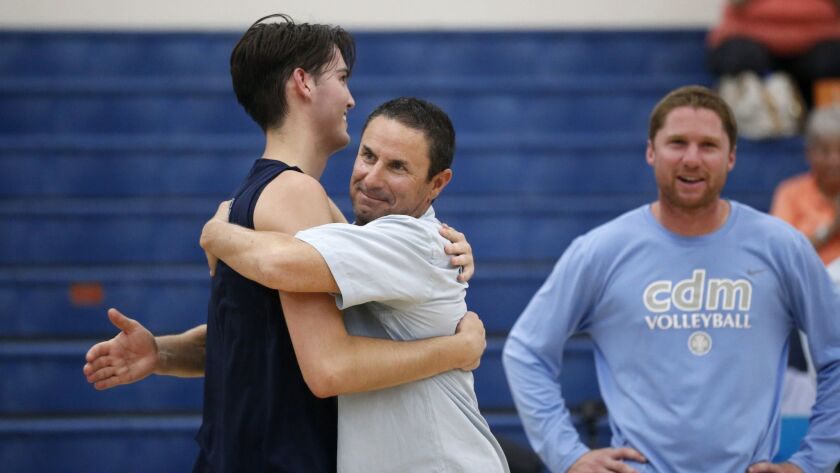 Conti had a reputation for getting the most out of his players, and he could also turn a phrase.
Brandon Browning, a recent graduate who signed with the USC men's volleyball program and who also received the Daily Pilot Boys' Volleyball Dream Team Player of the Year honor last season, took one such message to heart. He said that Conti told the team that "the best memories are made in May," and the Sea Kings beat previously undefeated Newport Harbor twice in the span of a week to claim the CIF Southern Section Division 1 and CIF State Southern California Regional Division I championships.
CdM went 34-4 overall in Conti's final season as its coach, and it was the top-ranked team in the nation at the end of the season, according to MaxPreps.com.
Newport Harbor girls' volleyball coach Dan Glenn has a son, Jaden, who plays on the CdM boys' volleyball team. He said that his son came home on Thursday and told him that Conti had informed the team of his decision to step down.
I told him, 'You made me a better coach and I made him a better coach by just our competitions and stuff,' I loved the Battle of the Bay and stuff like that.
Dan Glenn, Newport Harbor High coach
Glenn added that he exchanged texts upon hearing the news, a conversation that Glenn said was centered around stuff the two of them had done together.
Glenn, who was in charge of the Newport Harbor boys from 1987 to 2011, coached against Conti for many years, including in the section title match in 1999 and 2000. Glenn's Sailors won the first meeting in the final, while Conti's Sea Kings prevailed the following year.
"I told him, 'You made me a better coach and I made him a better coach by just our competitions and stuff,'" Glenn said. "I loved the Battle of the Bay and stuff like that. There were just so many good matches between the two schools. It was good for the community, good for volleyball. You look at last year's matches, and those were the top two teams in the nation, and from the same city.
"His teams always were well prepared. He worked really hard as a coach, and he always did a good job of scouting. He did things the right way. I have nothing but a lot of respect for him."
The candidates to succeed Conti were not immediately known, although Conti will continue teaching physical education and coaching the CdM surf team.
"The most important thing that I tried to teach was to go out and compete as hard as you can, but to also be able to do it with class," Conti said. "I think that's something that we always tried to instill in our kids because you can see a lot of kids act like knuckleheads these days.
"That was something that we never tolerated. We put a premium on making sure that you were representing the volleyball program, the school, and their families with the utmost respect."
The school plans to give any interested and qualified internal candidates a chance to interview for the head coaching position before opening the job to people outside of the campus.
Sea Kings girls' volleyball coach Steve Astor said he has no plans to interview for the boys' head coaching position.
Looking back on how he became involved in volleyball, Astor could remember Conti being there from the start. As a young, avid sports fan, he saw Conti and Glenn coach against each other in the CIF final in 2000, sparking his own interest in the sport.
As he was getting his own coaching career off the ground, Astor said that Conti always had time for others, no matter what their title was. Astor added that Conti is simply a genuinely nice person.
"Getting to be considered a peer with someone like Coach Conti and a friend, I never would have imagined that," said Astor, who has served on Conti's staff since 2014. "It's so cool getting to see what kind of person he is.
"Being a small part of his journey was such a special treat. He's such a great coach. I learned so much from him in such a little amount of time being around him."
CdM will soon have a new boys' volleyball coach, but Conti said that he intends to return to the bench at some point down the road. Conti, who began his high school coaching career at The Bishop's School in La Jolla in the late 1980s and coached at Foothill in the early 1990s before coming to CdM, also stated that it did not necessarily have to be in a head coaching role.
Visible figures across the area volleyball landscape are weighing in to appreciate Conti, especially his generosity in giving his time to others.
"His work ethic, professionalism and knowledge of successful coaching have been a mainstay in the growth of the integrity of the game of volleyball in Southern California high school volleyball," said Charlie Brande, another former CdM coach. "We all owe a lot to who he is."
Sports editor David Carrillo Peñaloza contributed to this report.
Twitter: @ProfessorTurner
---