CdM's Mark Redman becomes elite football prospect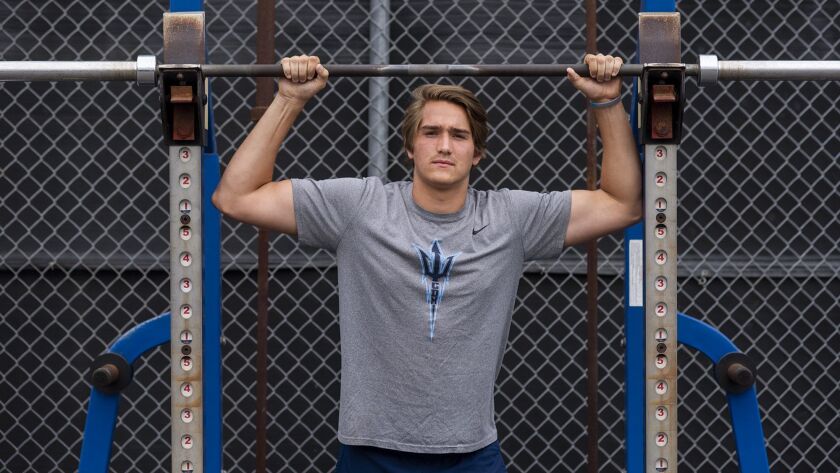 It has been about a month now since Mark Redman received his first college football recruiting offer from San Diego State.
The 6-foot-6, 250-pound Corona del Mar High tight end, who will be a junior, was hopeful that offers were coming. In mid-May, the Sea Kings won the San Juan Hills passing tournament, beating Edison in the final.
"I was kind of blowing kids up," Redman said. "Not in a cocky way, but at one point in time I was getting frustrated. I was like, 'I think I'm at the point where there should be an offer rolling in.' I was talking to [CdM offensive coordinator Kevin] Hettig about that, and two days later San Diego State rolls up to our practice and offers me. When he told me, I had no idea what to say.
"After practice, I called my parents and they both pretty much started crying. It was kind of unbelievable when it happened. Then more [offers] come, and you don't even know what to do."
Redman is actually far from cocky. After the San Diego State offer, and each of the nine offers since, he has tweeted from his account @MarkRedman20. These have not been the typical social media posts that simply say how blessed the player is to receive an offer. Redman makes sure to thank his family, friends and coaches, people who have helped him get this far.
Big-time programs like Michigan and UCLA have sent offers Redman's way. He's also been offered by Colorado, Arizona, Arizona State, Boise State, Utah State, San Jose State and Colorado State.
He would be the hottest recruit in recent CdM history — if incoming junior receiver/safety John Humphreys wasn't right there by his side. CdM head coach Dan O'Shea said that Humphreys was offered by USC on Thursday, and he also has offers from Duke, Cal, Stanford, Arizona State, San Diego State, Oregon, Utah, Oregon State and Yale.
"It's fun to go through the recruiting process," Redman said. "The thing is, it's not a competition. It's more like, 'You got that offer? I'm so happy for you. I'm so proud of you.' We're great friends."
Redman said that he and Humphreys have known each other since their days at Andersen Elementary but have gotten closer through football. Hettig strongly believes that incoming junior quarterback Ethan Garbers, who was offered by San Jose State recently, will have other offers rolling in as well.
"All three of these guys, they're all CdM kids," Hettig said. "Mark, John and Ethan, they grew up together. That's the best part. Not too many schools can say that, and I think we're lucky that we can. We've got a group of guys that legitimately represent this neigborhood and are playing together."
Hettig and O'Shea are entering their eighth year with the Sea Kings. Garbers' older brother Chase, also a quarterback, was the first player to be heavily recruited by top programs. Chase Garbers graduated from CdM in 2017 and now plays at Cal.
"Chase got his first offer from Boise in March, going into his senior year," Hettig said. "These guys are going to be juniors."
Redman is the youngest of four children. The oldest sibling, Ian, played left tackle at CdM and was a senior on the 2013 team that won the CIF State Division III Bowl Game at the StubHub Center in Carson. He graduated early from Cal Poly San Luis Obispo and now works as a pilot in Alaska.
Colin Redman played hockey and now attends Marquette, while Abby, a girls' volleyball player, graduated from CdM this week and is headed to Ohio State for academics.
Size plays a big part in what makes Mark Redman special as a recruit, Hettig said, but his work ethic also is top notch. He holds down a part-time job at Ace Hardware in Newport Beach.
Redman played on special teams for CdM as a freshman call-up later in the season. Last year, he thought he would be in a competition at tight end with senior Cameron Prudhomme, but the LSU-bound Prudhomme ended up at left tackle. Redman caught 23 passes for 255 yards and three touchdowns and was a first-team All-Pacific Coast League selection.
"He's got exceptional hands," Hettig said. "I think people just see him as a big dude and don't think he has the technical side, and he really does. He's not a tight end that was converted from a lineman, and he's not a tight end that was converted from a wideout. He was born to play the position."
Redman said he does not have a dream school and he will be carefully considering all of his offers. Still, to be offered by Michigan was special, since he lived in that state until the family moved to Newport Beach when he was almost 5. UCLA's offer also meant a lot, Redman said.
He has time to weigh his options. Another offer will mean another grateful tweet. Just know that there's a lot of hard work that went in before that.
"[The offers] show that O.C. isn't just where a bunch of white Newport rich kids are from," Redman said. "If you actually put in the time and effort, you can get something out of CdM. If you're good enough and you go to CdM or go to another D4 school or something, you can still get recognized. You don't have to go to Mater Dei or something like that."
Twitter: @mjszabo
---
All the latest on Orange County from Orange County.
Get our free TimesOC newsletter.
You may occasionally receive promotional content from the Daily Pilot.