Daily Pilot Girls' Volleyball Dream Team: Incomparable Kendall Kipp kept CdM in contention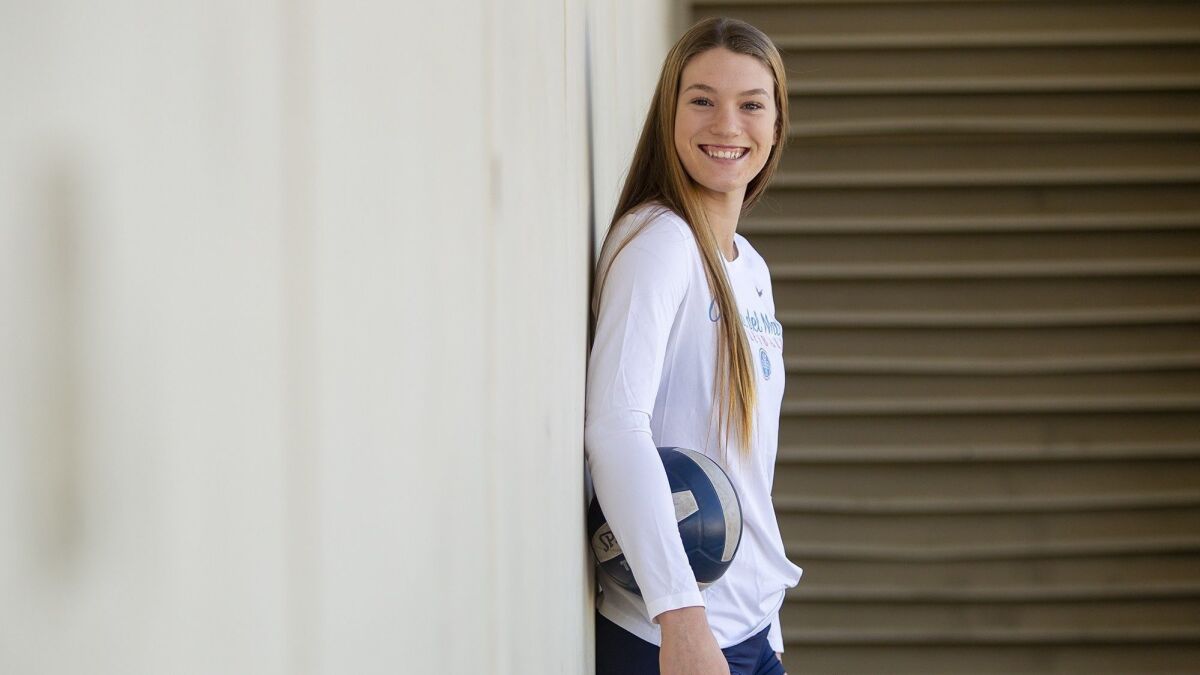 When it comes to the advice that she receives from her parents, Corona del Mar High's Kendall Kipp is not all that different from anyone else.
"My parents just tell me, 'Just go out there and have fun, but leave it all out on the court,' " Kipp said. " 'If you can say that you did your best and left everything on the court, then that's all that matters.' "
Kipp went all out in her senior season, and she is the Daily Pilot Girls' Volleyball Dream Team Player of the Year. She simply had no equal this season.
Even with the graduation of her longtime setter Ashley Humphreys (USC) and the loss of outside hitters Christina Davenport and Maya Satchell, the 6-foot-4 outside hitter managed to transform her team into a championship contender.
What made Kipp exceptional was not only her willingness to follow her parents' advice, but her ability to perform at the highest level while applying that mentality.
The kid that once rebelled against playing volleyball after watching her older sisters play it growing up eventually fell in love with the sport. After she made up her mind that she was going to play, nothing was going to stop her.
"Kendall is a kid that just sets a goal and pursues it with very focused determination and an unparalleled work ethic," said Steve Astor, who stepped down as CdM's coach on Monday. "I think when she started playing volleyball, she kind of looked up who the best team in the country was, and it was Stanford.
"She had a goal and she reached it. That's about as lofty a goal as you could hope for when you're starting to play a sport."
Kipp has signed with Stanford, and on Dec. 15, she was in attendance to watch the Cardinal defeat Nebraska 28-26, 22-25, 25-16, 15-25, 15-12 for the NCAA Division I title at the Target Center in Minneapolis.
She's the most dominant player I have coached. She just affects the game so much.
— Steve Astor, former Corona del Mar High coach
The day before her future team won its NCAA-leading eighth national championship, Kipp had a chance to impress the Cardinal. She played on the same court as the NCAA Final Four teams, taking home MVP honors in the Under Armour All-American match.
"I'm a really competitive person, so I just wanted to win, but I also wanted to go out there and have fun," Kipp said. "I wasn't concerned about my stats or what I would be doing because it's more about the team and how we performed as a whole.
"I think if you're thinking of your own stats, you'll get in your head and won't perform. It was really exciting to get to play in the Target Center and have the big crowd and play on the same stage as the girls who were playing in the championship were playing on."
After a lukewarm start that saw the Sea Kings begin the season with a 9-11 record, CdM went on to win 16 in a row. The streak took CdM to the CIF Southern Section Division 2 quarterfinals. Trabuco Hills defeated the visiting Sea Kings 25-16, 18-25, 19-25, 25-20, 15-9, but Kipp figures that CdM (25-13) went through a near miss in terms of their championship prospects.
The Division 2 final saw Los Alamitos defeat Trabuco Hills 25-19, 21-25, 25-11, 25-16. During the regular season, CdM swept Los Alamitos as part of its run to a 6-0 Surf League title.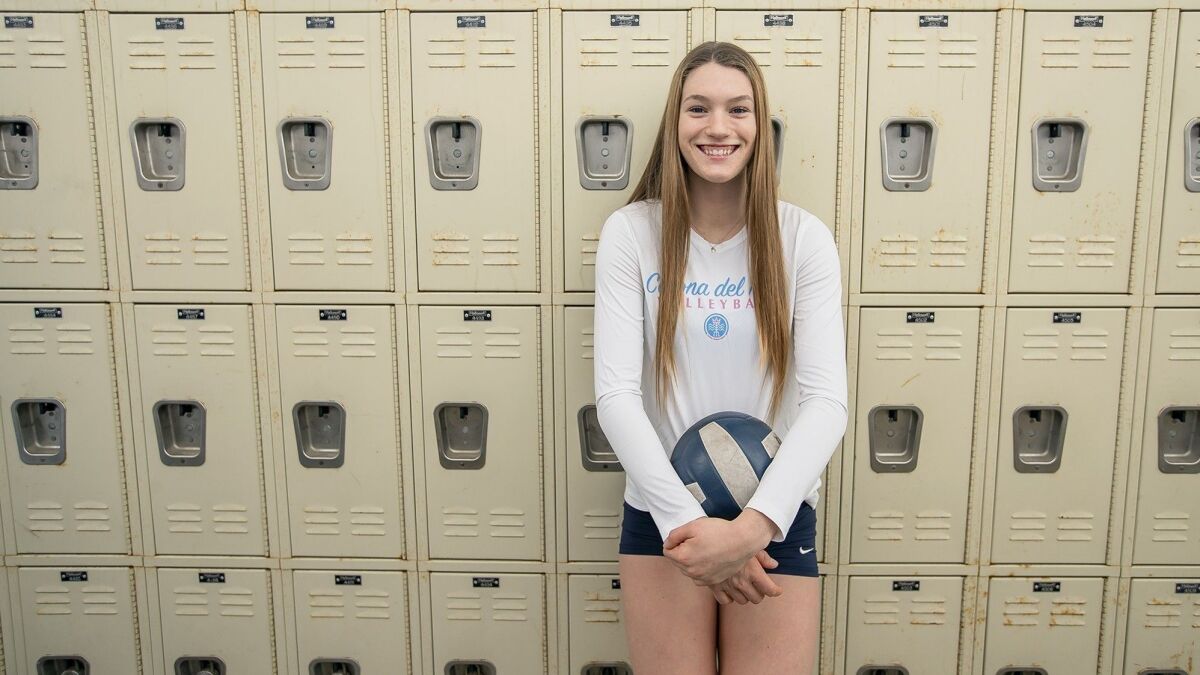 "She's the most dominant player I have coached," Astor said of Kipp. "She just affects the game so much. Other teams were always keying on her with two blockers, and she still had 6.4 kills per set during league, which is an unbelievable stat when every other team that they're playing knows where the ball is going."
Kipp dominated opposing defenses to the tune of 505 kills on .333 hitting. She also had 179 digs, 50 blocks and 31 service aces, and she became a well-rounded player.
Early in the season, Kipp dealt with shoulder soreness, which forced her to find other ways apart from her superior attacking to impact matches. Restrictions were put on Kipp if she wanted to be on the court, as she had to play the game at well below her 100%.
"I think Steve was just trying to keep me from swinging too much so that I would be strong down the road," Kipp said. "If anything, it just got me more fired up and excited. Once I was able to swing full-speed again, I was super excited because I hadn't been able to for a while.
"When I wasn't being able to hit as much, I had to focus on being able to pass and getting digs and blocking. Maybe the off-speed tipping or roll [shots], so it definitely helped improve my game."
Kipp received the Surf League MVP award, and she earned All-CIF Southern Section Division 2 and first-team All-Orange County honors.
"Stanford is definitely very excited to get her, and they should be," said Astor, who has always vouched for Kipp as one of the best servant leaders to come through the CdM program. "Not just as a person, but also as a volleyball player."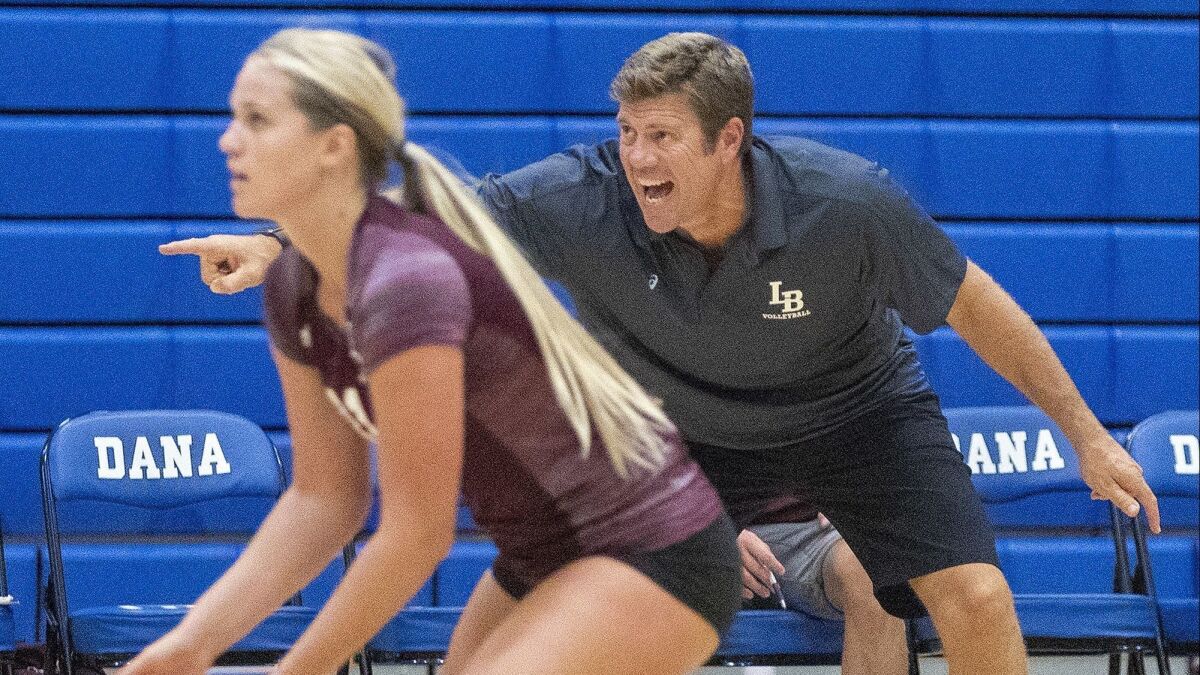 COACH OF THE YEAR
Shawn Patchell
Laguna Beach
As part of his second stint as coach of Laguna Beach, Patchell shepherded the Breakers (19-14) to a third CIF Southern Section final in his six seasons at the helm. After coaching the Breakers from 1998 to 2001 and making two finals, Patchell returned to the school in 2017. This year, his Breakers put together an inspirational run to the Division 3 title match. Second-seeded Laguna Beach dropped just one set through the first three rounds of the playoffs. In the semifinals, the Breakers came back from a two-set deficit on the road to defeat Cypress 21-25, 20-25, 25-18, 25-19, 15-12. Although Sun Valley Village Christian swept Laguna Beach in the Division 3 championship match, the Breakers did not pack it in. Four local teams advanced to the CIF State Southern California Regional playoffs, but Laguna Beach was the only one to win a match in the tournament. The Breakers, who shared the Wave League crown with Newport Harbor at 5-1, had their season ended by Quartz Hill in the second round of the Division II tournament.
FIRST TEAM
Jasmine Amirie
S | Newport Harbor | Jr.
The formation of the Wave League may have been the saving grace for Newport Harbor this season. Even with the Sailors being placed in the lower league of the Sunset Conference, however, no one was about to predict that Newport Harbor would end a league title drought that went back to 2009. The Sailors began the season 4-18, but Amirie helped Newport Harbor pick up a key win in the first half of league. Newport Harbor defeated visiting Laguna Beach 25-22, 22-25, 26-24, 25-22. Amirie had 38 assists in the match. She worked well with her front-row options in Siena Springborn, Kendall Bagby and Gabbi Higgs as the season went on. Amirie, a first-team All-Wave League selection, had 738 assists, 186 digs and 18 aces. Newport Harbor (10-21, 5-1 in league) lost to Edison in four sets in the first round of the CIF Southern Section Division 2 playoffs.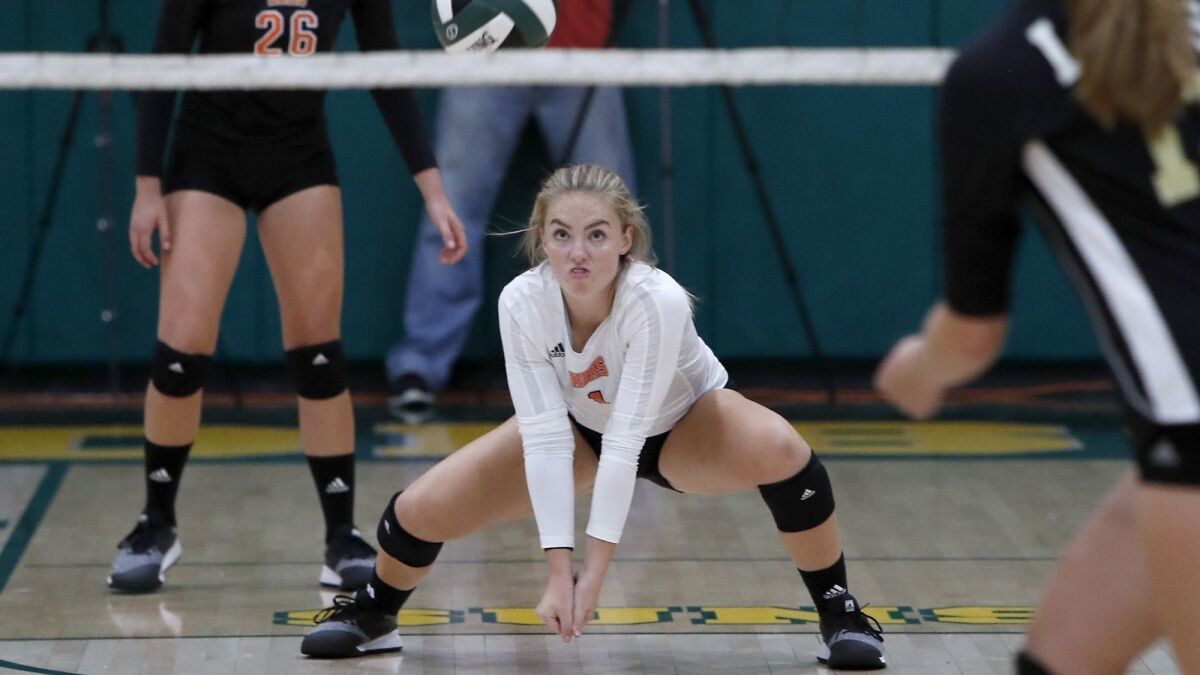 Mia Christensen
L | Huntington Beach | Jr.
Huntington Beach went 8-5 in matches that were not decided in straight sets, a sign that the team generally came out ahead when it dug deep. Speaking of digs, Christensen led the Oilers with 390, adding 40 assists and 28 aces. The first-team All-Surf League pick passed at a 2.31 clip and did well in serve receive, making the job easier for junior setter Jaclyn Sanchez. "Mia is one of the most pure defensive players I have ever coached," Oilers coach Craig Pazanti said. "She has an uncanny ability to make the spectacular play when her team really needs it. She has a confidence about her that is contagious, and her team feeds off her." Huntington Beach (14-13, 2-4) tied for second place in the Surf League, but it went into the CIF Southern Section Division 2 playoffs as the league's fourth seed. The Oilers lost at Dana Hills in four sets in the second round.
Sydnee Francis
OH | Sage Hill | Sr.
Sage Hill made a move to the San Joaquin League this year, but the Lightning remained at the top of the pack with key returners in the fold. Francis became Sage Hill's second straight league MVP, joining former Lightning setter Jade Blevins (Cal). Francis proved to be a great asset as a back-row defender, helping the Lightning secure points on broken plays, too. "Sydnee is an excellent all-around player," Lightning coach Dan Thomassen said. "She can play all five positions at a high level. Her best attribute is her grit, which is what we coaches want in all of our players." Francis had 231 kills and 48 aces. She led the team with 149 digs and 2.35 passing. Sage Hill went 13-10 overall and 7-1 in the league, losing in three sets at Culver City in the second round of the CIF Southern Section Division 3 playoffs.
Cambria Hall
OH | Laguna Beach | Jr.
Hall acted as a lightning rod that breathed life into the Breakers during the stretch run and throughout the CIF Southern Section Division 3 playoffs. The junior outside hitter worked with a high volume of swings, and her live right arm produced her two highest kill totals late in the postseason. Laguna Beach was on life support at Cypress in the semifinals, but Hall came up with 22 kills to help the Breakers rally for a 21-25, 20-25, 25-18, 25-19, 15-12 win. Moreover, the road victory was just Laguna Beach's second win in seven five-set matches to that point in the season. After a disappointing showing in the final, the Breakers rebounded for a 25-18, 23-25, 25-14, 25-23 win over Palm Desert Xavier Prep to open the CIF State Southern California Regional Division II playoffs. Hall spearheaded the Breakers' effort with a season-high 24 kills. The first-team All-Wave League performer had 326 kills, 286 digs, 33 blocks and 33 aces this season.
Xolani Hodel
MB | Huntington Beach | Jr.
One of the area's most versatile athletes, Hodel has earned her second straight selection on the Dream Team. Hodel settled into a middle blocker role as the season wore on, but not before the Oilers tried her out as an outside hitter and opposite. The 6-foot-2 junior led the team in hitting percentage (.338) and blocks (68). "Xolani had an ability to make a huge impact on any match both offensively and defensively," Pazanti said. "She is an amazing all-around athlete and was effective at three positions this season." Hodel, who also plays beach volleyball, displayed her defensive prowess with 170 digs. She also had 172 kills this season. She made the All-Surf League first team.
Piper Naess
OPP | Laguna Beach | Jr.
Although Laguna Beach had a slow start to the season, Naess proved to be a consistently impactful player for the Breakers. She had at least 20 kills in a match eight different times this season. Laguna Beach split the inaugural Wave League championship, but Naess was named the league MVP after averaging 19 kills per match in the home-and-home set between the teams. The junior opposite was also named one of two All-CIF Southern Section Division 3 selections for the Breakers, with the other being junior setter Soren Patchell. Naess finished the year with a team-high 450 kills on .261 hitting, adding 410 digs and 45 aces.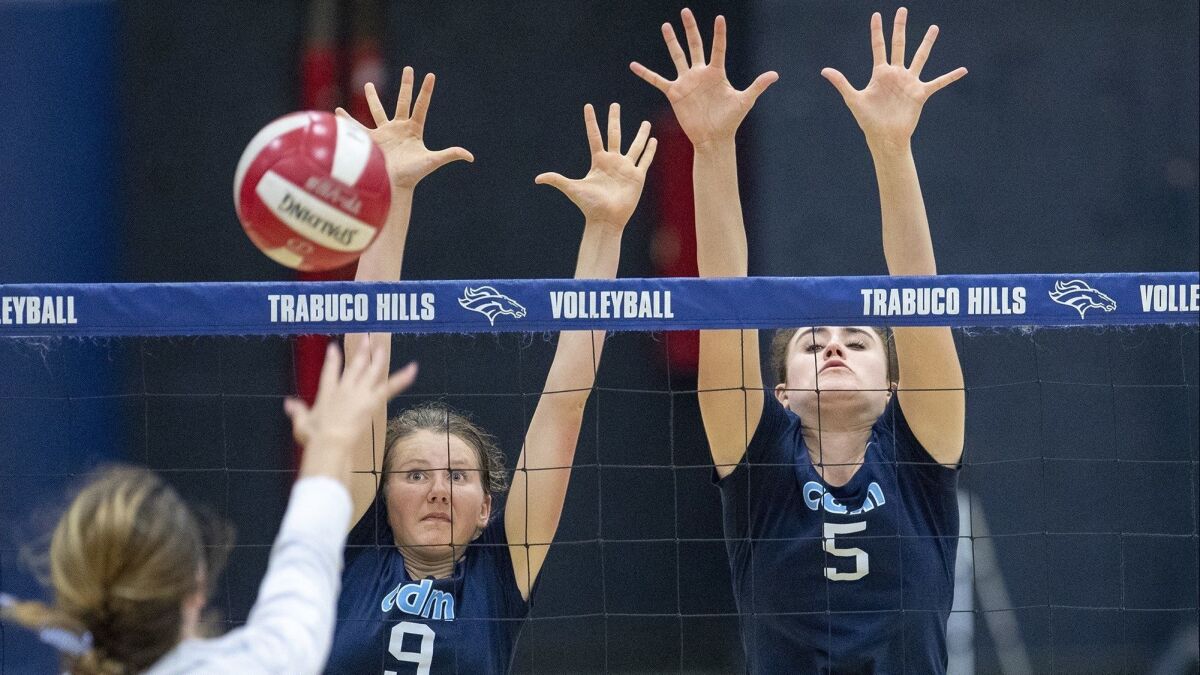 Karly Recker
MB | Corona del Mar | Sr.
Corona del Mar did not have a lot of returning rotation players this season, so it became imperative for the senior middle blocker to step up as part of the front-row attack. The Sea Kings went through growing pains as they worked in new setter Bella Pouliot, among others. Recker helped the Sea Kings traverse a rocky start, during which Kipp played at less than 100% due to shoulder soreness. "Karly Recker is one of the most underrated players in the county," Astor said. "Her ability to read-block at such a high level was one of the keys to our defense. Her attacking efficiency made our offense balanced, and it was key in keeping teams honest." Recker, a first-team All-Surf League member, pounded out 141 kills, adding 56 blocks and 21 aces.
SECOND TEAM
Position, Name, School, Year
OH Amiyah De'Long, Sage Hill, Sr.
S Aly Fullbright, Edison, Sr.
OH Phoebe Minch, Fountain Valley, Jr.
S Soren Patchell, Laguna Beach, Jr.
MB Helen Reynolds, Ocean View, Sr.
OPP Nikki Senske, Corona del Mar, Jr.
UT Malia Tufuga, Costa Mesa, Jr.
THIRD TEAM
S Danielle Beder, Sage Hill, Jr.
L Kelli Greiner, Ocean View, Sr.
OH Nikki Logan, Edison, Jr.
UT Ashley Nguyen, Costa Mesa, Sr.
S Allyson Scharrer, Pacifica Christian Orange County, Jr.
MB Siena Springborn, Newport Harbor, Jr.
MB Taylor Torchia, Edison, Sr.
Twitter: @ProfessorTurner
---
All the latest on Orange County from Orange County.
Get our free TimesOC newsletter.
You may occasionally receive promotional content from the Daily Pilot.