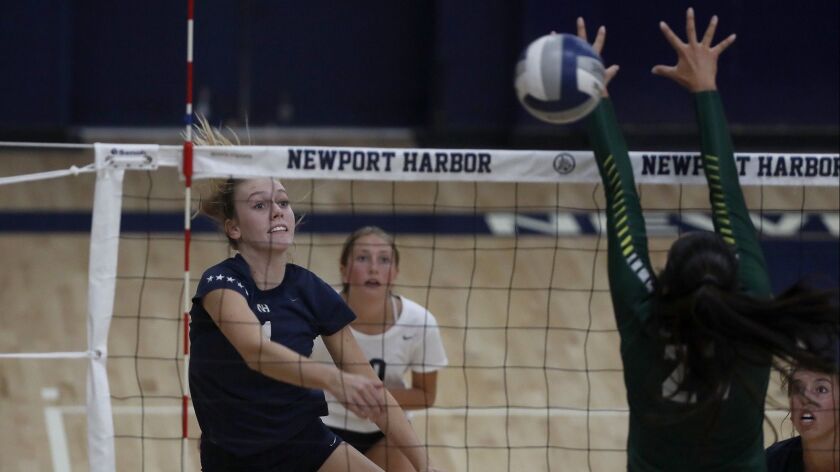 The Newport Harbor High girls' volleyball team has not had much to celebrate this season.
Roster turnover was certainly a consideration. It takes time to come together as a team, especially for one that has six underclassmen in its rotation.
After struggling mightily in tournament play, the Sailors jumped into a familiar part of their schedule. Although not all of the Sunset Conference games are categorized as league competition anymore, this is the time that the veterans have known to count.
At last, the Sailors appear to be turning the corner and heading in a positive direction.
Senior opposite Kendall Bagby had a match-high 16 kills, and the host Sailors upset Edison 15-25, 25-23, 25-21, 18-25, 15-11 on Thursday night, earning their first five-set win since Oct. 13, 2014.
Allison Crandell added 10 kills and three service aces. The senior outside hitter had the match-clinching kill, giving Newport Harbor its first win against Edison in four years.
"I just think it really gives us a lot more confidence," Crandell said of the win. "We've been working really hard in practice and in the weight room. We have a lot of new players that we didn't have on our team last year, like the freshmen.
"We love having them on the team, and it just brings a new vibe for all the games to come."
One of the freshmen, middle blocker Gabbi Higgs, was instrumental in the victory. She had six kills and 6½ blocks, supplying at least two blocks in every set that the Sailors claimed.
"Being a freshman, it's just really cool to experience the team and the bond that we have," Higgs said. "As a team, we pulled through, and it was really fun to be a part of it."
Sailors coach Dan Glenn said freshman Lily Walton, a libero, returned after missing two weeks of action with a concussion. She had two aces and 10 digs.
The match marked the first five-setter for the Sailors (5-18) and the Charger (13-10) this season.
We have battled against good teams, but we haven't beaten them in sets. We've had trouble this year at the end of matches.
Dan Glenn, Newport Harbor High coach
Glenn acknowledged the team's early struggles, but he said that the team's first match against a Sunset Conference opponent demonstrated progress. Newport Harbor has been showcasing an ability to get deeper into matches since it extended host Los Alamitos to four sets on Sept. 6.
"We have battled against good teams, but we haven't beaten them in sets," Glenn said. "We've had trouble this year at the end of matches. We've played well, but we just haven't been able to sustain it. It was good to see that we finished."
Jasmine Amirie had a match-high 42 assists for the Sailors. Sienna Springborn and Ava Gonzalez each had four kills.
Newport Harbor opens Wave League competition with a home match against Marina next Thursday.
Edison will be at home against Fountain Valley next Tuesday, followed by its Surf League opener against visiting Corona del Mar on Sept. 21.
The Chargers were led by Emily Sparks, who had 19 assists, 13 kills, three aces and two blocks. Taylor Torchia had 10 kills, 5½ blocks and five aces. Aly Fullbright finished with 22 assists and Samantha Schofield also had 10 kills.
Edison dominated the sets it did win. Chargers coach Matt Skolnik said the Sailors' consistency was the difference.
"They kind of just stayed the course and didn't let up," Skolnik said. "Even in the moments where they made some mistakes, they still came back strong and forced the issue on us. They played hard and made plays."
Twitter: @ProfessorTurner
---