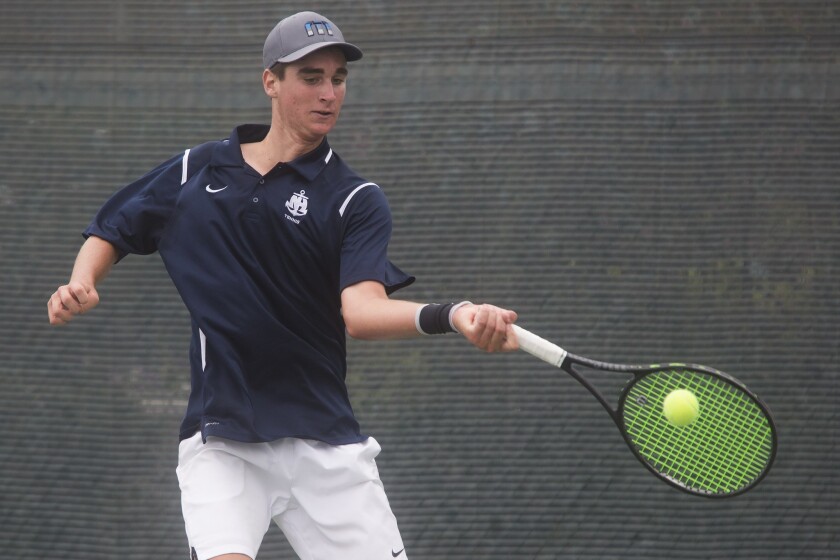 If Newport Beach residents have not seen Max McKennon around town that much, that would be because he has been traveling.
After his freshman year at Newport Harbor High, McKennon turned to home-schooling, enabling him to make a larger commitment to his tennis.
The blue-chip recruit returned home from an International Tennis Federation tournament in Guatemala on Sunday, he immediately thrust himself back into action in the USTA Southern California Junior Sectional Championships.
In his opening match on Wednesday, McKennon was pushed more than he would have liked. The top seed in the boys' 18-and-under draw had to go to three sets to defeat Jake Huarte of Tustin.
McKennon faced a different kind of scare when he fell approaching the net in the first set against Daniel Cheng of Los Angeles on Thursday at Los Caballeros Sports Village. Nevertheless, he came away with a 6-4, 6-2 victory to advance to the round of 16.
It was a rare sight at a junior tennis tournament, as McKennon was attended to by a trainer on the first changeover after the fall.
"I've had problems with the left wrist in the past, so I just always get worried when something happens to it, even if it's not much," McKennon said. "I was surprised that they had a trainer here. Every ITF, there is at least one or two trainers floating around, but it was nice to see that they have trainers out here this year."
After the changeover, McKennon broke Cheng's serve the very next game to take the first set.
McKennon carried that momentum into the second set, striking for an early service break and consolidating it with a hold of his own to establish a 3-0 lead.
Cheng got on the board at 3-1, talking to himself through a long game with several deuces to try to will his way back into the match.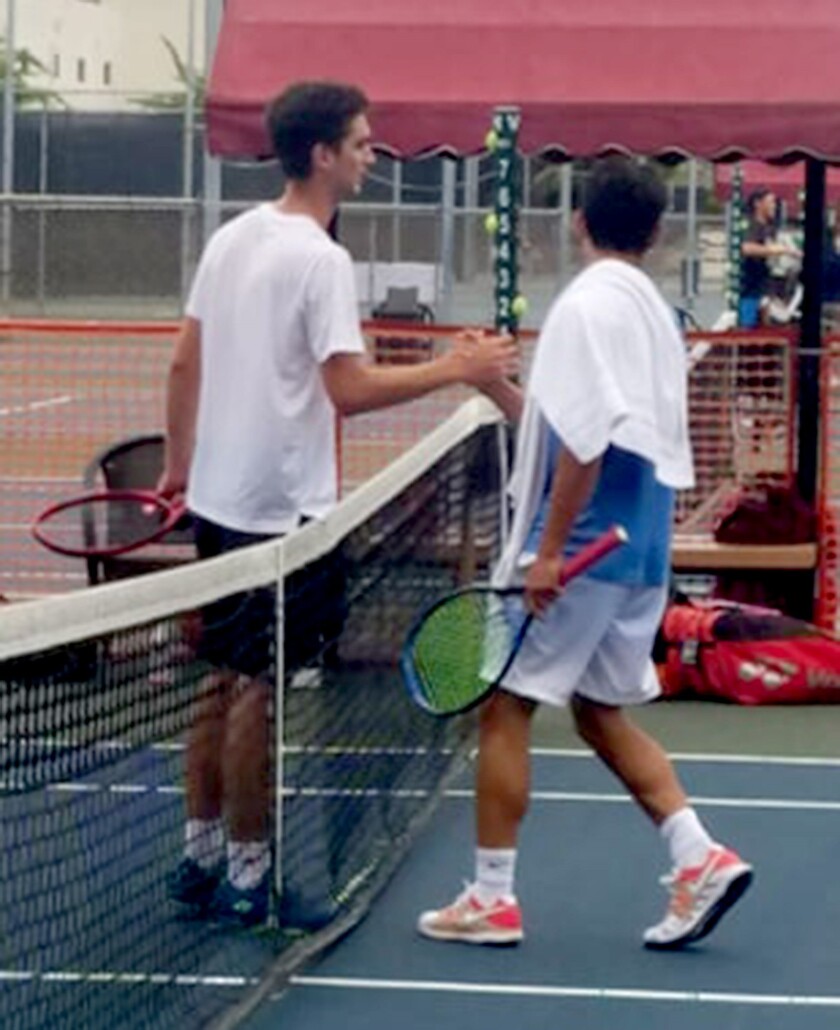 "I've known him and played with him since I was 10 years old," McKennon said of Cheng. "He's a great player. Always has been. He's playing Division I at Villanova next year. I've always respected him. I like him. He's a good guy."
The match ended on another break of serve by McKennon.
"I was confident," Cheng said when asked about facing the No. 1 seed. "He was just better at the end."
On Friday, McKennon will play Tyler Davis of Redlands. The round of 16 match is scheduled at 10 a.m. at Costa Mesa Tennis Center.
McKennon committed to Arizona State in May. He said he had also taken visits to Baylor, Stanford, TCU and UCLA.
"I just felt at home at Arizona State," McKennon said. "I felt wanted. I felt like the coaches really cared about me. All the players are great guys, and they really liked me."
McKennon added that he wants to play professionally, and he believes that Arizona State will help him down that path.
Carsten Ball, who played for Corona del Mar before going on to a professional tennis career, has coached McKennon for the past three seasons. He said that McKennon has shown the desire needed to pursue such lofty goals.
"It's been a long road, a good road," Ball said. "It always is for the kids that want to do this. He obviously wants to. From day one, he wanted to get out there and play as much as he can and see how far he can get.
"He's proved himself to be one of the best kids in the nation. That's up to him. All of us are simply passengers. He's the one in the driver's seat."
McKennon looked to be in command on Thursday, even when the score got tight.
"For some of those guys to make it look easy, that's a good thing," Ball said. "It's a thing where you can flow well. You've got all the tools in the box, whether you use them that day or not."
::
Support our sports coverage by becoming a digital subscriber.
For more sports stories, visit latimes.com/socal/daily-pilot/sports or follow us on Twitter @DailyPilotSport.
Twitter: @ProfessorTurner
---