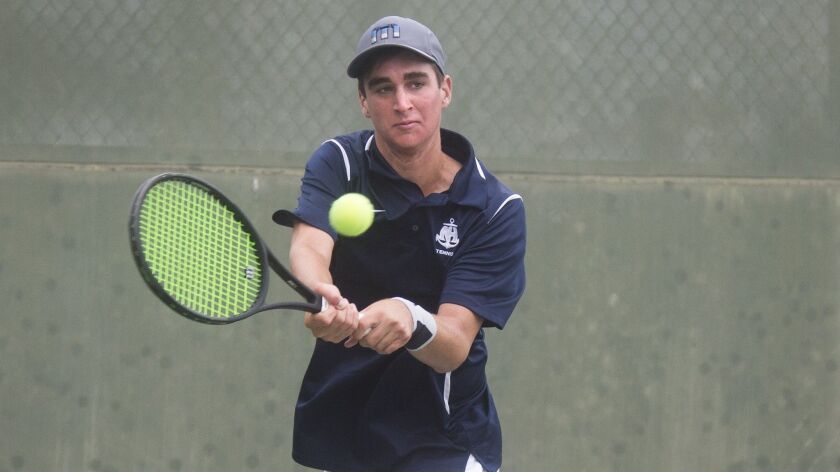 From the hard courts of Guatemala City to the hard courts of Fountain Valley's Los Caballeros Sports Village, Max McKennon of Newport Beach enters play at the USTA 117th annual Southern California Junior Sectional Championships as the player to beat.
McKennon, the top seed in the boys' 18-and-under singles division, is coming off a combined 8-1 mark in singles and doubles at the ITF Junior Grade 3 Copa Mundo Maya by Universidad Galileo tournament last weekend. McKennon fell in the singles final to fellow American Jeffrey Fradkin, and won the doubles with partner Spencer Brachman.
McKennon, a hard-serving lefty and high school senior-to-be, is committed to Arizona State. The former Newport Harbor High standout is home-schooled.
McKennon opens play against Tustin's Jake Huarte at 8 a.m. at Los Cab on Wednesday. The No. 2 seed in the 18s, Alexander Petrov of Irvine, will open against Emin Torlic of Corona del Mar at 12:30 p.m. at Los Cab.
In the girls' 18s, top-seeded Anessa Lee of San Marino will play her first-round match at 11:30 at Los Cab against Alicia Carmona Cornejo of Rancho Palos Verdes. Second-seeded Maia Sung of Rolling Hills will take on Milana Molnar of Ladera Ranch.
::
Support our sports coverage by becoming a digital subscriber.
For more sports stories, visit latimes.com/socal/daily-pilot/sports or follow us on Twitter @DailyPilotSport.
---