Orange County Soccer Club is best-kept secret in O.C.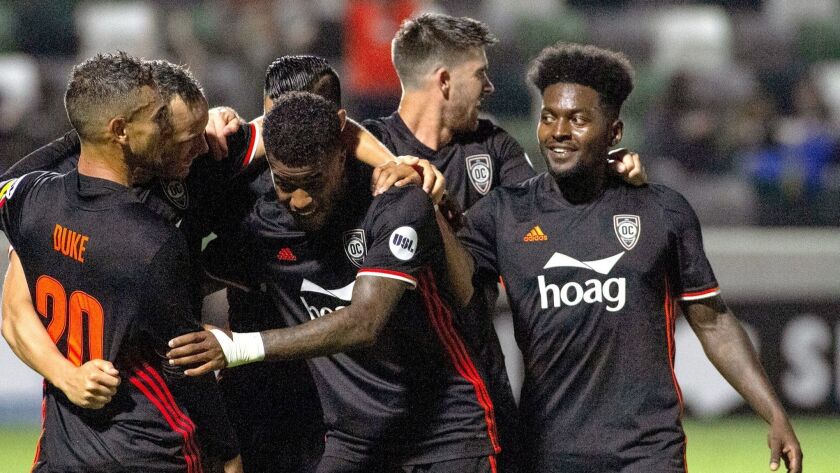 Reporting from Irvine —
The best-kept secret on Orange County's sports scene is a little soccer club stationed at Irvine's Great Park that over the next few weeks is hunting for a championship in the country's largest professional league.
Orange County Soccer Club, which has been kicking it around in one guise or another since 2011, has limited means but huge aspirations. Claiming the trophy in the 33-team United Soccer League — pro soccer's second division in the U.S. and Canada — would just be a start.
The club won a tight Western Conference race with a 20-8-6 record and opens the USL playoffs, in which it hopes to conquer better-heeled teams from Phoenix, Sacramento, Cincinnati and elsewhere, on Saturday at 7 p.m. against Saint Louis FC at the 5,500-seat Championship Soccer Stadium on the grounds of the former El Toro Marine base.
The achievement was well beyond expectations, but a canny rebuild led by first-year head coach Braeden Cloutier after missing the postseason last year, yielded a tight, entertaining group of players, some with extensive experience at big clubs abroad and in Major League Soccer. They've lost just twice in 16 games since early July, have scored far more goals (70) than any of their Western rivals, and have shown a knack for pulling out victories in the dying moments of matches, especially in the last month and a half.
Four more wins will give them the title, but one bad outing and they're done.
"To say I'm shocked or surprised [by our success], I'm not," said Cloutier, a former OCSC assistant coach who played for three MLS clubs and was a standout in the professional indoor game. "From day one, I knew what we were capable of doing, but it has been a special season so far."
Extending it will require skill and fortune, and OCSC has had an abundance of both. The team has rallied from behind six times to win or draw and have netted the decisive goal in four wins — three since Aug. 22 — and one draw in the final 10 minutes.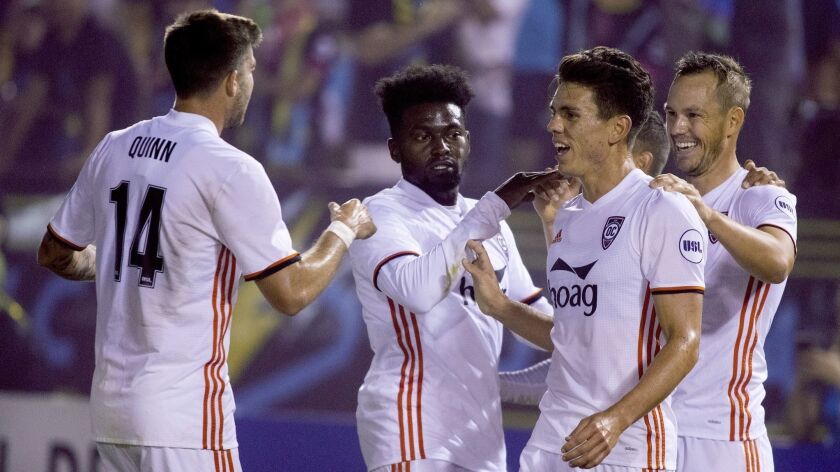 "Winning games later and being able to turn draws into wins [is] massive, just massive," said OCSC captain Richard Chaplow, a midfielder with English Premier League experience. "Teams at mid-table don't do that. Teams at the top that are full of confidence [do]. We've got good players, we've got leaders, and we know how to win soccer games.
"That will definitely be a big plus for us in the playoffs. However, you've also got to get the rub of the green, and I'm a firm believer you make your own luck. We'll take it every game as it comes, and hopefully we'll put it to the sword and go as far as we possibly can. That's all we can do."
Winning certainly was part of the plan when James Keston, an investment officer with a background in real estate, bought the club two years ago. He's a lifelong soccer fan, who with his father was involved when MLS established teams in Seattle and Portland, and he spent more than the $5 million USL expansion fee to take the reins in August 2016.
Keston rebranded the club, previously known as the Los Angeles Blues and then Orange County Blues, took up residence at the Great Park, expanded the club's staff, and created partnerships with several youth soccer clubs in Orange County and San Diego.
"When I came in, we had no real brand," Keston said. "We had just three people in the front office. It wasn't a business, just a soccer game."
Now there's 30 people on staff, including former Angels vice president of marketing and ticketing sales Robert Alvarado and former Orange County Fair event sales and services director Mark Entner, and the club is working to increase its exposure in Orange County.
"The basic business for MLS and most USL clubs is put butts in seats, build the brand, sell hot dogs, sell merchandise, and then go out and win a championship," Keston said. "One-half of our business is fully aligned with that, and on the field, we're doing a spectacular job. But the future of our business is player development. That's really the part that is just starting to take off."
OCSC this year signed 16-year-old goalkeeper Aaron Cervantes, a Mexico under-17 national team player who played for club power Pateadores, to a pro contract, and Estancia High senior Rafael Espinoza, a 17-year-old forward from Slammers, to an academy deal. Keston said there are "plans to sign another six to eight each year for the next five years."
There is great variety within USL. Several MLS clubs' second teams play in the league — LA Galaxy II among them — and some have affiliations with MLS clubs. OCSC has a relationship with Los Angeles FC, which debuted in MLS this year. Most of these teams are dedicated to developing talent for MLS and beyond.
Others have loftier aims. FC Cincinnati, which won the Eastern Conference title with a 23-3-8 record, jumps to MLS next year. The Sacramento Republic, which finished a point behind OCSC, and third-place Phoenix Rising, which counts Ivorian legend Didier Drogba among its owners, are angling for admission to the top U.S. league. Their budgets are far greater than OCSC's which Keston said was between $500,000 and $1 million.
When I came in, we had no real brand. We had just three people in the front office. It wasn't a business, just a soccer game.
James Keston, Orange County Soccer Club owner
That budget makes Cloutier's job difficult and that of the technical staff, led by general manager Oliver Wyss, assistant general manager Peter Nugent, a former chief of recruitment and scouting for England's Blackburn Rovers, and technical director Frans Hoek, a former goalkeeper coach for Barcelona, Bayern Munich, Manchester United and for Holland's and Poland's national teams. They have to be creative.
To do so, they've scoured MLS for players in need of playing time — Columbus Crew defender Alex Crognale and New York City goalkeeper Andre Rawls arrived on loan — and brought in some European veterans at a fraction of their usual fee. The biggest acquisition was attacker Thomas Enevoldsen, a veteran of the Dutch, Belgian and Danish leagues who played for Denmark at the 2010 World Cup. He wants to play in MLS, came to OCSC to showcase what he can do, and has done so. He finished second in the USL's golden-boot race with 20 goals.
USL veteran Aodhan Quinn, the son of former U.S. national-teamer Brian Quinn, arrived from FC Cincinnati. He finished second in the USL with 14 assists to go with 11 goals and led the league in passing and chances created. Dutch defender Jos Hooiveld, who played in the EPL and with Celtic in Scotland, and MLS veteran Kevin Alston joined at midseason. Hooiveld has been a leader on the backline and in the locker room, and Alston, Cloutier says, "is the biggest gift we've been given this season."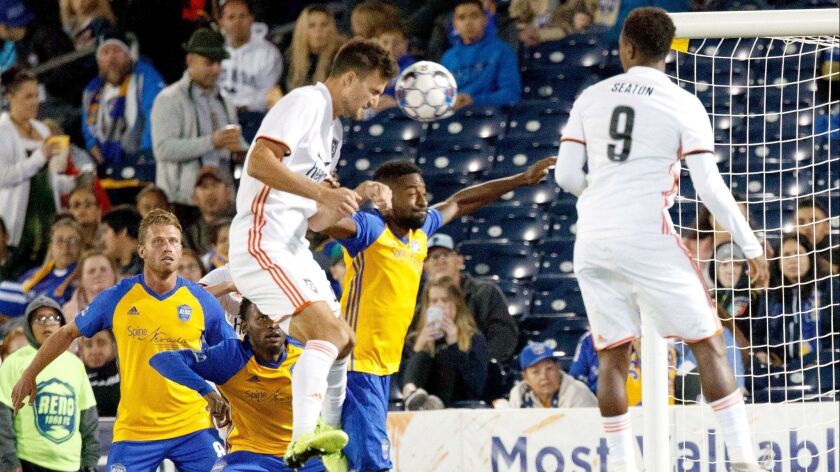 The right back, who was injured in last Saturday's loss at Reno 1868 FC in a regular-season finale, is considered the best fullback in the USL. His sunny disposition has been valuable in creating a dynamic chemistry within the team.
"I tell you," Cloutier said, "I hit the lottery."
Alston, whose career was derailed briefly three years ago by a battle with a rare but treatable form of leukemia, would like to get back to MLS. Several youngsters — Jamaican forward Michael Seaton, Trinidadian defender Noah Powder, and former UC Irvine forward Giovanni Ramos Godoy — hope to catapult to bigger clubs here or abroad.
Chaplow, who is retiring at season's end, was brought aboard in 2016. He'd wanted to settle in Southern California, where he had family, and Keston and Wyss sold him on their vision of OCSC. He thinks the club has a winning future.
"When I came over, the club was nowhere near what it is today," he said. "There were plans in place, and I wanted to be part of something bigger than myself. True to their word, they delivered. I firmly believe that they're only starting to scratch the surface of what can be achieved in Orange County, professional soccer-wise."
SCOTT FRENCH is a contributor to Times Community News. Follow him on Twitter: @ScottJFrench
---
All the latest on Orange County from Orange County.
Get our free TimesOC newsletter.
You may occasionally receive promotional content from the Daily Pilot.