Daily Pilot High School Female Athlete of the Week: Yamasaki is Ocean View's silent assassin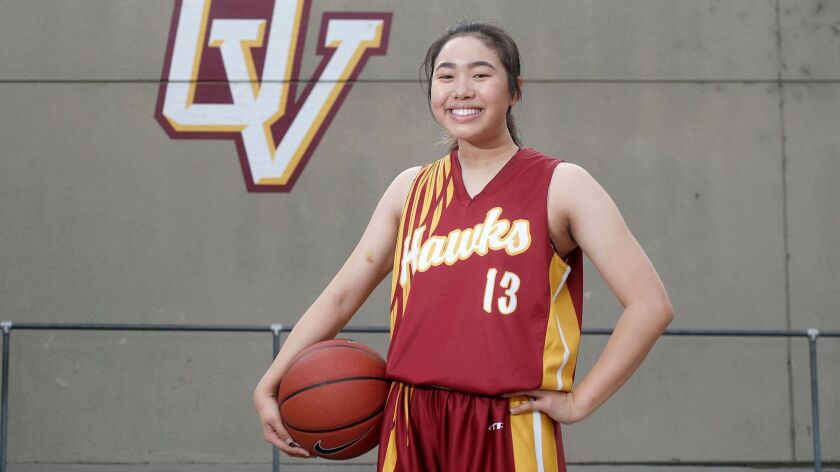 In the regular-season finale for Ocean View High's girls' basketball team last year, a league championship hung in the balance.
The Seahawks were in a compromised position, with their leader Jackie Moss far from 100 percent. Then the senior point guard of the team, Moss suited up despite a bad hamstring that would prevent her from playing in her team's first-round playoff game.
Moss played inspired minutes in that game, staying active on a stationary bike when she went to the bench in order to keep the hamstring loose.
It is a memory that is cemented in the minds of current Seahawks. Furthermore, such toughness is exemplary of the pillars that have made the Ocean View program.
Seahawks coach Kim Morris, the daughter of the late Jim Harris, has continued to preach the principles that her father brought to his teams.
"When they say that this is the house that Jim built, they mean that," Morris said of Jim Harris Gymnasium, the site of Ocean View's home games. "Within the fibers of this gymnasium are basically those tenants. It's a work ethic. It's a blue-collar mentality."
One of Harris' signature sayings was, "Hustle is a talent." Morris' team has continued to live up to those standards, fighting through both injury and illness to post a very competitive 11-5 record.
Emi Yamasaki, the Daily Pilot High School Female Athlete of the Week, has been a torch carrier of sorts in that regard.
When two starters – senior point guard Erica Almiranez and junior center Helen Reynolds – were out due to the flu, the Seahawks stayed afloat. Yamasaki, who had a sprained left wrist, played on, helping Ocean View advance to the final of the Villa Park Lady Spartans Winter Shootout two weeks ago.
Last Tuesday, Yamasaki sprained her right ankle the day before her team was set to begin competition in the Vista Tri-City Christian Tournament.
It does not matter which extremity takes the hit, nothing has kept Yamasaki off the court. The senior guard is piecing together an Iron Man-like season as the constant in the Seahawks' lineup.
Ocean View repeated as champions of the Tri-City Christian Tournament. In Ocean View's wins over San Diego Maranatha Christian, Los Angeles Sacred Heart of Jesus, and Encino Holy Martyrs Armenian, Yamasaki produced averages of 9.3 points, 6.3 assists, 4.7 rebounds, and 3.7 steals.
Yamasaki looks back on that day Moss rode the stationary bike, trying everything to be there for her team, as one that helped her see what an individual will do to confront the adversity before them.
"That was the best," Yamasaki said of Moss' drive to take the court in the de-facto Golden West League championship game against Segerstrom last year. "I have so much respect for her, that she would do that. That was crazy.
"I really see every game like it's the last game, especially since it's my senior year. I'm not really planning on playing in college because I'm going to focus on my major."
Yamasaki plans to follow in her father, Brent's, footsteps by pursuing a degree in mechanical engineering. The two are very close, as Yamasaki grew fond of the game of basketball thanks to the three-point shooting contests they would share together.
Despite her marksmanship, Yamasaki is still reluctant to shoot the ball on occasion. Morris said it is hard for an intellectual player like Yamasaki to cut herself a break, but she is at her best when she gets out of her own way mentally.
"What we saw this past week was, even though she was still playing hurt, she was just being Emi," Morris said. "She was a little more free. She was a little more fun."
Almiranez has played on the same team as Yamasaki every season since they were on the junior varsity squad as freshmen. While Almiranez has stepped into the spotlight as the team's go-to shooter, Yamasaki has consistently flown under the radar as an impact player.
"She has a hidden role," Almiranez said of Yamasaki. "Nobody ever sees it. It's kind of behind the curtain. Everyone sees the big three or the big rebound that Helen makes, but it's Emi that is boxing out for Helen so that she can get that, or it's Emi that makes the assist for me to get that three.
"Emi plays a big, but small role that nobody sees. She's so humble about it, too. She will drop 20 [points] and then you will never know because she will never say anything."
There you have it. Yamasaki is Ocean View's silent assassin.
*
Emi Yamasaki
Born: Jan. 3, 2000
Hometown: Huntington Beach
Height: 5 feet 5
Weight: 135 pounds
Sport: Basketball
Year: Senior
Coach: Kim Morris
Favorite food: Sushi
Favorite movie: "The Help"
Favorite athletic moment: The senior guard's favorite athletic moment came last week, when the Ocean View girls' basketball team successfully defended its title at the Tri-City Christian Tournament in Vista.
Week in review: Yamasaki contributed in all areas of the stat sheet, helping Ocean View reach its second straight tournament final. The Seahawks successfully defended their title at the Tri-City Christian Tournament.
Twitter: @ProfessorTurner
---
All the latest on Orange County from Orange County.
Get our free TimesOC newsletter.
You may occasionally receive promotional content from the Daily Pilot.