Come together — for a night of Beatles music
Steve Landes has spent years trying to understand John Lennon, from his look and sound to the thinking and motivations of the singer-songwriter known for his peace activism.
He watched videos to learn Lennon's body language and listened to tapes so he could perfect an English accent.
He also travels to Liverpool, England — the band's birthplace — twice a year to talk to locals and learn about them and the area.
"It's not quite enough," Landes said. "He's one of those guys who is so iconic, such a larger-than-life character, that we've all developed this idea of who he is, and in some ways it's outside of reality."
That is a humble admission from a man who makes his living as a member of Rain, the Beatles tribute band, which will be performing in Costa Mesa, near its beginnings in Laguna Beach.
"I have big shoes to fill," said Landes.
The Beatles tribute band, which formed in 1975 and takes pride in its appearance, mannerisms, sound and overall vibe, will recreate the foursome's songs "Hey Jude," "Let It Be," "Come Together" and others Monday night at the Segerstrom Center for the Arts.
Landes has sung and played the guitar in the guise of Lennon, one of music's most beloved frontmen, for 18 years. (Lennon was fatally shot on Dec. 8, 1980.)
He is a Los Angeles-based singer and songwriter who has sung backup for '60s artists like Peter Noone from Herman's Hermits and Mitch Ryder of Mitch Ryder & The Detroit Wheels fame. Landes first saw the Broadway show "Beatlemania" when he was 9 years old and living in Philadelphia. At age 17, he joined "Beatlemania," a musical revue focused on the Fab Four's music as it related to the tumultuous 1960s, and then landed the role in Rain in 1998.
"It's the coolest thing," Landes said by phone during the tour's stop in Ontario, Canada. "You get to be a Beatle for a living."
Rain members have even had to brave mobs of fans as the Beatles did in the years after they first landed in the U.S. 52 years ago. The tribute band has to be careful about where the members are staying on tour.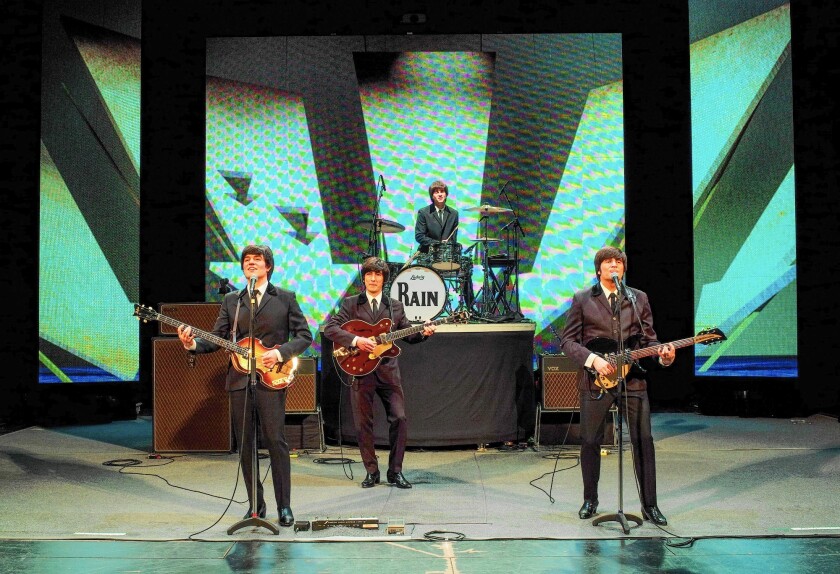 It seems that the mop-top wigs and outfits from sharp-cut suits to multicolored, military-style jackets have made them look perhaps too much like the Beatles.
"We've had lots of wild fans pretend they're actually meeting the Beatles," Landes said with a laugh. "They love the Beatles as much as we do, and we appreciate that energy."
Together longer than the Beatles, Rain began in 1975 as Reign in Laguna Beach and played original music and Beatles covers. Founding member and keyboardist Mark Lewis managed the band and began booking Rain shows in and around Los Angeles and Orange County.
Eventually, the band developed into a long-standing touring tradition and became the longest-running Beatles tribute act, predating the Broadway show "Beatlemania."
"The audience realizes how special the Beatles are and the depth of their music and how they changed society," Lewis said. "You realize it's one great song after the another."
The show, which is about two hours long, follows chronologically the history of the Beatles.
It features the foursome's journey to America beginning with their appearance on "The Ed Sullivan Show," followed by the group's musical changes.
Rain will perform a full range of the Beatle's discography live onstage, including songs that the Beatles recorded in the studio but never performed for an audience, about 30 songs in all.
The production uses high-definition backdrops, video footage of Rain cast members recreating Beatle moments and vintage television commercials.
Landes said the group can provoke particularly strong reactions in audience members, since many recall what it was like growing up in the '60s and how much the music meant to them.
"The Beatles music still says a lot because it's about that peace, love, happiness and togetherness, and that is still relevant," Landes said. "I think because it was a positive message, it resonates inside of people, and I'll see this real and organic happiness in the audience.
"There's a true joy and I'm glad to be a small part of that."
*
IF YOU GO
What: Rain's tribute to the Beatles
When: 7:30 p.m. Monday
Where: Segerstrom Center for the Arts, 600 Town Center Drive, Costa Mesa
Cost: Tickets start at $39
Information: (714) 556-2787 or visit scfta.org
---